Maharashtra farmers' march: Police issues traffic advisory as over 35,000 protesters reach Thane
The huge march by Maharashtra farmers and Adivasis will proceed to the KJ Somaiyya ground in Mumbai before heading towards the state Assembly on Monday
As Devendra Fadnavis government in Maharashtra braces for a massive showdown on Monday, with farmers marching towards Mumbai from Nashik, the crowd has swelled to nearly 35,000 people demanding waiver of all farm loans and implementation of the Swaminathan Commission report.
The All India Kisan Sabha (AIKS) protest march reached Anand Nagar in Thane on Sunday, reported ANI. The AIKS is the farmer wing of Communist Party of India — Marxist (CPM). According to NDTV, the number of farmers reached close to 35,000 as more and more people joined the march on the way since it began on 6 March. The march will be attended by AIKS national president Ashok Dawale, CPM MLA JP Gavit, state president Kisan Gujar and working president Arjun Ade among others.
Traffic advisory issued
The huge march by farmers and Adivasis will proceed to the KJ Somaiya Ground in Mumbai before heading towards the state Legilsativ Assembly on Monday. In view of the protests, Mumbai Police has issued a traffic advisory and tightened security for Monday.
The farmers are set to enter Mumbai at 10 am through the Anandnagar toll plaza in Mulund before reaching Somaiyya ground in Sion at 9 pm, via Vikhroli, Mata Ramabai Ambedkar Nagar, Chheda Nagar and Suman Nagar.
The Eastern Express Highway, southbound from Anandnagar toll plaza to the Somaiya ground, will remain closed on Monday for heavy and goods vehicles from 9 am to 11 pm, Mumbai Police said in its advisory. These vehicles will alternately be diverted via Kalwa, Airoli, Vashi Creek and Vitava.
The Traffic Control Branch of the Mumbai Police also advised people to avoid travelling on the route of the march and use alternate routes (eg, LBS Road, Sion-Panvel Road, Thane-Belapur Road, etc).
Speaking to Firstpost earlier, All India Kisan Sabha general secretary Ajit Navale said, "The demands are an increase in Minimum Support Price for crops, immediate implementation of loan waiver, implementation of the Swaminathan Commission, forest rights to the farmers, and good quality education for farmers' children."
On Saturday, the Shiv Sena and Maharashtra Navnirman Sena (MNS) parties also extended their support to the farmers' march. Navale said Maharashtra State Road Development Corporation minister and senior Shiv Sena leader Eknath Shinde has expressed his support as well.
"Shinde welcomed the protestors in Thane district and extended support to the demands of the farmers. He said he was conveying the message of Sena president Uddhav Thackeray. Similarly, Abhijit Jadhav, an emissary of MNS chief Raj Thackeray, also met us and got me in touch with the MNS chief over the phone. The MNS too has extended support to our demands," Navale told PTI. 
Protesting farmers have demanded a change in the plan to link rivers in Nashik, Thane, and Palghar to ensure that tribal lands are not submerged and water from the scheme be made available to these areas as well as other drought-prone districts, the organisers said.
They said that farmers were also protesting against the state government's land acquisition for projects like high-speed rail and superhighways.
"We are demanding an increase in pension schemes for poor peasants and farm workers, compensation for losses due to bollworm and pest attacks and rehauling of the public distribution system," he said.
With inputs from PTI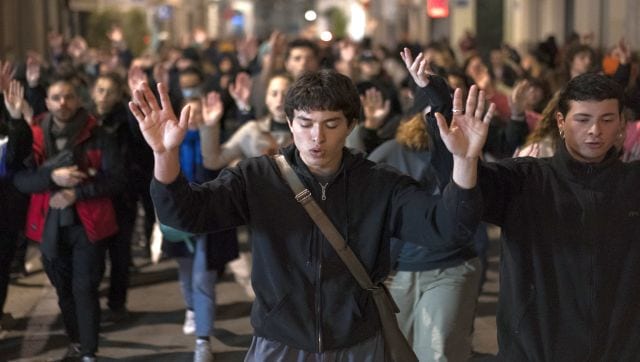 World
France has been seeing protests, which have turned violent in recent days, as the Emmanuel Macron government pushes pension reforms through parliament. In India too, there's a debate on the pension scheme, some arguing that the old method is fiscally unsafe
Explainers
Khengdauliu Chawang, a PhD student at Southern Methodist University in Texas, US has developed the small and low-cost acidity sensor that can detect when food has spoiled in real time. The student said the small device, makes it possible to incorporate it into current food packaging methods
Opinion
Empowering women in agriculture will have a lasting impact on the vitality of rural India