Madrasa to mainstream education: Bidar school churns out success stories for Urdu-speaking students
Founded on the theory of providing quality education to Urdu-speaking students in their mother tongue, Shaheen is an Urdu medium school that has turned more than 900 students into doctors in the last 15 years.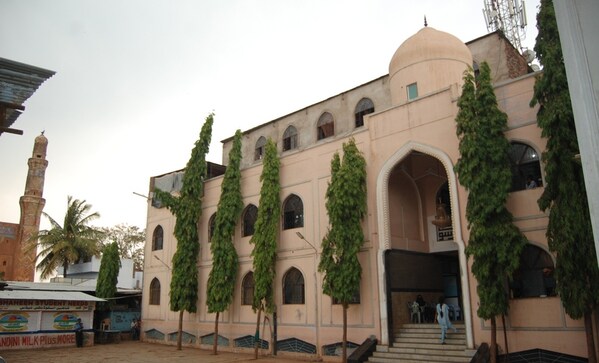 In a narrow alleyway, opposite the 15th-century edifice of Madrasa-e-Mahmud Gawan in Gole Khana area of Bidar stands its imposing replica known as Shaheen School.
Founded on the theory of providing quality education to Urdu-speaking students in their mother tongue, Shaheen is an Urdu medium school that has turned more than 900 students into doctors in the last 15 years. Students from the school have been consistently bagging government medical seats in the state since 2008.
In the academic year 2016-17, a staggering 201 students bagged medical seats in Bidar, of which seven students (five girls and two boys) had done their schooling in Urdu medium. Similarly, in the academic years 2014-15 and 2015-16, eleven students each from Urdu-medium grabbed MBBS seats. Of these, 17 were girls and five boys.
Urdu is not a language of choice for schooling even among the Urdu-speaking masses. As is evident from Shaheen's experience, most students from Urdu-medium schools are from underprivileged Muslim families.
Azeem Qureshi's family is an example. They belong to the butcher (Qureshi) community of Bidar. His three daughters — Ishrat Fatima, Naziya Sultana and Mehreen Fatima — are alumni of Shaheen School who ended up securing MBBS seats. Ishrat Fatima is now MS in Obstetrics and Gynecology and Naziya Fatima is doing her MD Pathology.
Another example is of 22-year-old Mohammed Farooq, whose mother works in a plastic bottle recycling plant in Humnabad Taluk of Bidar and shoulders the responsibility of running the home. Farooq is now doing his internship in Bidar Institute of Medical Sciences.
In 2013, Shaheen School was given the Rajyotsava award by the Karnataka government. The records have impressed many in the state. Zoha Arnib, who had completed her PUC (pre-university college or 10+2) from an institute in Bengaluru, trusted Shaheen School enough to make special arrangements and take coaching here for over a month in 2013. "The interesting part of the coaching was lecturers explaining difficult concepts of Physics and Chemistry in Urdu," she said. Zoha now interns with the Sridevi Hospital and Medical College in Tumkuru.
From a one-room madrasa to Shaheen Group of Institutes
Abdul Qadeer, 58, founded Shaheen School in a small room adjacent to his house way back in 1989. The school's new campus, located on the outskirts of the city, is now spread over four acres of land with a residential hostel facility. A lean website and a toll-free telephone number are examples of how Qadeer is smart enough to utilize marketing channels to his advantage. All this is still uncommon at institutes run in the small north Karnataka town.
With over 11,000 students studying in more than 30 Shaheen institutes across India, including UP, Bihar, Telangana and Maharashtra, Qadeer has turned the institute into a success. He calls himself an "academic entrepreneur". For his service in the field of education, Qadeer has received an honorary doctorate from Gulbarga University.
However, for Qadeer, success has also come with bitter criticism from within the community. Many parents and close relatives of students are concerned about the gruelling classes for PUC students — most of which stretch for almost 12 hours. A group of students revealed to this reporter that there is also bias against the "slow-learners" and that the school follows a hierarchical system based on the learning abilities of students.
The students said the "fast learners" are categorised under groups called "Super 20, 30 and 40", who get more attention as "they are most likely to grab government medical seats". The students further added that these students are assigned competent lecturers to teach, whereas weak students aren't.
Qadeer, however, dismissed these claims and said, "I know that there are some institutes who follow this procedure, but at our institute we focus more on weak students." He said studies at PUC level are also combined with Yoga classes and Namaaz breaks, so as to reduce pressure on students.
A mainstream madrasa
Because of Shaheen's resounding ability to grab medical seats, the college has been attracting students from as far as Canada and West Asia, apart from across India. The strength of PUC students in Bidar in the last five years has been between 1,800 to 2,000 per year.
Parents seeking a blend of temporal and spiritual education is another section that the school has tapped successfully. It offers a bridge course for Madrasa passouts to help them join the mainstream education system. The students are made to appear for 10th examinations and are then absorbed into the PUC.
Ishrath Fatima was one of the students from this course. A Hafiza (one who memorizes the entire Qur'an verbatim in Arabic), Ishrath moved to Shaheen and eventually went on to do her MS in Obstetrics and Gynecology. She now teaches in a medical college in Jalna district in Maharashtra. "After completing my Hifz, I enrolled in Shaheen with the intention of just passing matriculation as it was thought necessary to get married."
She further added, "I had no intentions of doing MBBS, but seeing my performance in school, Qadeer sahab encouraged me to continue my education even after SSLC. Qadeer sahab got the permission of PU college in 2002 and took a vow from me that I would get a medical seat for Shaheen. And Alhamdulillah (praise be to Allah), I succeeded."
Syed Sujeel Ahmed is a Bangalore-based freelance writer and a member of 101Reporters.com, a pan-India network of grassroots reporters.
India
Prime Minister Narendra Modi on Monday inaugurated Hindustan Aeronautics Limited's (HAL) helicopter plant in Karnataka's Tumakuru. This factory is Asia's largest helicopter manufacturing facility and will initially produce the Light Utility Helicopters (LUH).
Business
Earlier, Bommai had repeatedly urged the Union government to declare the Upper Bhadra project as a national project as "it will help get a central grant of Rs 16,000 crore". He had also met Sitharaman, multiple times and requested her to allocate funds for the project
India
The CNN-News18 Bengaluru Town Hall will feature Chief Minister of Karnataka, Basavaraj Bommai who will share his views on the theme, followed by a discussion with DK Shivakumar, President of the Karnataka Pradesh Congress Committee