Madhya Pradesh farmers' protests: Yogendra Yadav, Medha Patkar detained on their way to Mandsaur
Swaraj India leader Yogendra Yadav, Medha Patkar and others were arrested on their way to meet farmers in Mandsaur on Thursday, media reports said.
Swaraj India leader Yogendra Yadav was detained on his way to Mandsaur where he, along with social activist Medha Patkar and a few dozen others were supposed to visit to meet protesting farmers of Madhya Pradesh. According to the NDTV, the police stopped Kisan Mukti Yatra and arrested farmers taking part in the demonstration.
Yadav was on his way to attend a farmers' rally at Gudbhali village, News-18 reported.
Madhya Pradesh: Yogendra Yadav, activists Medha Patkar,Paras Saklecha and others detained by Police during a farmers rally in Mandsaur

— ANI (@ANI_news) July 6, 2017
"Police stopped Kisaan Mukti Yatra and arrested hundreds of farmers and farmer activist arrested near Piplia Mand," tweeted Yadav. "The people involved in the Yatra have been arrested on the allegation of disrupting peace. Till now, as many as 300 persons have been arrested," Superintendent of Police Manoj Singh said.
According to the Economic Times, the Yatra was started to demand rates 1.5 times the cost production for agricultural produce, to complete the loan waiver, and to protest killings of seven farmers in Madhya Pradesh in police firing on 6 June.
Communist Party of India-Marxist state unit chief Badal Saroj said, "The yatra, which began from Bhudha village, was halted at Guddeli village. These people were going to Peepli Mandi, where farmers were killed in police firing."
According to the The Indian Express, on 1 July, Yogendra Yadav had criticised the Centre for its stand against farm loan waivers and said an attitude of "double standards" has been meted out towards farmers. The country owed a debt to farmers as the prices of their produce have been kept artificially low, Yadav had said at a press conference of All India Kisan Sangharsh Coordination Committee (AIKSCC).
On Wednesday, Yadav had written an open letter to Madhya Pradesh chief minister Shivraj Singh Chouhan (accessed by Firstpost here), asking him why the state government has denied permission to farmers' to hold a rally.
"Why does your democratically elected government, functioning within the constitutional framework, deny permission to farmers to gather peacefully and pay tribute to martyrs?" Yadav asked Chouhan in his letter.
One month ago, on 6 June, six farmers were killed in police firing at Mandsaur, Madhya Pradesh. To mark the incident's one-month anniversary, 162 farmers' bodies, national political leaders, and thousands of farmers from 18 different states are
On 6 July, some national political leaders, 162 farmers' bodies and thousands of farmers from 18 states will remind Chouhan of the promises he had made at the height of the agitation — to bring it to a peaceful end — but has since seemingly forgotten.
With inputs from IANS
Photos
The Aam Aadmi Party kick-started its Lok Sabha poll campaign in Mumbai from the Mumbai North West constituency. Prominent leaders such as Mayank Gandhi, Medha Patkar and Yogendra Yadav were seen at the campaign. Here are the images from the rally.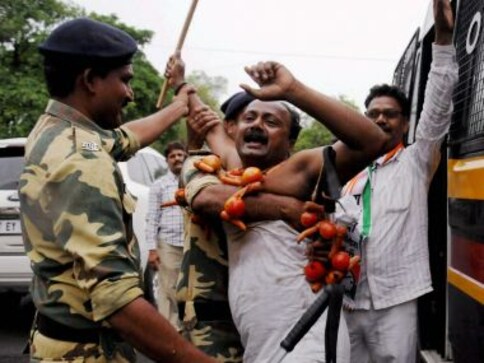 India
A farmers' conglomeration said it will launch another round of protests for over two months from 31 August to voice its demands for a loan waiver and remunerative price for agricultural produce
India
Criticising the NDA government for "failing" to fulfil its promise of 50 per cent profit over crop production cost, the farmers warned it of repercussions during the 2019 Lok Sabha election.