Madhya Pradesh bypolls: Mungaoli records 69% voting, Kolaras sees 59% turnout till 3 pm
Brisk polling was witnessed in bypolls for Mungaoli and Kolaras assembly seats in Madhya Pradesh on Saturday with poll percentage of 69 percent and 58.90 percent
Bhopal: Brisk polling was witnessed in bypolls for Mungaoli and Kolaras assembly seats in Madhya Pradesh on Saturday with poll percentage of 69 percent and 58.90 percent, respectively, recorded by 3 pm. in the contests seen as a battle royale between the ruling BJP and the opposition Congress.
The by and large peaceful polls were marred by sporadic clashes — especially one in Digoda village in Shivpuri's Kolaras — between the Congress and Bharatiya Janata Party workers, a poll official said.
Police station in-charge in Mungaoli, Kushal Singh Bhadoria, was removed from his post, the official said, adding that Risheshwar Singh has replaced Bhadoria.
Chief Election Officer Saleena Singh has appealed to voters to remain calm and exercise their right to vote without fear. There is a public holiday in both places in view of the poll process.
A total of 22 candidates from Mungaoli in Ashoknagar and 13 from Kolaras are in the fray.
As many as 2,44,457 electors from Kolaras and 1,91,009 from Mungaoli were eligible to vote between 8 am and 5 pm.
Some 3,000 poll officials are conducting the process at 575 polling stations, the EC official said.
The assembly seats fell vacant following the death of sitting Congress MLAs Mahendra Singh Kalukheda (Mungaoli) and Ram Singh Yadav (Kolaras).
These bypolls are being seen as a prestige battle for Shivraj Singh Chouhan, who is in his third term as Chief Minister, and his arch-rival Jyotiraditya Scindia of the Congress.
The two assembly segments are part of Scindia's Guna Lok Sabha constituency.
The votes will be counted on 28 February and the results will be declared the same day, the EC said.
Electronic voting machines (EVMs) and voter-verifiable paper audit trail (VVPAT) machines are being used at all polling booths. Some 15 and 17 machines were replaced in Kolaras and Mungaoli, respectively.
Politics
Former Union Minister Yashwant Sinha said that nobody from Trinamool Congress has spoken to him and he has not been in contact with any of the leaders of the party on a personal basis
India
he Election Commission on Sunday issued a certificate announcing the election of NDA candidate Jagdeep Dhankhar as the 14th vice president of India.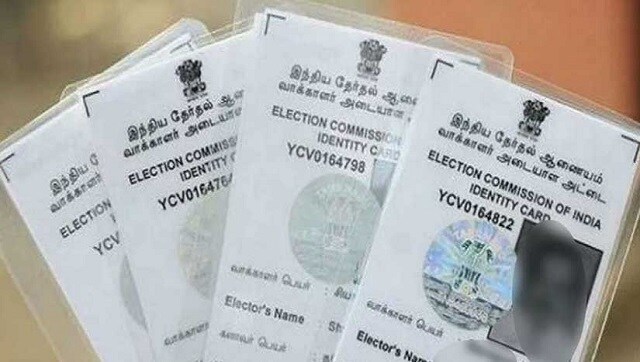 India
The Election Commission of India said that citizens above 17 years can apply in advance for having their names enrolled in the voters list and not necessarily have to await the pre-requisite criterion of attaining age of 18 years on 1st January of a year