Madhu Koda's rise and fall: Ex-Jharkhand CM convicted in coal scam case, has history of corruption cases against him
A special Central Bureau of Investigation (CBI) court held former Jharkhand chief minister Madhu Koda and three others guilty in the coal scam case.
A special Central Bureau of Investigation (CBI) court on Wednesday held former Jharkhand chief minister Madhu Koda and three others guilty in the coal scam case. The sentencing in the case is likely to take place on Thursday.
Special CBI Judge Bharat Parashar held Koda, former Coal Secretary HC Gupta, former Jharkhand chief secretary Ashok Kumar Basu and one other guilty of varying offences including criminal conspiracy in the case pertaining to irregularities in allocation of Rajhara North coal block in Jharkhand to the Kolkata-based VISUL.
Koda, Basu and two accused public servants conspired to favour VISUL in the coal block allocation, the agency had added.
Who is Madhu Koda?
Koda served as the Chief Minister of Jharkhand from 2006 to 2008. He was the third chief minister to hold the charge as an independent candidate. Koda started his political career with the All Jharkhand Students Union.
In 2000, the Bharatiya Janata Party gave him the election ticket to contest Assembly elections from Jaganathpur. He won that election and soon after that he became the Panchayati Raj Minister under the then chief minister Babulal Marandi.
In the year 2005, the party denied him a ticket to the state Assembly election, forcing him to contest as an independent candidate. He, however, won from Jaganathpur and extended support to the BJP-led government and got the post of minister of mines and geology.
Koda and three other independent legislators withdrew support to the Munda government in 2006, and he became the chief minister with the help of UPA.
It was under his reign that the alleged discrepancies in allocating coal mines took place. Koda was the head of the UPA government, which was supported by Congress, RJD and JMM, between 2006 and 2008 when according to the ED/CBI/IT the alleged scams surfaced. Koda resigned from the post of chief minister on on 23 August, 2008.
He joined the Congress on 30 December, 2013, after he was released on bail. Among other things, he had been accused of involvement in money laundering, illegal investments, rural electrification and other scams.
 Koda is the son of a farmer. 'He should have remained a farmer but Koda dreamt big', says
his bitter and distraught family
. According to
News18
, his father, Rasika Koda, who lives in Patahatu (Koda's birthplace) in West Singhbhum, feels that his "son's decision to join politics was a mistake".
What is the coal mining scam?
Investigative agencies had accused Koda of taking large sums of money as bribes for illegally allotting iron ore and coal mining contracts in Jharkhand during his tenure as chief minister of the state.
Some estimates put Koda and his associates' collection at over Rs 4,000 crore, garnered by allotting mines to business houses. On orders of Jharkhand High Court CBI is investigating the scam.
According to a The Times of India report, some officials in the mines department of Jharkhand government claimed that Koda and his associates took bribes at the rate of Rs two lakh per hectare of land that had the potential for high-grade iron ore extraction.
Koda was arrested by state police's vigilance wing on 30 November, 2009. On 31 July, 2013, he was released on bail from Birsa Munda Prison in Ranchi.
According to Hindustan Times, a special money-laundering court in Delhi had attached Koda's properties worth Rs 144 crores in a disproportionate assets case against his alleged associates. It found that the properties were involved in the offence of laundering under the provisions of The Prevention of Money Laundering Act (PMLA) in a case probed by Enforcement Directorate (ED).
Other discrepancies
According to a report in The Quint, the CBI has said that Koda had also favoured firms other than VISUL, like Rungta mines, Sunflag Iron and Steel Ltd and Electrosteel Castings.
Koda was also allegedly involved in allocation irregularities of Amarkonda Murgadangal coal block to the Jindal group of firms. The CBI, in its chargesheet, has alleged that Jindal had leveraged support to the then "unstable" Koda government in Jharkhand in return for a recommendation for allocation of Amarkonda Murgadangal coal block to his group firms, the report said.
In September this year, the Election Commission had disqualified Koda from contesting elections for three years for failing to file details of expenses related to the 2009 Lok Sabha polls he fought.
He had won the polls from the Singhbhum Lok Sabha seat in Jharkhand. An order issued by the Commission had said that Koda "stands disqualified for three years" for "failing to lodge his account of election expenses in the manner required by the law and for having no good reason or justification for such failure".
Koda had moved the Delhi High Court questioning EC's jurisdiction, but the poll panel was given a go-ahead by the court to proceed against the politician.
All the accused in the coal scam case were summoned early after the court took cognisance of alleged offences under sections 120-B (criminal conspiracy) read with 420 (cheating) and 409 (criminal breach of trust by public servants) of IPC and under provisions of Prevention of Corruption Act. The sentencing in the case will take place on Thursday.
During arguments, the CBI had alleged that the firm had applied for allocation of Rajhara North coal block on 8 January, 2007.
It had said that although the Jharkhand government and the steel ministry did not recommend VISUL's case for coal block allocation, the 36th Screening Committee recommended the block to the accused firm.
The CBI had said that Gupta, who was chairman of the screening committee, had allegedly concealed facts from the then Prime Minister Manmohan Singh, who then headed the coal ministry too, that Jharkhand had not recommended VISUL for allocation of a coal block.
Koda, Basu and two accused public servants conspired to favour VISUL in the coal block allocation, the agency had added.
With inputs from PTI
Find latest and upcoming tech gadgets online on Tech2 Gadgets. Get technology news, gadgets reviews & ratings. Popular gadgets including laptop, tablet and mobile specifications, features, prices, comparison.
Lifestyle
Social media platforms act as sites wherein death, loss, and mourning are increasingly encountered and negotiated. With the online omnipresence of grieving, it becomes a constant challenge for women, especially those bereaved, to perform 'good grief'.
India
The Buddha nullah picks up toxic effluents in massive quantities and around 200 MLD of untreated sewage a day before it meets the Sutlej river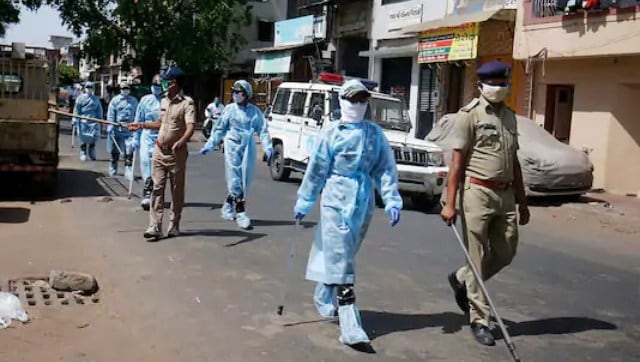 India
The police needs clean localised data to formulate strategies on where to increase patrolling and where to be stricter in enforcing the lockdown.