Low wages, poor housing and now EPF: Garment workers' protest in Bengaluru was inevitable
The protest in Bengaluru was not organised by any trade union; it was spontaneous and started innocuously outside a factory gate in Bommanhalli.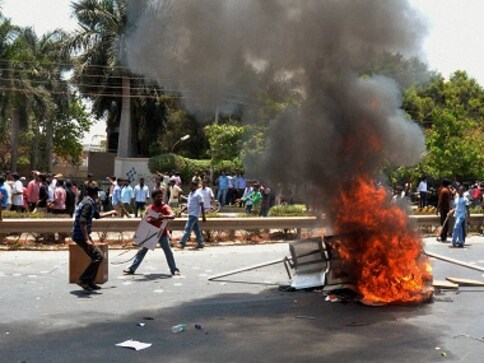 The garment workers' violent stir in the beginning of this week in Bengaluru may have died down, with the central government withdrawing the provident fund amendment, but what is apparent is that this was one protest that was just waiting to happen.
The workers in this unorganised sector, living and working in pathetic conditions, were looking for a just such a trigger to erupt in rage.
The protest was not organised by any trade union; it was spontaneous and leaderless and started innocuously outside a factory gate in Bommanhalli, a suburb near Electronic city, the IT hub of Bengaluru.
Within hours it had spread like wildfire, drawing nearly 10,000 workers from the surrounding five factories. By Tuesday, the protesters had turned violent, pelting stones, burning buses and other vehicles in major hubs, including Hosur road, Tumkur Road, Jallhalli. Protests were also happening in Madur and Mandya. Several people, including policemen were injured. Two of them were struck by bullets when the police fired in the air to control the mob.
Bengaluru may primarily be known as the IT capital of India, but there are almost 1,200 garment factories in and around the city. Many international brands source from these factories. Nearly 90 percent of the garment workers are women and many are migrant workers from rural Karnataka and North India. Many maids working in houses now have at one time or the other worked in garment factories.
To get a better sense of what ails the industry, Firstpost reached out to the Garment Labour Union (GLU), founded by women garment workers. The GLU has only women workers as members and collaborates with other trade unions, civil society organisations and campaigns to improve the working conditions in the garment sector.
Highlighting the problems in the garment industry, Yashoda PH, general secretary of the GLU told Firstpost, "The factories have high production targets, this is a major issue. If workers don't reach their targets, they're abused verbally and even terminated. There's also sexual abuse, although nobody will complain openly. Workers can't take leave, if they do, when they return they're summarily sacked. Security will be told that the worker should not be allowed in and their tokens will be confiscated. Once a year they are allowed 15 days to a month to go home, but when they return there's no continuity of service. They have to take a new appointment."
Talking about the pathetic living conditions of the 15,000 to 16,000 workers from North India, Yashoda says, "They have no freedom, they are housed in hostels, where there are no newspapers and no TV. They can't go out and are allowed to go out for about two to three hours on Sundays. The hostel warden and the factory executives keep a track of the time it takes for the workers to reach the factory from the hostel and back. For instance, the hostel warden will tell the factory manager or supervisor or whoever is in charge, 'I am sending 25 people it will take them 15/20 minutes to get to the factory'. The factory executive will do the same when the workers leave the factory to go back to the hostel."
GLU was involved in the tripartite meeting called by the Minimum Wage Board between the government, manufacturers and unions to discuss minimum wages of the workers for 2013-2014. Yashoda explains what transpired at the meeting. "We asked that wages be increased by Rs 500 per day from Rs 196 per day. But it was hiked to only Rs 252 per day inclusive of DA for 2014. In 2015 this was raised to Rs 272 per day inclusive of DA," Yashoda says.
Firstpost also contacted Cividep India, which is doing a lot of work in the industry. Cividep India attempts to educate workers about their rights and campaigns for corporate accountability with other like-minded organisations and individuals.
Gopinath Parakuni, general secretary and founding member of Cividep India told Firstpost that it was quite a complex situation. "There are so many brands involved, with a global supply chain and some 100 different operations are going on. Designing, building, marketing and image building for a product is going on in Europe, while the manufacture is happening in different countries, including India. Fundamentally it's a trade issue, but a colonial hangover rules the industry. It took nearly 40 to 50 years for the manufacturing to move to Asia."
Talking about the unorganised work force in the garment industry, Parakuni says, "They are a vulnerable workforce, perhaps they spend four to five years in school. They come from feudal backgrounds and suddenly they find themselves in a city and have to fend for themselves. There are no long term employees in the industry. There's a high attrition rate, workers stay in one company for a maximum of two to five years."
Talking about the low wages, he says, "It's a race to the bottom, where the market led by leading brands like H&M, C&A, GAP, Inditex, Tommy Hilfiger, Mother Care dictate pricing. They try for the cheapest manufacturing cost and wages are thus determined by suppliers in negotiation with the smaller trade unions. There's no formal collective bargaining, as the factories never allow a trade union to be formed, from lessons they learnt from the textile industry in Mumbai. And they are well within their rights not to recognise a labour union."
Asked why the state government wouldn't step in and conduct inspections, he said, "There's no political will. They have to favour both the manufacturers and the workers. They do inspect when they get complaints or memorandums are submitted by the workers. But these are not effective and not on scale. There are no prosecutions or convictions."
Meanwhile, let's not lose heart. It's not as though no action is taking place. The Economic Times reported in March this year that Indian firms who supply apparel, even if it is to foreign brands such as Gap, H&M and Marks & Spencer, will now be scrutinised for unfair trade practices. This decision was taken after a consortium of international agencies, including Unicef, Stop Child Labour and Solidaridad, signed an agreement on this issue.
This agreement was in response to a paper published by The India Committee of the Netherlands (ICN) in January 2016. Titled Unfree and Unfair, the paper highlighted how young migrant garment workers live in appalling conditions. Unfree and Unfair studied the conditions for migrant workers in four garment factories – K Mohan, Texport Industries, Arvind Ltd Exports and Shahi Exports.
It is high time the Karnataka government stepped in and took action before another protest takes place. It should not allow human rights violations to carry on in the industry and should prosecute and convict the offenders.
For, Make in India comes with responsibility.
India
The family members of the businessman told the police that he had left the house saying that he would be visiting his daughter-in-law, but when he did not return they filed a missing person's complaint
India
With 13.9 degrees Celsius on Monday, Bengaluru recorded its lowest temperature in a decade in the month of November. Mumbai and Pune also witnessed chilly mornings as the mercury plunged due to the entry of northerly winds in Maharashtra
India
Looking at ensuring seamless air-travel for passengers, initially those travelling on the domestic route, the project will permit travellers to pass through various checkpoints at airports through paperless and contactless processes using only their facial features to establish their identity