Long road to rehabilitation: Maharashtra juvenile justice system cuts pendency, but challenges remain
Maharashtra has reduced the pendency of cases before its juvenile justice boards (JJBs) by one-third in the past few years, but a lot remains to be done in the system, said Justice VM Kanade
Maharashtra has reduced the pendency of cases before its juvenile justice boards (JJBs) by one-third in the past few years, but a lot remains to be done in the system when it comes to rehabilitation, said Justice VM Kanade of the Bombay High Court and head of its committee on juvenile justice.
The committee is responsible for strengthening the juvenile justice system in the state. Pendency in the state's JJBs has fallen from 26,116 cases to 16,138 cases until the end of February this year, according to a presentation made by Justice Kanade, at a conference two weeks ago in Uttan.
Children below the age of 18 are brought before a three-member board, which is headed by a magistrate and includes a social worker. This is a part of a system meant to be restorative rather than punitive, compared to the adult criminal justice system.
Justice Kanade said that the High Court had been monitoring the system, resulting in filling up of vacancies in all JJBs and child welfare committees and that the principal district judges had also been closely tracking the boards.
"The next step is to concentrate on rehabilitation," he told Firspost in a chat in his chamber last week. "In the previous phase, the focus was on building up the infrastructure."
Justice Kanade said in his understanding "compared to some other countries, our Act (of the year 2000) was very good". "There was sufficient room for children in conflict with the law to (be away from) the regular criminal system," he said.
The new Juvenile Justice Act passed after a public outcry last year act has been criticised for a clause that would allow 16 to 18 year olds to be tried as adults in case of certain types of "heinous" offences.
Since 2014, the state has managed to plug vacancies in boards across districts. A Right To Information (RTI) reply to an application filed by this reporter indicated 35 boards were in place for each of the districts. However, the women and child department did not specify in its reply how often the JJBs met.
However, while pendency is an important parameter to judge the efficacy of justice delivery, reducing the number of cases alone is not enough, say those working in the system. More crucial is how to effectively restore children in conflict with law to society.
A common refrain has been that not enough was done in the first place under the previous act of 2000. "There was no investment in reform," said Komal Ganotra, director of policy, research and advocacy at CRY. "How did we implement that Act?
Though the Juvenile Justice Act, 2015 includes, among other things, provisions for reform, the government's allocation for child protection has actually fallen in the latest budgeting provisions.
The integrated child protection scheme (ICPS) has seen a 14.39% fall in allocations compared to last year. A large part of the funding for new homes, staff salaries, food and clothing for all children within the juvenile justice system falls within the ICPS. "This is particularly worrying that this cut in budget is made despite the increase in crimes against children as well as number of children coming in conflict with the law," said a report from the Haq Centre for Child Rights. "This reflects the very low priority accorded to protection of children despite all the lip service from the legislators and members of the government."
Rehabilitation continues to be an area of concern, with piecemeal rather than concerted state-wide efforts.
An expert committee had told the Bombay high court earlier this year that in the Dongri observation home, facilities were severely lacking, including for education and training.
"Some homes don't have education facilities or vocational training programmes," said Vijay Doiphode, a social worker with the Resource Centre for Juvenile Justice (RCJJ). "Sometimes there isn't enough staff."
RCJJ, a field action project of the Tata Institute of Social Sciences (TISS) is one non-profit working in children's homes in five of Maharashtra's districts. Last month, RCJJ along with the Thane District Legal Services Authority felicitated 30 young offenders who had picked up and pieced together their lives after a brush with crime.
One boy spoke movingly and eloquently at the function about falling into bad company, getting addicted to drugs and committing crime. But at some point he realised he needed to pull himself together and stick to the de-addiction programme. He now mentors other young people who used to be like him. "I tell them, everyone can improve," he said. Other boys spoke of struggles at home and difficult circumstances, while parents and other family members sat in the audience.
Dipak Chatterjee, another lawyer and college teacher, takes his students to children's homes and encourages them to donate. Officials at the David Sassoon Industrial Home said they also relied on donations as government spending on such homes was a measly Rs 635 per month per child.
The institute has about 130 children at any given point, and a pleasant, green campus in the heart of Mahim.
Home to runaways, orphans, rescued child labourers and juvenile offenders, it has a few facilities for vocational training and provides schooling till Class 8. This year six students appeared for the state board exam, with the help of staff, but there is no formal schooling programme up till Class 10.
Lawyers and activists point out other issues that complicate the process of rehabilitation. For instance, after serving out a punishment or being let off, a child might come to be stigmatised by the police. "Once their name is on the record, the police keep catching them," said one social worker.
Sunita Ghadge, a defence lawyer who deals extensively in juvenile matters, said she had once argued a case where 57 cases were slapped against two boys. Though neither had a previous record, it became convenient to dump all the unsolved cases against them. The JJB however found them innocent.
Simple things like getting admitted back to school after leaving the JJ system or getting a passport become a struggle, even though according to the law, no offence committed before the age of 18 can count as part of a person's criminal record. "I have been waiting for 15 days for this clearance," said one woman, whose son was caught and released four years ago but whose passport will not be processed until the police is satisfied the case was indeed closed.
Still, the police are trying to be proactive. One senior official said that such children were "seen as a potential headache", but that greater efforts were afoot to sensitise the police. Last year the Mumbai police sought to study the issue of rehabilitation and asked non-profits to analyse and report back on this for each of the city's 12 zones. Most are yet to hand in their reports.
"There are different aspects to rehabilitation," said Farida Lambay, co-founder of Pratham, one of the non-profits that worked with the Mumbai police. "There is immediate remedial action, then you have to do a multi-pronged intervention and thirdly to prevent it happening again."
The High Court committee has also been instrumental in revamping the system of free legal aid in the juvenile justice system which was found to be in shambles. Following complaints that legal aid lawyers were charging huge amounts to children and their parents, they sent one of their stenographers as a decoy, posing as someone in need of legal help. It did indeed turn out to be the case that such lawyers were trying to fleece poor litigants.
Justice Kanade said they have now asked the heads of bar associations to recommend good young lawyers to pitch in to the system.
He said they were also trying to study orders passed by JJBs to analyse what further improvements can be made, especially in terms of "developing sensitivity". Where found lacking he said the magistrates and judicial officers would be sent for training.
Opinion
Despite the efforts of civil society mediators, the army and Sharif government's relentless actions against PTI members indicate a no-holds-barred fight to the finish between warring factions of the political class
World
Israel prime minister Benjamin Netanyahu delayed his planned judicial reforms to next month after the country came to a standstill with protesters calling the overhaul the 'death of democracy'. But is this enough to pacify angry Israelis?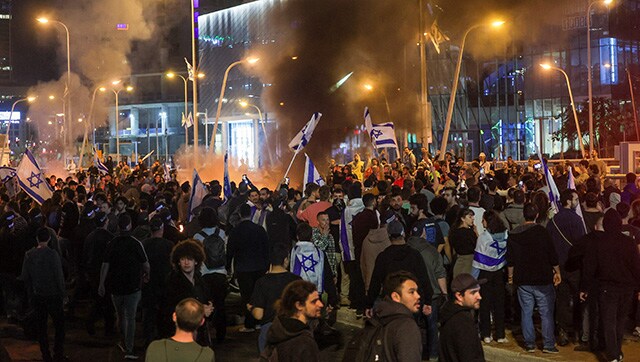 Opinion
Given the judicial overreach in India and murmurs of judicial reforms, it is inevitable that what we see in Israel will, in all probability, play out on the streets of Delhi