LJP's Chirag Paswan asks Rahul Gandhi to clear stand on removal of National Green Tribunal chief AK Goel
LJP leader Chirag Paswan targeted the Congress after its leader and former law minister Ashwani Kumar was reported to have said the demand to remove Goel cannot be justified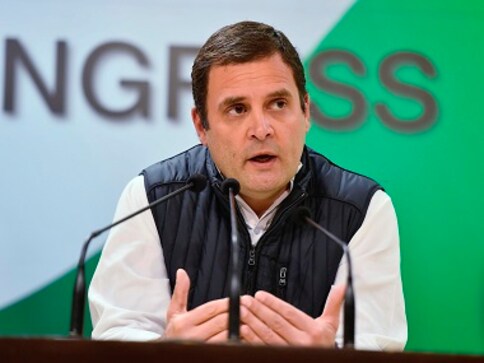 New Delhi: After putting pressure on its ally BJP, the Lok Janshakti Party (LJP) Monday asked the Congress to clear its stand on demands made by several parties that National Green Tribunal (NGT) Chairman Justice AK Goel be sacked.
LJP leader Chirag Paswan targeted the Congress after its leader and former law minister Ashwani Kumar was reported to have said the demand to remove Goel cannot be justified.
After a fiery press conference last week in which he had asked the Modi government to sack Goel and take measures to restore the original provisions of a law on atrocities against Dalits by 8 August, he today sounded conciliatory and claimed his party had no conflict with the government.
He said that the government has often met their demands, citing its move in the Supreme Court for resuming quota for Dalits and tribals in promotion and stay on an University Grants Commission (UGC) directive which had reduced the number of reserved seats in universities and colleges.
Asked if he has heard from the government or the BJP on his demands, the son of LJP chief and Union minister Ram Vilas Paswan said that Modi had recently returned from a foreign trip and he expected him to respond very soon.
Targeting the Congress and its president, he said Rahul Gandhi often seeks to corner the government by raising Dalit issues but a senior leader of his party has backed Goel's continuation.
"Gandhi must clear his stand on the issue. Do you support the demand to dismiss Goel or not," he said.
Several parties, including BJP allies like Paswan's LJP, Union ministers Upendra Kushwaha and Ramdas Athawale besides the saffron party's Dalit MPs like Udit Raj have backed the call to remove the former Supreme Court judge for delivering a judgment that, they claim, diluted a law on atrocities against Dalits and tribals.
"The government should take a decision before 9 August," Paswan said.
Dalit groups have given a call for 'Bharat Bandh' on the day in support of a number of their demands, including a legislation to negate the apex court's verdict and to restore the original stringent provisions of the atrocities law.
Chirag Paswan also targeted parties like Lalu Prasad's RJD for its silence on the demands of Dalits.
"On the one hand opposition parties like the Congress spread this 'misinformation' that the Modi government is anti-Dalit but on the other hand their leaders back Goel," he said.
Targeting Bahujan Samaj Party (BSP) supremo Mayawati, Paswan said,"she has also refrained from making any statement on the matter and noted that she as Uttar Pradesh chief minister in 2007 had issued an executive order which had "weakened" the atrocities law'.
X BJPX LJPX Lok Janshakti PartyX National Green TribunalX NGTX Justice AK GoelX Chirag PaswanX Governor Ashwani KumarX Upendra KushwahaX Ramdas AthawaleX Ram Vilas PaswanX BSPX RJDX CongressX Rahul Gandhi
India
Things evolve with time and so has 'Hindutva'. Once it was the only saviour of others, but the condition demanded it to add a new feature: Resist
Politics
Be it the Jewar Airport or Purvanchal Expressway, Uttar Pradesh is witnessing a massive transformation in its infrastructure sector
Politics
Reform in the national interest, something Prime Minister Narendra Modi has chosen as his mission, is always difficult. Yet, he should stick to his guns