Lessons from Munich: It's time we equipped our cops against lone wolf attacks
The Munich shooting shows us that if we don't want another 26/11 or worse, modernisation and reform of the police must be executed NOW.
Eighteen-year-old Ali Sonboly began his killing spree at a fast-food restaurant in Munich at 5.54 pm last Friday. By the time he had moved to the neighbouring Olympia Shopping Centre, Munich's police had already fanned out into a gigantic dragnet.
Within minutes, 2700 policemen and women, including Germany's GSG-9 anti-terror squad, had been scrambled. They were outfitted in stab and bullet-proof vests lined with ceramic plates each weighing between two to eight kilos, (a grade one jacket can protect against 9 mm bullets) specially designed tactical boots and gloves and flame-resistant one-piece overalls. They were armed with various versions of the country's sophisticated Heckler&Koch weapons equipped with night vision, walky-talkies and they wore gas and smoke masks.
Meanwhile, the police control room worked social media relentlessly, telling people to get off the streets and indoors. The main railway and all metro stations were evacuated and sealed off and all trains halted.​ Search helicopters swarmed the skies over the city and the dense forests that surround it. Autobahn turnpikes and entry exit points to the city were closed.
Cabinets went into a huddle in national capital Berlin and the Bavarian state capital, Munich and an emergency declared in the city. A hospital closest to the site of the attack mobilised all off-duty doctors and paramedics on emergency duty. By 2 am, it was all over. The solitary ​attacker had killed 10 others and himself, dozens of those injured were in hospital. After ​the city was 'sanitised' as thoroughly as the rescue ops, Munich returned to daily life again.
Now, recall that wrenching scene on 26/11 in Mumbai, when Assistant Sub-inspector Tukaram Omble leading his ill-equipped team killed one terrorist after which the fearless hero clutched at Ajmal Kasab's gun, taking his bullets at close range ​and collapsing only when his men overpowered​ the criminal.
On that day as on any other, police officers had worn regulation bullet-proof vests. But the one donned by Maharash​tra Anti-Terror Squad (ATS) chief ​Hemant Karkare​ couldn't save him. Others like Vijay Salaskar and Ashok Kamte lost their lives similarly. Lowly, beat constables, who were the first to receive panicked SOS-es, rushed, carrying the only weapon they are sanctioned – a bamboo lathi. There was ​a tragic lack – not of bravery, but of the best protective gear and combat equipment to those who tackled the terror headlong and first.
Then, it took nine hours for the NSG to get to Mumbai from their northern base because of a convoluted and dangerously superfluous 'chain of command', which, in cases of terror strikes, ought to rest primarily with those on the ground: local and state police, not with a clueless mantri in his faraway Lutyens bungalow.
The first argument that tardy politicians would present to avoid radical investment in the police or give them absolute control in emergencies (an absolute horror for our control-freak netas) is that nothing that works in tiny Europe will work in huge India.
India's size and population are always easy arguments. But both are givens that cannot be changed.
Of course Munich is much smaller than Mumbai or Delhi, both in terms of area as well as population. Delhi /NCR – which, according to the latest Demographia index, has overtaken Mumbai to become India's largest city – has 25 million residents and an area of more than 46,000 sq kilometers. Munich is 310.7 sq kilometers and has a population of 1.5 million. Even if one were to take the Greater Munich Metropolitan Area into account, a head count would still total 5.8 million.
But density is a crucial factor. Of Germany's total population of 80 million, 51 million live in cities with superb infrastructure. In 1.36 billion-man India, 42 million live in congested, overcrowded, perpetually gridlocked metropolises (and many more million in Tier II cities and towns) that have — other than in posh parts — degenerated into urban disasters. Germany has 296 policemen for every 100,000 people. And India? A mere 123.
We do have special commando units, some trained by Germany's GSG after 26/11. But the equipment available to those who either accidentally encounter or, first rush to the scene of mass murder, the local police, is neither designed to supersede the increasingly sophisticated weaponry used by terrorists, nor does it protect the lives of the police. Our regular beat cops are primarily equipped with a bamboo lathi – 'upgraded ', only recently in seventy years, to polymer. Guns are available but restricted to the thana and require the usual tedious rigmarole of seeking permission from Lutyens Delhi for use in the case of terrorist attacks.
The horrific bloodshed of 26/11 did bring more sophisticated weaponry. But many serving Mumbai policemen who were on duty on that dark day, say that the equipment is lying unused because they have not been trained to operate it.
Analysts call the new trend of identifying, indoctrinating and training 'lone wolves' like the murderer at the wheel in Nice, the "third jehad". If earlier terror groups sent in their own members to wreak terror elsewhere, local recruits with no criminal record are the preferred option today. Given that our youth population is India's demographic triumph over China and the energetic governmental thrust on e-literacy, it is a no-brainer that the disillusioned and marginalised among them and irrespective of religion, are highly susceptible to online indoctrination in crime.
Take a look at a crowded market anywhere in India. On any given day, Delhi's Lajpat Nagar is milling with crowds, with countless un-policed feeder lanes bringing fresh surges of shoppers. A few, scattered 'X-Ray detectors' stand like dismantled door frames in a surrealistic painting, at random spots in the middle of a street. Since nobody seems obliged to walk through, most mill their way around them. The same scene plays out in lower courts and many other public places not as 'important' as VIP Lutyens Delhi or Malabar Hill, Mumbai. If a lone-wolf strikes ordinary poor and middle-class Indians, would our police, even with the best equipment, be able to launch a counterstrike as effectively as their counterparts in Munich did last week?
There is another important factor which make our cities tinderboxes. The Germans are an orderly, law-abiding, cool-headed people. Do you see anyone in Delhi, Mumbai, Chennai or Bangalore immediately evacuating metro stations, cinema halls and getting indoors merely upon reading a police tweet? How many of us would avoid our inherent love for 'lingering to watch the action', film it against the appeals by the police, broadcast the film immediately on all available Internet channels and set off rumours and panic?
Now think of the thousands of homeless who have no 'indoors'. Would the police be able to quickly bypass stultifying red-tape to open up giant stadiums at the drop of a hat –like they do at a VIP phone call – as shelters and depute security there? Do you see anyone in our metropolises not complain loudly or erupt in road rage, when public transport is shut down, flights cancelled and highways blocked indefinitely ?
A total of Rs 3,000 crore were set aside in the 2014-2015 budget to modernise our police. But a sum 80 times that amount was allocated to the modernisation of the armed forces. No complaints, since the latter are in equally urgent need of upgraded equipment. But taking into account the bloody times this world is seeing against ordinary civilians in cities and between a war on the border and a 'lone wolf' targetting a crowded market: which one is likelier?
If we don't want another 26/11 or worse, modernisation and reform of the police must be executed NOW. They must be freed from political pressure and serving as personal security and domestic staff for our pampered politicians.
At the end of the day and when the posthumous medals have been handed out by self-serving netas, let's not forget that a constable is also a citizen. But since he faces the bullets before anyone else in a fancier uniform, he must be given more than adequate protection.
(The author is a senior foreign correspondent and longstanding ex-South Asia bureau chief of Der Spiegel)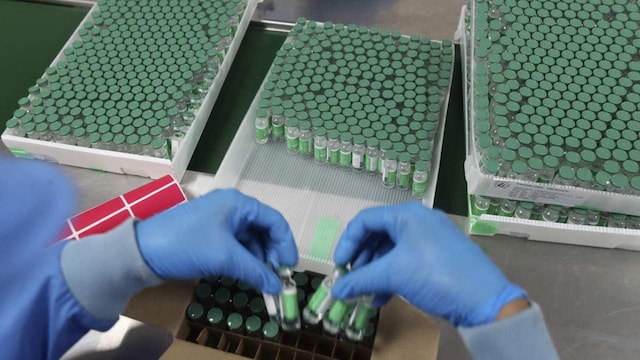 India
Vaccination schedules are always informed by scientific evidence. However, operational reasons are also factored in while deciding the immunisation timetable
World
Russia finds itself caught between a rock and a hard place. Putin would have to summon all his guile and authority to extricate the nation out of this tight spot
World
The references to China, direct and indirect, at the G7 Summit are helpful from India's point of view in taking cognisance of the mounting Chinese threat with which the country is now confronted more openly and durably