Lashkar-e-Taiba suffers major setback in Kashmir's Pulwama district as police gun down three militants
Lashkar-e-Taiba (LeT) suffered another major blow in south Kashmir's Pulwama district with security forces killing three militants (five in 24 hours) from the outfit in an encounter that lasted six hours
The Pakistan-based militant outfit Lashkar-e-Taiba (LeT) has suffered a major setback in Kashmir with one of its top commander and nearly half dozen militants associated with the group killed in different encounters with security forces in June alone.
The security forces killed another three militants from the outfit on Thursday in an encounter that lasted over six hours (five in the last 24 hours) in the densely populated Kakapora area of Pulwama district.
The killings, however, resulted in massive protests across south Kashmir on Thursday with thousands marching towards the native villages of the three militants.
The slain militants killed in the overnight gunfight were identified as Majid Mir, Irshad and Shakir Ahmad all of them were locals and had joined the militancy outfit recently, according to police officials.
The house of a civilian, in which militants were trapped, was completely damaged and the charred bodies of the militants — including a 14-year-old teenage militant — were recovered on Thursday morning.
The encounter is likely to boost the morale of the security forces, who have been working overtime to neutralise militants associated with the outfit for some time now. More so, since it has come just days after a group of LeT militants killed a Kashmir police officer, Feroz Ahmad Dar, along with five personnel, during an ambush near Thajiwar in the Achabal area of Anantnag.
A massive blow to LeT?
Once dominated by foreign fighters, earlier LeT drew its cadre mainly from the poorest pockets of Pakistan to fight the Indian state, in Kashmir, but since the unrest that began after the killing of Burhan Wani in July 2016, the group, according to security agencies, has been recruiting locals and is now dominated by youth from south Kashmir. Here, it is second to Hizbul Mujahideen in terms of numbers, sources said.
In the four districts of South Kashmir, the LeT had at least 35 militants under its fold, who operated alongside nine foreign infiltrators. The fresh encounters of LeT militants have brought that number down considerably.
One of the four volatile districts in south Kashmir, Pulwama is believed to have a large presence of local militants aided by a strong network of overground workers. According to police sources, of the 30 youths who picked up arms in the first four months of 2017, 10 of them (the highest number) are from Pulwama. The district has become a stronghold of militancy with the presence of 70 militants, including 12 foreigners.
The Thursday encounter was the first major successful counter-insurgency operation in Pulwama district.
According to police officials, the killing of three LeT militants on Thursday is likely to come as a severe blow to LeT which recently lost its Kulgam commander Junaid Mattoo during an encounter at Arwin village of Anantnag district on 17 June.
"After Mattoo's death this is another blow to the LeT in south Kashmir," SP Vaid, Director General of Police, said.
One of the most wanted militants in Kashmir, Abu Dujana is the operational chief of LeT, and is being seen as the man responsible for bringing many locals into the fold of the militant outfit, particularly in south Kashmir. Dujana, a resident of Pakistan is also the main accused in several attacks including two Fidayeen attacks in Entrepreneurship Development Institute (EDI) building and an attack on BSF in Udhampur in 2016.
However, intelligence officials say, the number of LeT militants operating in north Kashmir is way higher than those of in south Kashmir.
Locals clash with police, chant anti-India slogans
Massive protests erupted across south Kashmir on Thursday after the killing of the three militants. Thousands of people marched towards the native villages of the three LeT militants to participate in the militants' funeral procession. According to eyewitnesses, the protesters were chanting anti-India and pro-freedom slogans.
Clashes erupted after the funeral which left a 25-year-old youth Tawseef Ahmad Wani, a resident of Tengpuna Pulwama, dead.
"He was hit by a bullet in his neck, apart from having multiple injuries," Dr Saba, a medical officer at Pampore hospital, told Firstpost on the phone.
According to officials, at least 65 people sustained injuries during clashes in different areas of Pulwama district. The public health centre Kakpora registered intake of 60 persons with different injuries.
Officials said that 16 of the injured were referred to Srinagar for advanced treatment. They added that those referred to Srinagar were having multiple pellet injuries.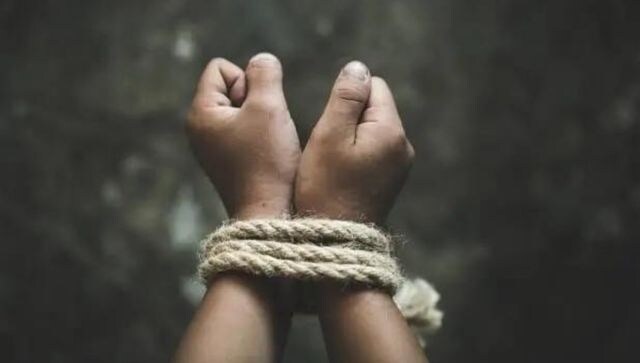 India
The network of CCTV cameras proved helpful in the rescue of a six-month-old child within seven hours of his abduction from a hospital in the Kishtwar district of Jammu and Kashmir. Read more.
World
Former Afghan foreign minister Haneef Atmar rebuked Pakistan's prime minister for distinguishing between good and bad terrorists while deliberately omitting the name of LeT, which is the largest of all foreign groups operating in the region
India
The administration of Jammu and Kashmir has given orders to stop paying the salaries of Kashmiri Hindu workers who have been demonstrating in the valley for months in favour of their relocation to a safer location amid militants' targeted killings of minorities.