Land case: Congress says Bhupinder Huda clean, accuses BJP of vendetta and witch hunt
ED registered a money laundering case against Hooda and others in a case of alleged financial irregularities in acquisition of land in Gurgaon's Manesar
Chandigarh: With the ED registering a money laundering case against former Haryana Chief Minister Bhupinder Singh Hooda, Congress today came out in his defence asserting that no wrong had been done and charged the BJP governments at the Centre and in the state with misusing such agencies and unleashing "witch-hunt" and "political vendetta".
Denying any wrongdoing in acquisition of land in Manesar in Gurgaon, Hooda said, "No case is based on facts. It is purely politics of vendetta, vengeance and an attempt to defame us."
Congress' chief spokesperson Randeep Singh Surjewala said his party would not be cowed down by such cases. "Our leaders, including Hooda, have not committed any crime. They are clean. We are ready to face any inquiry provided the government does not act out of vindictiveness," he said.
Surjewala alleged the BJP governments at the Centre and in the state were using various agencies as their "political extension" and "misusing" them. "We are not deterred by CBI search or CBI case, we are ready to face that also and we will face that in court of law and prove facts, but the issue they should rise above political vindictiveness," he said. Addressing a press conference jointly with Surjewala and former Haryana Assembly Speaker Kuldeep Sharma, Hooda said that "modus operandi of the Haryana government is to register the case and then refer it to CBI."
He alleged that the BJP government was misleading people by "hiding facts".
The Enforcement Directorate (ED) registered a money laundering case against Hooda and others in a case of alleged financial irregularities in acquisition of land in Gurgaon's Manesar in which farmers were allegedly cheated to the tune of Rs 1,500 crore.
The ED has filed a criminal complaint against the Congress leader based on a CBI FIR, under which the probe agency conducted searches in Haryana and the national capital last week.
Hooda said that private persons are registering complaints "and at whose behest they are doing so, everyone knows this."
"It is not prosecution, but naked persecution, which will boomerang on them. They are doing this to divert public attention from their own failures. But I am not going to yield or bend. They cannot keep Congress' or my voice down by such actions. CBI recently conducted searches, but it had to leave empty handed," the two-time former CM said. Surjewala said Haryana CM Manohar Lal Khattar was getting direction from BJP President Amit Shah and Prime Minister Narendra Modi. "It is a nationwide conspiracy against Congress and its leaders and under it tall leaders of our party are being targeted," he said.
Surjewala said when these issues were raised earlier, Congress and Hooda had said they were ready for independent probe. "We had suggested (to Haryana government) to write to the High Court Chief justice to have an inquiry committee of two judges set up and we would present ourselves before that committee with all facts so that everything becomes crystal clear," he said.
"Unfortunately, the BJP government's agenda is to level accusations, defame and work with vendetta, slap false cases and start mudslinging campaign and try to muzzle voice of opponents," he said.
Hooda said the Prakash Singh Committee report on Jat stir issue indicted the people right up to the Chief Minister's Office and virtually held the CM responsible for the failure of the administration to control the situation.
"Now, BJP has unleashed vendetta to cover up its own failures by targeting opponents," he alleged. He said the Justice Dhingra Commission report on land deals during the previous regime shouldbe made public soon. "We are waiting for the report, we will consider moving court, if need arises," he said, "I have full faith in judiciary." In the ED complaint, it has been alleged that a loss of Rs 1,500 crore was caused to the land owners of village Manesar, Naurangpur and Lakhnoula of Gurgaon.
Surjewala said, "As far as facts of Manesar case go, two things are very clear. Repeatedly a lie is spoken like Goebell's Truth that 912 acres of land was released, but Khattar forgets to tell people two facts about the case. The BJP-INLD government had acquired this 912 acres of land and not Congress, and this was on August 27, 2004. Section 4 notification of this land was issued when they were in alliance in Haryana."
"On February 26, 2005, written recommendation to release 350 acres of land from this chunk was made. Even then their government was in power and report of Land Acquisition Officer is on record. Our government was formed on March 5, 2005. But BJP and CBI and even Khattar forgot to tell this truth because he suffers from selective amnesia," the Congress leader said.
He said in between when government changed (Cong came to power in Mar 2005), "on the basis of that (land acquisition officer) report, nearly 224 acres of land was released. It is they who acquire the land, issued Section 4 notification, gave recommendation to release 350 acres of land. You may blame Congress, but they must first look inwards." "...out of 912 acres, 781 acres is either stayed by court or is already released, so what is left is 200 acres, that is what was released only for the purpose to reacquire, in case it is possible to reacquire and not 912 acres," he said.
The then Minister for External Affairs Rao Inderjit Singh too requested the government to withdraw the notification for acquisition of land in Manesar, Surjewala claimed. Hooda said that on August 12, 2015, a person named Om Prakash got a FIR registered in the Manesar land case, eight years after land was released in August 2007. "He could have moved high court, he could have filed private complaint, what stopped him all these years. Who dictated him to file FIR, I know everything, time will tell.
Another complainant is Naresh, whose land was not acquired. It proves who are behind them," he said.
Hooda also said present government released 3600 acres of land in Bawal that too after award for the land was announced. "We demand an inquiry into this," he said.
Surjewala said that they will continue to fight this battle both inside the Court as also in the court of people. "We are neither scared nor deterred. Congress party has seen many such challenges in the past and we will face these in future. Our solidarity and support is with the former CM Hooda and we will unitedly fight this battle inside the court as also in the court of people," he said.
India
After meeting ministers, MLAs and office-bearers at the party office in Jaipur, Maken said all of them have unanimously left the decision of the cabinet reshuffle on the party high command.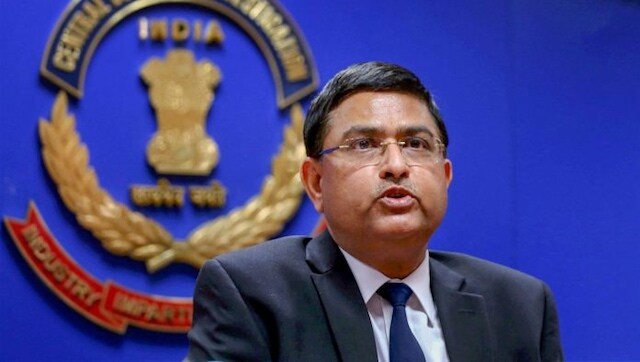 India
In 2018, Asthana was in the news when he was engaged in an unsavoury spat with the then CBI Director Alok Verma
India
The Supreme Court and also the Jharkhand High Court had expressed concerns over the matter and directed the state police to solve the case speedily.