Kollam temple fire: It is just another reminder of Kerala's fireworks craze
A fireworks competition resulted in deaths of over 100 in Kollam's Puttingal temple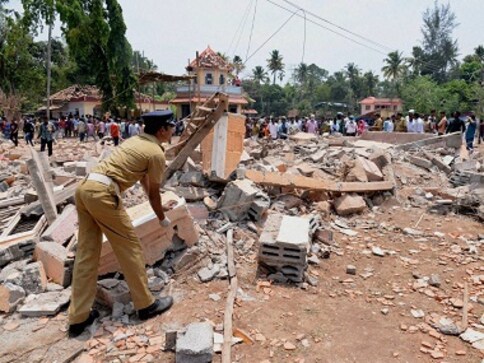 Kerala's craze for fireworks at temple festivals is well-known. Beginning with the Malayali New Year — Vishu, fireworks are the norm for every festival, religious or otherwise. Despite Diwali not being celebrated in the southern state with too much gusto, crackers find their place in all other festivals. Church functions too see displays of fireworks.
Malayalis though take this tradition seriously, despite a long history of such accidents and deaths due to firecrackers gone rogue. Ajay Krishna, a resident of Paravoor, in the vicinity of the Puttingal Temple, says the problem lies in the competitive nature of the bursting of fireworks.
"Initially, it began as a way of worship and subsequently it became all about showing off one's money power," said Ajay, an eyewitness to the explosion, who managed to escape the disaster in the nick of time. "Rich people began to purchase and burst more expensive firecrackers. It is a dangerous game. It is because of this the authorities banned competitive bursting of firecrackers this year," he said.
Thiruvananthapuram resident, R Navaneethankannan, a frequent pilgrim at the Puttingal temple told Firstpost that superstition plays a large role in the tradition. "Many people believe that if they burst fireworks, evil forces will stay away," he explained. "This practice of bursting fireworks can be seen in every temple. People believe that their prayers will be answered if they burst firecrackers," he added.
"During the era of kings, people would conduct small competitions by bursting fireworks. That tradition continues today. In many districts there are restrictions on this practice. But since it is connected with religious fervor, the authorities are struggling to control this menace," he continued.
Despite the authorities issuing a ban on competitive firecrackers in Puttingal, temple authorities decided to allow it to go ahead without following proper safety norms. "Even though the residents around the temple kept asking for the practice to be stopped repeatedly, authorities did not take any action," said Ajay Krishna, a resident of Paravoor.
"The Sabarimala fire accident of 1952 in which 70 people died is notorious and Sunday's Puttingal tragedy is bigger than that," said Thiruvananthapuram resident Navaneethakannan. "The media focuses on this issue when such big tragedies take place but everyday there are smaller fire accidents continually happening due to this practice of bursting fireworks," he said.
In 1990, 25 people were killed in a similar explosion caused by fireworks at the Malanada temple in Kerala. In January this year, one woman lost her life in a similar accident at the Maradu Kottaram Bhagavathy temple near Kochi. 300 people have died between 2006 and 2011 in fireworks mishaps, according to the Kerala government's data.
The tragedy has already been politicised barely two months before an election that is seeing much polarising rhetoric. Social media is abuzz with allegations that perhaps a particular community has been targeted in this fire.
It will perhaps be the first task of the next government to bring in stringent regulations for fireworks to ensure such loss of lives does not take place once again.
The author tweets @anandkso
Explainers
The early days of March have seen record-breaking temperatures in parts of Argentina. Experts say that while the La Nina weather phenomenon has driven the heatwave, climate change may be making matters worse
Explainers
Experts say even a small change can have an impact on Circadian rhythm – the body's internal 24-hour body clock which regulates cycles of alertness and sleepiness, Meanwhile, studies show an increase in heart attacks and car accidents following the switch to daylight saving time
Explainers
Experts say SVB's failure is likely to affect Indian start-ups in the short term when it comes to funding and making payroll. A major impact of the 'contagion' on Indian banks or the banking system is unlikely