KJ Alphons sleeps at a relief camp in Changanacherry in Kottayam: 'Stop showing off', Twitter gives it back to him
Union minister Alphons Kannanthanam tweeted a picture of him at a Kerala floods relief camp in Changanacherry in the Kottayam district, and added that 'most people didn't sleep, thinking of an uncertain tomorrow.'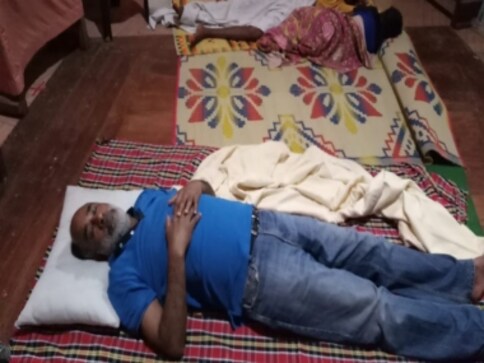 Union minister KJ Alphons on Wednesday took to Twitter to express solidarity with the people affected by the floods that ravaged Kerala over ten days ago, which left 223 people dead and over 10 lakh out of their homes.
The state has given shelter to those who require shelter in over 1,500 relief camps, Alphons tweeted a picture of him at a relief camp on Wednesday and said that he slept at a relief camp in Changanacherry in the Kottayam district, and added that "most people didn't sleep, thinking of an uncertain tomorrow." Alphons tagged Prime Minister Narendra Modi, Bharatiya Janata Party (BJP) president Amit Shah among others, in the tweet.
Alphons faced a severe backlash on Twitter after he posted the photo.
On Monday, Alphons turned down the demand of Congress leaders to declare Kerala flood as a "national calamity" and said there was no provision in the Disaster Management Act 2005 to do so. Senior Congress leader AK Anthony had demanded that the Union government immediately declare the Kerala floods as a national disaster, and said that the move would help in garnering funds not only from the country but also in getting aid from abroad.
As per a report from NDTV, Alphons responded to Antony's remark by saying "None of the calamities were declared as national by the Congress when it was in power from 2004-14." The report added that  Kannanthanam termed the statement of Congress president Rahul Gandhi and Antony toward the cause as 'stupid', and asked: "Does Antony, who was the defence minister of the country for ten years, not know the rules and provisions of the act?"
Alphons further went on to slam Congress President Rahul Gandhi and said "let us excuse Rahul as he does not have any administrative and political experience, but a statement like this from a senior leader like Antony was uncalled for, at a time when the people of Kerala are united to face the challenge caused by the floods," The New Indian Express reported.
Alphons said instead of making statements like this, the Congress leaders should ask party workers to go to the field. "This shows the sorry state of affairs in the Congress party and I think, it is anti-people. Because, the state showed that they are one except for the Congress leaders who are speaking absolutely ridiculous things," he was quoted by NDTV as saying.
Politics
Addressing the same event, Amit Shah emphasised on vital sectors of development and asserted that if the countrymen fulfil resolutions for the development of the country in the next 25 years, India will become a Vishwa guru
Politics
The BJP's 'Har Ghar Tiranga' programme to celebrate 75 years of Independence is a super hit. Now, while Congress is trying to malign the initiative even as its Punjab unit launches a version of the 'Tiranga Yatra', Delhi's Arvind Kejriwal has plans of his own
Politics
A possible split between the Nitish Kumar-led JD(U) and BJP in Bihar is on the cards. The alliance partners have been at loggerheads over the state Speaker, Cabinet berths and more. Now, former JD(U) president RCP Singh's quitting the party and his apparent proximity to BJP has escalated the tension