KG Subramanyan's latest exhibition offers timely look into world of his women, his evolving aesthetic
In a post #MeToo world and a time when the morality of men in the arts itself is under the scanner, a dip into KG Subramanyan's oeuvre, his drawings included, reveals a stunningly prescient body of work dedicated to women.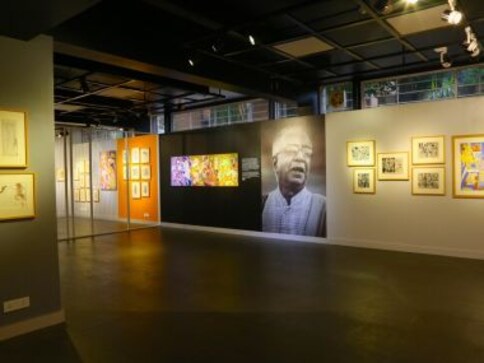 The place of KG Subramanyan as one of India's foremost experimenters is undisputed. He worked in almost every material, and preferred the unorthodox, the unchartered over traditional continuity. Most recognise him as the polymath, a man equally adept at drawing, writing, philosophising, critiquing and most importantly, reading. A huge part of carving imaginations is the ability to read and observe, and meld both method and meditation in a way that the work becomes timeless. In a post #MeToo world and a time when the morality of men in the arts itself is under the scanner, a dip into KG's oeuvre, his drawings included, reveals a stunningly prescient body of work dedicated to women. Organised with works taken from The Seagull Foundation of arts in collaboration with the E Alkazi foundation, the exhibition Women Seen and Remembered offers a timely look into the world of KG's women.
The exhibition brings together almost 60 years of work and is put together chronologically charting a path that is evidence of the artist's evolving aesthetic. Nearly 50 percent of the works that Subramanyan made feature women, with men relegated to about 25 percent. A large part of the former appears in the sketches on display. "Reading sketches allows one to access the 'process' an artist is going through. Placing the sketches and drawings in chronological order allows one to clearly see a development of the female image through time. For example, in the 1950s and 60s, we see a distinct shift from rendering the woman relatively realistically and in tune with the traditional Nayika (found in classical art) in the 50s and 60s to the point where the artist begins to see her in  multiple avatars and in multiple moods, emotional states," Amal Allana, curator of the exhibition says.
Allana and her family, the Alkazis, were close to Subramanyan and have been loyal patrons of Subramanyan's work. But as a person, just how engaged was he with ideas like feminism? "He was more the age of and friend of my parents'. But I always admired his work. Its theatricality resonated with me. I thought that what he was trying to do in the field of art... we were attempting to do the same in the theatre... we were locating resources for modern theatre, by reaching back to our flexible folk performing traditions. I never had occasion to talk to him about feminism. I think it would be limiting to discuss his work in those terms. He was a humanist," Allana says. To a large extent, she is correct as well. Subramanyan's work hardly relegates women to objects or elevates them to the symbolism of affronting nudity. There is conceit, but there is enough playfulness in his works to not drain your enthusiasm for colour.
That said, there is wide and popular opinion going around these days that sees men in art as those who seek to own the opposite gender, and control their narratives. Hereafter, no work of art can be looked at in the isolation of a gendered medium. How does one reconcile Subramanyan's oeuvre then? "I think he saw himself as an observer, as a recorder, of what he saw around him. I don't think he had any intention of 'owning' women. But I think he found them extremely complex and interesting... and bit by bit he was able to feel their experiences. His work is very visceral, very tangible... the strokes are alert, alive and spontaneous. Like all great Indian artists... KGS was continuously engaged in improvising. In him the continuous process of creativity becomes apparent. There is no final created artwork that can be seen as complete... it is always in a state of becoming... like life," Allana says.
The chronological setup of the exhibition is particularly tasteful. It embodies crucial twists and shifts in Subramanyan's psyche be it the influence of Kalighat paintings in the early 1980s or the later influence of mythology that the artist so uniquely tethered to a modern language. Subramanyan was of course also a stunningly adept writer. In one poem that adorns the walls of the exhibition, he writes:
There she comes waving her unsleeved arms.
Is dressed in a saree
That seems a coarse bed-spread
Patterned with ugly roses
Resembling bleeding sores.
And her awkward gait confirms
Her thighs are fat.
She stops and smiles.
And asks me how she looks;
Subramanyan sees in his women the kind of confidence and savage pedigree that is the want of a number of rights movements these days. But unlike most artists, he is capable of seeing this unorthodox gait, this resolute strength in women from rural areas (a blind-spot for modern feminism), those who speak, listen and are part of folklore. "He wanted to create 'contemporary' mythic characters... so he took known images like Mahishsura or the Madonna.... because such images come loaded with their age-old associations to which he added a contemporary angle or attribute or meaning. When he saw women in our country empowering themselves over these last 70 years, I think he admired their grit, stamina, and sense of tolerance. I think he believed that women had it in them to fight for a more just society," Allana says.
The exhibition is on at Shridharani Gallery and Art Heritage, Triveni Kala Sangam, Delhi, until 10 September
also read
Hockey
Salima Tete (40') and Sangita Kumari (54') brought India back in the contest after Australia A went 3-0 up, but were ultimately unable to find an equaliser.
Football
It is the first final to sell out since 2010, with more than 34,000 tickets sold at the PSV Stadium, guaranteeing a new national record crowd for a women's football match in the Netherlands.
India
The Taliban regime's move to close universities to female students across the country and has barred girls from attending secondary school since it returned to power in 2021, sparked global condemnation.