Kerala nun rape case: Priest, nun face action for supporting protest seeking action against Franco Mulakkal
A Jacobite priest was warned of disciplinary action and a Catholic nun restrained from church duties in a fallout of participation in protests in Kochi.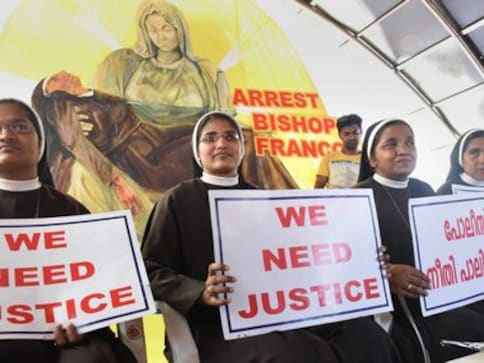 Wayanad/Kochi: A Jacobite priest has been warned of disciplinary action and a Catholic nun restrained from church duties in a fallout of their participation in protests in Kochi demanding the arrest of rape accused Bishop Franco Mulakkal.
Sister Lucy Kalapura, who returned to her parish in Wayanad on Sunday morning from Kochi, claimed she was informed orally by the Mother Superior that she should keep away from holding catechism classes, conducting prayers and other activities related to the Syro Malabar catholic church.
"No written orders were given to me. I was only informed orally by the Mother Superior not to participate in any church-related activities," the sister told PTI.
However, in a statement, Father Stephen Kottakkal, vicar of the St Mary's church Karakkamala in Wayanad, said Sister Lucy had been asked to keep away from duties in view of certain concerns expressed by the parishioners.
He denied the church had initiated any retaliatory measure against Sister Lucy for participating in the nuns protest in Kochi.
"The believers had informed us that they had some difficulties in sister Lucy participating in the church activities relating to Holy Mass and taking classes for their children," he said.
The vicar said he had only 'conveyed' the general feeling of the parishioners with regard to certain posts of sister Lucy on social media which they felt were not in consonance with the church beliefs. Many of them had informed him the same, he said.
The Franciscean Clarist Congregation St Mary's province Mananthavady, to which sister Lucy belongs, said she faced disciplinary action for various other reasons. However, no explanation had been sought or action taken  so far against her in connection with the nun's issue.
Sister Lucy, however, maintained the restraint order against her was only for participating in the protests at Kochi.
The priest, Bar Yuhanon Ramban, belonging to a dayara in Ernakulam district, said on Sunday he had received a 'warning' letter from his church headquarters in Damascus in Syria for supporting the nuns' protest. The letter also said he had campaigned for the implementation of Church Act, he told PTI.
According to the letter, his involvement and public speeches supporting the Catholic nuns were seemingly more than the envisaged living style of church priests. It further said his activities had caused 'disgrace' to the status of Monasticism and warned that disciplinary measures would be taken if he continued with such deeds.
The priest alleged that some local bishops had conspired against him and sent wrong information to the church higher-ups in Syria and based on which they had issued the warning letter.
He has written a letter to the Patriarch of Antioch, Mor Ignatius Aphrem II, the head of the Universal Syrian Orthodox Church, explaining his stand.
Indulekha Joseph, one of the leaders of the Kerala Catholic Church Reformation movement, alleged the action against sister Lucy was an attempt to silence the voices of protest against any form of unjust activities within the church.
Social activist Swami Agnivesh condemned the action against sister Lucy and the Jacobite priest for supporting the five nuns.
The nuns had protested for 13 days, demanding the arrest of the bishop who was accused of repeatedly raping a fellow nun. The bishop, arrested on Friday after three days of intense grilling by Kerala police, is now in police custody.
India
A Kochi-bound Air India Express flight with 145 passengers on board was evacuated at Muscat airport after smoke was detected in one of the engines just before the take-off on Wednesday.
Politics
Gehlot on Tuesday told Congress MLAs that they will be asked to come to New Delhi if he decides to file his nomination for the party president election but will first visit Kochi to persuade Rahul Gandhi to contest for the post.