Kerala must act against PFI and sister organisations; cases of forced conversions will only polarise state further
Athira Nambiar's claims of being coerced into accepting Islam by Popular Front of India may further polarise Kerala even though PFI has rubbished allegations of conversion
A week ago when 22-year-old Athira Nambiar called a hurriedly conducted press meet in Kochi, she was perhaps making personal amends for what she now claims was an error committed a few months ago.
The girl, who had very gleefully told awaiting cameras outside the Kerala High Court in June that she had adopted Islam over Hinduism after her profound love for the former, set the record straight last week when she revealed that a few of her friends and classmates had 'influenced her' to change her religion.
But more significantly, her revelation has blown the lid off one of Kerala's worst kept secrets of recent times. Coerced conversions involving two or more organised agencies and institutions that owe allegiance to hard-line Islamic fundamentalism have been rampant in the state, but the state administration has been doing absolutely nothing to tackle the menace.
At the crux of the entire alleged operation is Popular Front of India (PFI), a separatist organisation evolved out of the notorious homegrown terror outfit Students' Islamic Movement of India (SIMI) which was banned in 2001.
Athira's allegations have put the spotlight back on PFI as she claims that she was supported and facilitated by PFI throughout the conversion process. Athira also goes on to name one Siraj, an activist with PFI and brother of her classmate Aneesa, who had assisted Athira during the conversion.
"It was Siraj who motivated me to convert to Islam. Siraj was instrumental in me leaving home, and getting converted. Later on, I stayed at one of his relative's house. He, along with a few other workers of PFI transported me from one hideout to another before I appeared in front of the police. Even my mobile phone was taken away from me and they returned it only after I told the police that I converted on my own wish and that I was staying with a classmate of mine and nowhere else," Athira said during the press meet.
Athira had then told the Kerala High Court that she would prefer staying with her parents but be allowed to practice Islam. Last week she said that she was returning to Hinduism.
Security agencies believe that they have enough evidence to put PFI under the dock for coerced conversion and the National Investigating Agency (NIA), which is already involved in investigating such cases as per an order of the Supreme Court, thinks that PFI is the mainstay of the entire conversion factor that has mushroomed in Kerala.
Speeches of Zakir Naik and concocted versions of the Holy Quran with distorted meanings are some of the tools employed in 'thought reform processes', a new word to the often-over-abused misnomer 'brainwashing'.
With Athira coming on record to say that a concerted effort was unleashed on her through her Muslim women friends and classmates to influence her, the modus operandi is all but out in the open.
"I was completely misguided into believing that whatever my religion taught me was false and it would land me in hell if I followed such customs. Who will not get scared when you are continuously fed such things? They even gave me books of Zakir Naik. It was only when I started reading the Holy Quran objectively having returned to live with my parents that I realised that all of this was ridiculous," added Athira.
The NIA recently filed a status report with the Supreme Court in another where a girl named Akhila was converted to Islam as Hadiya. The case had ruffled a lot of feathers in the state.
The report says, "The involvement of one AS Zainaba in luring and influencing Athira, the detenue in Habeus Corpus WP(Crl) 235 of 2016 for converting her to Islam with the assistance of her associates in SDPI/PFI and Markaz-ul-Hidaya (Sathya Sarani Charitable Trust) during May 2016 when Akhila Asokan was under her custody reveals that the instant case is not an isolated incident but rather an organised effort."
Though the NIA, which is investigating the case has maintained silence, sources have confirmed to Firstpost that the NIA is indeed shocked to find that both the modus operandi and the players involved are similar not just in the Athira and Akhila cases, but in at least more than a dozen such cases.
The agency which had submitted a report to the Union Home Ministry a couple of weeks ago recommending an immediate ban on PFI. It has zeroed down on a few activists including Zainaba, the leader of National Women's Front, PFI's women organisation and an institution named Sathya Sarani Charitable Trust as the nerve centre for all such activities. Sathya Sarani Charitable is based in Manjeri in Malappuram and claims to be an Islamic teaching.
"That both Zainaba and Sathya Sarani's names have been creeping up in almost all such conversions cases, is, perhaps, too much of a coincidence for the investigators to ignore. We have seen a clear pattern that has developed over the years in not just giving assistance for such conversions, but also in making an effort to find out such girls and lure them," an NIA officer told Firstpost under the condition of anonymity.
The modus operandi
Conversion is not a new concept in Kerala. Rather it is one state whose example has been used again and again by Sangh Parivar forces to highlight what they call 'love jihad'. But since the last few years, the picture seems to have drastically changed in Kerala, especially in the northern districts of Malappuram, Kozhikode and Kannur.
Love jihad remains a misnomer and an allegation since the police have never been able to find credible evidence.
Former officers say that although converting Hindu and Christian girls to Islam in the garb of love have been rampant since the nineties, investigations one after the other had not reached anywhere perhaps due to the lack of political will or inability to stumble upon a credible proof of an organised effort.
It is this picture that is changing at the moment. While the 'love' in 'love jihad' still remains a mystery, the modus operandi for conversion now involves using fellow women students to evangelise (a term often used for Christian preachers) Hindu or Christian girl students into making them believe that Islam is the one and only way to lead a better life that would take you to heaven.
"I was given a lot of literature that made me believe that it is bad to follow a religion that permits polytheism and idol worship. To such questions, I had no answers and their explanations about Islam were so powerful and convincing. This really changed my mind," added Athira.
Ashraf Kadakkal is a professor at the University of Kerala and a well-known educational activist who had been calling the bluff of the hard-line Islamists for quite some time now. He goes on to say that whatever happened to Athira is a hardly a surprise from his own experience.
"I am not saying whether there is a concerted or organised effort to convert. There is no evidence for that. But what happens is that mostly in such atmospheres of professional colleges where young girls are trying to cope with the pressures of study and home, there have been situations where they have been influenced by peer groups and end up finding Islam, which simplifies a lot of things, attractive," says Kadakkal.
But matters take a different turn once a girl from another religion expresses her interest in Islam.
"This is where fringe elements like PFI or Social Democratic Party of India (SDPI) come to support them and the entire issue takes a different colour altogether. What is needed is a thorough investigation of the matter because this is taking us to different levels of polarisation right in the heart of our universities which will destroy us in some time," warns Kadakkal.
But veteran police officers are saying that there is much more to it than what meets the eye.
Subash Babu, a retired Superintendent of Police who had led a number of anti-terror operations in the state, says the new modus operandi is very clear, and has been adopted because most of these organisations now want to actively convert rather than play the second fiddle by just rendering help to people who willfully convert.
"All these terror groups work at multi-layers which is not easy for the common man to understand. Even the PFI does that. They have an intellectual team, a political section and even a team which is called the 'annihilation squad' which was behind the hand chopping incident of Professor TJ Joseph. Conversion clearly seems to be one of their top agenda now and they have specialised teams for that among students too. The Campus Front is the prime example," added Babu.
Babu's words find credence in the claims that Athira made last week. She said that once she had started expressing her desire to learn more about Islam, she was added into an exclusive WhatsApp group called 'Hidayat Sisters' which was instrumental in putting her through to the Sathya Sarani and Popular Front of India that then facilitated her conversion.
Popular Front of India's version
The Popular Front of India has, meanwhile, rubbished all the claims of its involvement in such activities. Though their representatives were not reachable in spite of repeated attempts, a note on its website clearly calls the Union government's moves to stifle its functions as undemocratic.
"The activities and the interventions of the NIA so far show that the agency is gravely prejudiced against minorities and backward classes, especially Muslims and is blatantly promoting the agenda of the Sangh Parivar rather than the nation and its people," the note said.
The note also goes on to add that PFI activist Zainaba was actually made a guardian for the girl Akhila by the Court itself and that Sathya Sarani is not a conversion centre but only an Islamic education centre.
The state government has meanwhile maintained complete silence over the issue although on a number of occasions Pinarayi Vijayan and company have spoken out against PFI and SDPI. Many read their silence as a political stand that continues to think that any action against such organisations will antagonise a big vote bank which in turn would work in the favour to the likes of the Sangh Parivar.
But with the state taking no action even in the light of recent evidence, the growing uncertainty only helps in polarising the state further and helping those who love to fish from troubled waters immensely.
India
Islamist groups often become a pain under the nose, not only for the countries, but also for the Muslim community
India
106 PFI leaders have been arrested in the nationwide raids carried out by the National Investigation Agency, ED and the local police. The highest number of arrests was made from Kerala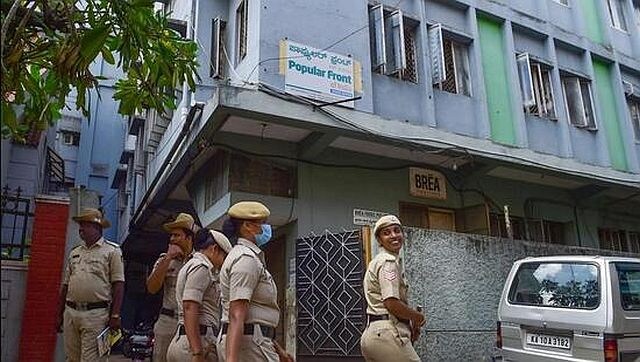 India
The move to ban the Popular Front of India is the most concrete signal yet of the government's intent to stem the growing radicalisation of Muslim youth