Kerala 'love jihad' case: SC postpones hearing in Hadiya case to 8 March, asks if a court has right to annul marriage
CJI Dipak Misra, while hearing Kerala 'love Jihad' case, asked if a court could exercise its jurisdiction to annul a marriage in a habeas corpus petition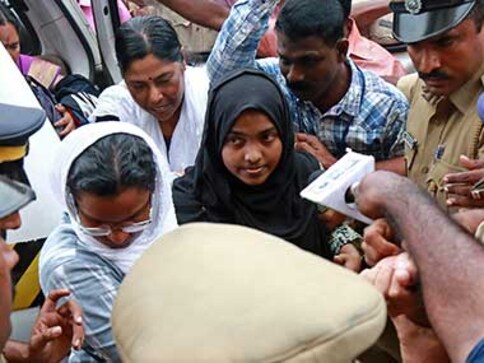 The Supreme Court on Thursday asked if a roving inquiry could be ordered into the "issue of consent" between two adults who married at will and if the Kerala High Court order annulling the marriage of Hadiya, an alleged victim of 'love jihad', was justified.
This was the tenth hearing in the case in the last seven months. The court has now posted the matter for further hearing on 8 March.
The questions from a bench of Chief Justice Dipak Misra and Justices AM Khanwilkar and DY Chandrachud came during the hearing of the Kerala conversion case.
"What troubles us is that whether there can be a roving inquiry into the issue of consent between two adults who have agreed to marry," the bench said.
Whether the high court was justified in nullifying the marriage is a pure question of law, it added. The CJI said that all averments unrelated to marriage of Hadiya in her affidavit will now be expunged.
"Marriage and investigation are two different things. As far as marriage is concerned, it does not warrant any investigation. Investigation has nothing to do with it. You can investigate any other thing," the court said.
Hadiya, the 25-year-old woman who is at the centre of an alleged love jihad controversy, had on Tuesday filed an affidavit before the top court claiming that she willingly converted to Islam and wants to live with her husband Shafin Jahan.
The matter had come to fore when Jahan had challenged the Kerala High Court's order annulling his marriage with Hadiya and sending her to her parents' custody. On 27 November last year, the apex court had freed Hadiya from her parents' custody and sent her to college to pursue her studies, even as she had pleaded that she should be allowed to go with her husband.
Senior advocate Shyam Divan, appearing for Hadiya's father, said it was a case of vulnerable adults and the high court was justified in nullifying the marriage by exercising its power under Article 226 of the Constitution.
"In this case, marriage was used as a pretext to keep it out of the court's jurisdiction," Divan said.
Hadiya had urged the court to set aside the judgement of the Kerala High Court that had annulled the marriage terming it an instance of 'love jihad'.
The top court had earlier ordered an NIA probe into a "pattern" where some women were allegedly being converted to Islam.
Later, the court decided to hear the woman and interviewed her in an open court when she made an appeal for her freedom under the Constitution.
In her affidavit, the woman told the court that "horrendous sufferings" were meted out to her for converting to Islam and marrying a Muslim man.
The apex court had on 23 January made it clear that the National Investigation Agency cannot probe the marital status of Hadiya and Jahan.
On Tuesday, Hadiya told the Supreme Court that she had willingly converted to Islam and wants to remain a Muslim. In an affidavit filed before the top court, 25-year-old Hadiya had also said that she had married Shafin Jahan on her own and sought the court's permission to "live as his wife".
She had claimed that her husband was wrongly portrayed as a terrorist by the National Investigation Agency (NIA) and he has nothing to do with the Middle East-based terror group Islamic State.
"I respectfully reiterate that I am a Muslim and I want to continue to live as a Muslim...I have been under confinement without the freedom that I am entitled to. Even now I am under police surveillance. I most humbly pray that my entire liberty may kindly be restored to me.
"Shafin Jahan is my husband, I want to continue to live as wife of my be loved husband and that I embraced Islam and married him on my own free will," she had said in her 25-page affidavit.
With inputs from PTI
India
A two-member group reached on a scooter, threw the petrol bomb, and broke the window panes. The shutdown in Kerala has been called by the Popular Front of India to protest against the arrest of its members in nationwide raids by the National Investigation Agency yesterday
India
In venues across Gujarat and Madhya Pradesh, Muslim men are stopped from joining Garba celebrations; some were beaten up. Why? If Bajrang Dal and Vishwa Hindu Parishad activists are to be believed, the reason is 'love jihad'
India
Iqbal Mohammad Sheikh married Rupali Chandanshive after they fell in love three years ago. The couple also have a two-year-old son from the marriage. However, due to undue pressure for wearing burqa, Rupali was living separately with her child for the past few months