Kerala love jihad case: 'I want freedom', says Hadiya; SC allows her to resume medical studies in Salem
The Supreme Court put forth its decision in the contentious Kerala love jihad case, decideing that Hadiya will continue to pursue her medical studies in Tamil Nadu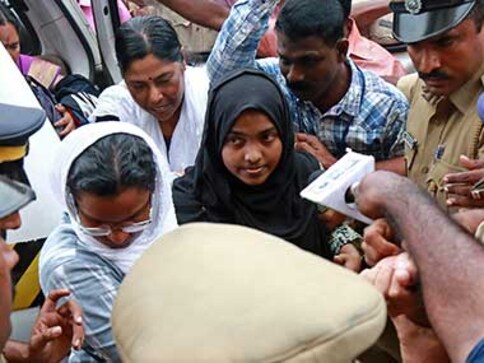 The Supreme Court put forth its decision in the contentious Kerala love jihad case, and ordered that Hadiya be allowed to pursue her medical studies in Tamil Nadu's Salem district. Posting the next hearing of the case to third week in January, the Supreme Court also ordered the Tamil Nadu government to ensure her safety. In an open court hearing, where Hadiya gave her testimony in Malayalam, the apex court decided that the 24-year-old would be able to complete her medical internship at Sivaraj Homoeopathic Medical College in Salem.
As her course is 11 months long, and she has completed only month, she must study for 10 more months at the college, it said. The court also ruled that the dean of the medical college will be responsible for Hadiya's well-being.
Hadiya's father Ashokan's lawyer claimed that the "order by the high court has not been stayed at all. So, there is no marriage as of now. She will continue with her studies. We are happy with that. She has the freedom to continue with her studies. I am appearing for her father, we are happy that she has been sent to the hostel for the completion of her studies."
However, The News Minute quoted P V Dinesh, the lawyer for the state's women's commission, as saying that this was an incorrect reading of the situation and the court has not prohibited Hadiya from being with Shafin Jahan.
NIA submit fresh 100-page report
The proceedings in the case began on Monday afternoon amid a fresh 100-page report filed by the National Investigation Agency (NIA) which claimed that 'hypnotic counselling' and 'neuro-linguistic programming' are methods used by radical organisations to entice young women to convert to Islam and marry Muslim men. News18 reported that the first status report filed by the agency had talked about three women, including Hadiya, who was summoned by the Supreme Court.
In its fresh report submitted in the Supreme Court in the Kerala love jihad case, the NIA, according to sources, has underlined that hypnotic counselling is a technique employed by certain people belonging to particular groups.
According to NIA sources, there are trained people who use hypnosis to influence vulnerable women. These non-Muslim women are then "drifted off to an altered state of mind where they are made to believe in doing what the counsellors wish".
According to News18, the Supreme Court bench, headed by CJI Dipak Misra, then questioned if the larger issue of indoctrination needed to be de-linked from Hadiya's case.
I want freedom: Hadiya tells Supreme Court
In probably one of the most watched court proceedings recently, Hadiya laid out her demands clearly in front of the three-judge Supreme Court bench: "I want my freedom," the 24-year-old told Justice DY Chandrachud when she was asked about her dreams for the future.
"I have endured mental harassment and been in unlawful custody for 11 months. I want to go back to my college and continue my education," she said, adding that she wanted her husband to be her guardian. The Supreme Court gave her part of her plea, allowing her to continue her studies. Chief Justice of India Dipak Misra ordered that Hadiya will be given security for the next 11 months until her internship is complete.
According to The News Minute, the court has also ordered women police officers to be present outside the college in plain clothes when Hadiya arrives on Tuesday. The Supreme Court bench also added that Hadiya should be treated "like any other college student." The Supreme Court said that the rules that apply to any other student will apply to her.
When asked if she wanted to continue her studies on state expenditure, Hadiya told the top court, "My husband is there to take care of my expenses, why should I study on state expenditure?" The court further ordered the dean to take care of Hadiya's well-being till the next hearing which is expected in third week of January. The court also granted the dean the liberty to approach the top court in case of any problem.
The case so far
Hadiya, who was earlier called Akhila, converted to Islam and married a Muslim man Shafin Jahan in 2016. She has been in the middle of a massive controversy ever since, with her claiming that her "life was under threat" and that she was being tortured by her father in a video shot on 17 August this year.
The court order came after the bench, also comprising Justice AM Khanwilkar and Justice DY Chandrachud, and they interacted with Hadiya for about 25 minutes during which she expressed her desire to complete her house surgeon internship and pursuer her career as a homoeopathic doctor, reports IANS.
Her father, Ashokan, has alleged that she was a pawn in the larger scheme of indoctrinating and recruiting of Islamic State recruits. Earlier, the Kerala High Court had nullified her marriage to Jahan and she was given in the custody of her father.
Shafin Jahan, her husband, challenged this Kerala High Court order of May nullifying his marriage with Hadiya and sought a recall of the court order asking NIA to investigate the conversion of Hadiya to Islam and her marriage.
World
Ministry of External Affairs Spokesperson Arindam Bagchi said it was surprising that Pakistan has suddenly taken the decision not to participate in the event
India
Rains in Palar, Chinnar and Thoppayaru have resulted in increased inflow to the dam and the administration is releasing 25,500 cusecs of water from Sunday morning for delta districts
India
A controversy was sparked over the ban on the sale of beef biryani at the Ambur Biryani Festival in Tirupathur. Later to avoid escalation of problems, the Tirupathur district administration postponed the Festival scheduled to be held between May 13-15, citing the reason as rain forecast