Kerala 'love jihad' case fallout: Hadiya's father has transformed from staunch atheist to hardcore Hindutvavadi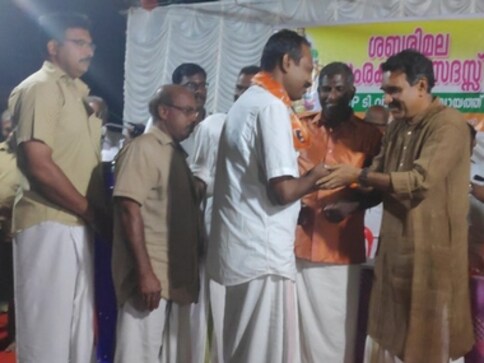 KM Ashokan, the father of 26-year-old Hadiya — who grabbed the attention of the nation — was a Communist party member. However, the entire experience has left him a changed man: At the age of 57, Ashokan has switched his political loyalty to the Bharatiya Janata Party (BJP) and seemingly uncovered a religious streak.
Ashokan's transformation was completed on 17 December, when he officially joined the saffron party and pledged his support for its agitation against the 28 September Supreme Court Sabarimala verdict. Ashokan, who lives under police protection at Vaikom in Kottayam district, said the BJP's "strong stand" on the Sabarimala shrine issue prompted him to accept its membership.
BJP spokesperson B Gopalakrishnan initiated Ashokan into the party at a meeting of the Sabarimala Protection Forum at Vaikom. Ashokan, who waged a legal battle against Hadiya and her husband Shefin Jahan, a member of the Popular Front of India,  began distancing himself from the Communist Party after it threw its weight behind his daughter.
"I have been a BJP worker for the past three years, but not active in the party. I decided to play an active role as the BJP is the only party safeguarding the beliefs of Hindus. I feel that the customs and traditions of Sabarimala should be protected," he added.
Ashokan said the communist party — which he identified with since childhood — was of late playing "dirty vote-bank" politics in Kerala. He said the party was now going in the wrong direction and its stand on various issues are predicated with an eye on votes. Ashokan openly came out  against the party after the Kerala government opposed a plea for a probe by the National Investigation Agency (NIA) into the validity of Hadiya's marriage with Shefin. Ashokan "strongly believes" the Supreme Court rejected the plea because of opposition from the Left Democratic Front government.
Ashokan feels the state government has been supporting "extremist groups" in the case. He is also angry with the state women's commission, which approached the apex court citing human rights violations in the case. Ashokan pressed for the NIA probe since several other youth who converted to Islam went missing from Kerala and were later found in the Islamic State territories of Syria and Afghanistan. Ashokan feels his daughter was "lured into Islam" with the ultimate aim of taking her to the Islamic State.
The BJP, on the other hand, supported Ashokan, claimed Hadiya's marriage is a case of "love jihad" and mounted a massive campaign against it. The term was coined by Hindu organisations following conversion of large number of non-Muslims to Islam in the 1990s.
The BJP and the Sangh Parivar picked it up after the disappearance of 22 youth from Kerala in 2016. They claimed "love jihad" is part of a well-organised racket: that young Muslim men lure Hindu girls by feigning love for the purpose of conversion and recruitment to jihadi outfits.
The Left parties termed the Sangh Parivar campaign "part of their political strategy to woo Hindus by creating communal division" in the state and denied the existence of "love jihad". The government insisted there was no such element in Hadiya's marriage since she chose him after her conversion.
Hadiya (formerly Akhila Ashokan) took interest in Islam after making an acquaintance with two Muslim girls. At the age of 18, Hadiya joined the Sivaraj Homeopathy Medical College & Research Institute at Salem in Tamil Nadu, to study homeopathy. A New Indian Express report tracing her journey said that after watching the Muslim girls – Jaseela Aboobacker and her sister Faseena — performing their religious rites, Akhila borrowed a Kuran in Malayalam from Jaseela and soon fell in love with the religion.
When Hadiya expressed her desire to convert, the girls put her in touch with their father, who dissuaded her by reminding Hadiya that her father was an atheist and her locality had no Muslims. However, she remained firm and even made an affidavit attesting she was converting to Islam of her own will.
Hadiya wanted to learn more about Islam. However, two Islamic institutions she approached with the help of Jaseela refused to admit her. The Kozhikode-based Sathya Sarani, the only institute in Kerala that offers a two-month residential programme for new converts to Islam, admitted her only after her father came to take her away (against her will).
When Hadiya expressed her desire to marry after her course, the institute registered her name on a Muslim matrimonial website and found Shefin, who was working in Muscat. Ashokan, who said he was unconcerned about his daughter's conversion, however believed the marriage a ploy to take her to the Islamic State camp.
The Express report quoted police sources as saying that Ashokan's fears were baseless as Hadiya didn't even have a passport. However, Ashokan filed a case at a local police station and also moved a habeas corpus petition in the Kerala High Court, which annulled the marriage. But the Supreme Court later struck down the high court's verdict and allowed her to go with her husband on an appeal filed by Shefin.
Nine months after the Supreme Court verdict, Ashokan has not softened his stand. He said he will welcome his daughter back if she changes her mind. Though Hadiya has been occasionally calling him and her mother, she has not shown any signs of relenting either. Ashokan says he still hopes one day she will "realize her mistake and return". He said he was keeping the doors of his home open for her.
also read
India
A 16-year-old was brutally stabbed 20 times and bludgeoned with stone to death by 20-year-old Sahil Sarfaraz in Delhi's Shahbad Dairy area
India
The skull of the girl was ruptured after it was smashed with a blunt object, the preliminary post-mortem findings suggested
India
In the viral video Sahil is seen donning a blue T-shirt and talking to a man dressed in black at the same spot where he later killed the minor Hindu girl