Kerala floods: Call for religion-centric donations amid disaster absurd, disservice to people in distress
Amid the Kerala floods, a section of people has been calling for donations for Hindus, claiming that Muslims and Christians have enough help. Such messages on social media have been widely decried.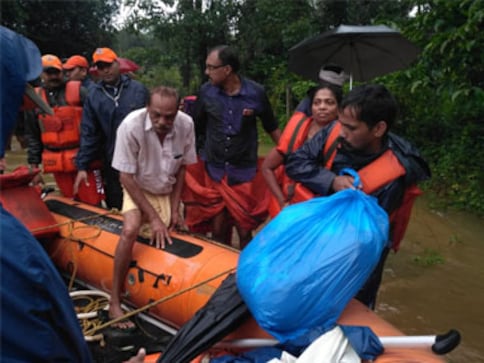 A disturbing tweet by advocate Prashant Patel Umrao underscores an uncomfortable aspect of the massive rescue operations underway in Kerala amid one of the worst floods in the state in a century. That others have echoed it in various forms only makes it more unfortunate. With crores of rupees and tonnes of relief material being distributed, they are both shadowed by the dark and needless abyss of religion.
It is true that people are more sensitive at the moment and are ready to jump the gun. A piece I wrote indicting my own profession for being too Delhi-oriented and failing to react to the flood-ravaged state in time was interpreted by some as an encouragement of a North-South divide. That was not the aim of the exercise, but it was certainly a comment on the media's obsession with things north-oriented, and there is enough evidence in the recent history to back this. It was not a criticism of the people, and the media does get preoccupied with events that occur in parts of North India.
This label of 'divide' that is being used so liberally and loosely is now manifesting itself in more ominous ways, with the communal angle raising its ugly head. The gradual swell of accusations against those tasked with collecting funds or those who volunteered for the job is reaching revolting levels and must be curbed right now.
Advocate Umrao had tweeted: "Donate to @sewabharati & @Sewa_Global only for Kerala #KeralaFloodRelief to save Hindus. Others countries & people are assisting their own communities only, It's the ground reality, keeping emotions aside."
One Alok Bhatt added his observations: "If u wish to donate for Kerala flood victims, then send it to PMNRF or to Hindu charities — don't donate to the likes of Goonj, ActionAid, Oxfam and many more. Donate only to PMNRF. It can give it to RSS."
Legal counsel Smita Dikshit quoted a tweet and said: "This woman finds nothing wrong with Christians calling for aid for Christians in Kerala & conversion attempts. Neither with pro-Dalit handles as they are the fertile fields for future conversions, yet has every issue with Hindu orgs (sic) stepping in for charity. Bigotry personified."
One Sandeep Singh has this advice: "If you are contributing to the Kerala Chief Minister's Relief Fund for Kerala flood relief, remember that chances are most of it will be used for Muslims and Christians and to convert Hindus. Donate to Sewa Bharti."
Where did this angle come from, and why is it gathering steam? What does conversion or religion have to do with the rescue of thousands of men, women and children who are marooned, homeless and hungry. Who is thinking of their religion when the rescue teams risk their lives to save their fellow countrymen and women?
Do they ask about your religion before rescuing you?
Do they leave you stranded because they do not endorse your faith?
No, they do not.
And this solicitation of funds to specific organisations regardless of their religious leaning should not be allowed. It is just unedifying and ugly and makes a mockery of a human tragedy.
Even before the waters have receded and the post-flood threats of diseases, hunger and thirst have been dealt with, the narrative is turning personal and sour. The last thing Kerala needs right now is this 'them vs us' mindset and a regrettably easy-to-believe spread of mistrust on communal lines.
The flow of prodigious amounts of money and relief material and not much accountability for either at present invariably leads to accusations and counter-accusations.
To be honest, who would want to be converted with the shadow of death over the streets, fields, homes and townships, when families have been broken, struck with grief and shock?
Along the same lines, the mean-spirited spread of rumours that the devastating floods in Kerala were a result of the wrath of gods and was deserved in some way is absurd. Yet, it gets traction when people have their guard down, their morale is low, and fear is the driving factor.
On both counts, it is a great disservice to the people in distress to try and create doubt and fear as they wrestle with the horrific calamity that has befallen them.
I end with a response from one Ebenezer Jason to these Twitter messages: "Sir, are you out of your mind? People are dying out here and all you can think about is conversion? What use is any religion for a dying man ? I just don't want to stoop to your level!"
Absolutely spot on.
also read
Explainers
Tipu Sultan, the 18th Century Mysore ruler, slept in a hammock suspended from the ceiling of his locked bedchamber with this sword by his side. Found in his private apartments after his defeat at the battle of Seringapatam in May 1799, it was previously owned by Vijay Mallya
Explainers
Bernand Arnault, who owns LVMH – which includes luxury brands such as Louis Vuitton, Moet & Chandon, and Christian Dior – saw a considerable drop in his fortune after shares of the conglomerate declined five per cent on Tuesday. Arnault's net worth is currently at $192 billion
Explainers
The term 'comfort women' has been given to people that were forced to work as sex slaves by the Japanese Army during World War II. It comes from the Japanese word ianfu – which combines the Chinese characters 'comfort or solace' (i-an) and woman (fu)