Kenneth Juster set to be new US Ambassador to India: A look back at his predecessors
A look back at Kenneth Juster's recent predecessors and the role they played in furthering India-United States' strategic partnership.
Kenneth I Juster, a top aide of United States president Donald Trump, is set to be America's new Ambassador to India, the White House said on Wednesday.
Juster, 62, who is the deputy assistant to Trump for International Economic Affairs and Deputy Director of his National Economic Council, would replace Richard Verma if nominated and confirmed by the Senate.
The move is significant as the appointment comes just a few days ahead of Prime Minister Narendra Modi's first visit to the United States after Donald Trump took over as the president.
Verma, the first Indian-American to head this position, put in his papers when Trump replaced Barack Obama as the President of the US.
During his stint, Verma established himself as one of the most remarkable envoys to ever occupy the post. Now Juster is set to take over the prestigious post, once held by foreign policy legends as Frank Wisner and John Kenneth Galbraith.
Ahead of Juster's formal appointment, here is a look back at his most recent predecessors and the role they played in furthering India-United States' strategic partnership:
Richard Verma (December 2014 to January 2017)
The first US Ambassador to India of Indian origin, Verma's two-year stint is regarded as one of the most consequential. A Forbes report highlights his 'far-reaching legacy.'
It said that Verma "raised the US-India strategic partnership to unparalleled heights in virtually every arena of bilateral cooperation while serving as a skilled and talented public diplomat.
"Verma presided over the two most transformational years in the US-India partnership to date. During this period, President Barrack Obama and Prime Minister Narendra Modi met on nine different occasions while over 40 government-to-government dialogues occurred between US and Indian officials."
At one point, Verma was one of the highest ranked Indian Americans in the US Congress. He had served as National Security and Foreign Policy Adviser to Senate Majority Leader Harry Reid, who he also advised on the India-US Civilian Nuclear Energy deal, and ultimately convinced to back.
Verma worked tirelessly to deepen the bilateral engagement between the two countries. His work influenced all aspects of the two nations' shared interests, including trade, defence and climate change.
Nancy Powell (February 2012 to March 2014)
Powell, a career diplomat, was the first female US Ambassador to India. A somewhat controversial figure, she is known to have ended the United States' nine-year boycott of Prime Minister Narendra Modi.
Towards the end of her stint, bilateral relations between the two nations plummeted. Tensions escalated after the arrest and subsequent strip-search of an Indian diplomat, Devyani Khobragade, in New York. The US Ambassador resigned following the row, that pushed relations between the world's biggest democracies to their lowest ebb in more than a decade.
But trade relations were deteriorating even before the diplomatic row and in India's eyes, Powell's tenure never recovered from Khobragade's treatment. India took retaliatory measures against the US embassy, including removing the ambassador's exemption from airport security searches.
Many Indian officials felt Powell had mishandled the case, which was related to the low wages that Khobragade paid a domestic worker. Both the then Indian government and Modi saw the arrest as US hypocrisy and arrogance.
She was replaced temporarily by Kathleen Stephens, who took charge as Chargé d'affaires in May 2014.
Timothy J Roemer (July 2009 to June 2011)
Roemer was nominated by President Barack Obama as the 21st US Ambassador to India. During his tenure as Ambassador, several policies and initiatives were announced. During his two-year tenure, India became the 12th leading trade partner of the United States.
During his stint, United States removed nine Indian space and defence-related companies, including those from ISRO and DRDO, from its export control 'Entity List', opening the door for increased cooperation, technology transfer, and commercial sales in the defence and space industries.
India and US also signed the Counter Terrorism Initiative (CCI) in 2010, that helped forge close and effective cooperation in counter-terrorism, information-sharing and capacity-building.
"Today, with the formal signing of the initiative, we take several significant steps forward against terrorism," Roemer said, as per a report in The Hindu.
Roemer resigned citing prior personal and professional commitments but, according to a report in The Hindu, the timing of the announcement was suspect as it "coincided with Roemer expressing dissatisfaction with the selection process for a mega Indian Air Force tender for fighter planes, in which both the US contenders were virtually knocked out of the race along with Russian and Swedish companies."
David Campbell Mulford (December 2003 to February 2009)
Mulford's stint came at a time when India-US relations were undergoing a dramatic shift. During his tenure, the two nations saw unprecedented economic cooperation. He helped bolster several areas of cooperation, including business, science, agriculture, education and military cooperation.
He is credited with overseeing the negotiations of the US-India Civil Nuclear Initiative. Mulford had termed the deal as "very constructive and credible". He had said that the civil nuclear energy deal with India will end its isolation and contribute to the non-proliferation system.
"This visit is certainly the most important visit any President of United States has made to India", Mulford said referring to George W Bush's visit to India.
In the aftermath of the 2008 Mumbai terror attacks, he facilitated US collaboration and cooperation to help strengthen the efforts against international terrorism. He was also the founder of the US-India CEO Forum.
Robert Blackwill (July 2001 to July 2003)
Blackwill was part of a group of foreign policy advisers to George W Bush during his presidential campaign in 2000. He was rewarded post Bush's win with the ambassadorship to India.
Blackwill's stint was marked by his commitment to take India seriously as an American ally, to counter China's growing power. According to a report in The New York Times, Blackwill promoted perhaps the closest ties between India and the United States since India's independence in 1947.
"The Bush administration perceives India as a strategic opportunity for the United States, not as an irritating recalcitrant," Blackwill had said. Blackwill had said that before he arrived, India was considered "a nuclear renegade whose policies threatened the entire nonproliferation regime."
The report further highlighted Blackwill's diplomatic prowess: "After a series of terrorist attacks for which India blamed Pakistan, the two nuclear-armed nations nearly went to war. As tensions rose, Blackwill was said to have been a strong advocate of a State Department advisory against travel to India, which prompted the evacuation of embassy staff members,"
Whether intended as a pressure tactic or not, the advisory put a crimp in India's economy and tourism and was partly credited for drawing India away from war."
 Last year, Blackwill received the prestigious Padma Bhushan award from President Pranab Mukherjee for his distinguished service.
Find latest and upcoming tech gadgets online on Tech2 Gadgets. Get technology news, gadgets reviews & ratings. Popular gadgets including laptop, tablet and mobile specifications, features, prices, comparison.
Lifestyle
Following a parched few months in luxury retail, can digital fashion weeks like LFW offer greater business to designers?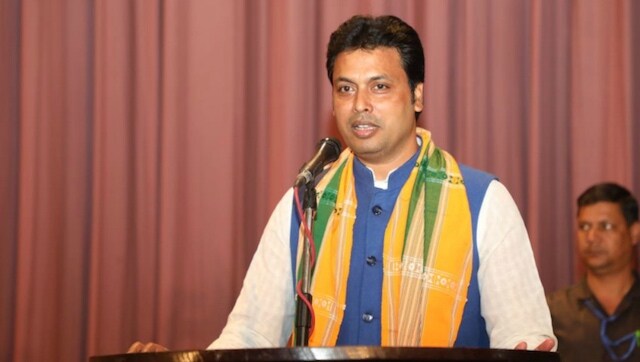 Politics
A team of 12 dissident Tripura MLAs is camping in New Delhi to meet the BJP's national president JP Nadda
World
Traditionally, presidents have tried to avoid making statements that might prove embarrassing later on. They choose their words carefully and proceed 'out of an abundance of caution', per the tagline of the moment in Washington