Kathua rape case must be heard outside Jammu, victim's lawyer Deepika Singh Rajawat tells Firstpost
Kathua rape case victim's lawyer Deepika Singh Rajawat told Firstpost that the Jammu and Bar Association wants a CBI probe in the case only to stay in the limelight while also accusing them of reproaching her to leave the case
Deepika Singh Rajawat, the lawyer appearing in the Jammu and Kashmir High Court on behalf of *****'s father Mohammad Akhtar is determined to fight for justice for the eight-year-old girl who was brutally gang-raped and murdered in the Kathua district of Jammu in January this year.
Chairperson of Voice For Rights, an NGO working in the field of human rights, Rajawat is not new to threats and insults but is surprised at the extent of verbal abuse being levied against her when she took up *****'s case. This has led her to write to the Chief Justice of Jammu and Kashmir High Court, asking the court to ensure her safety and security in the court. Rajawat spokes to Firstpost about the 'prejudice', 'bias' and 'threats' that she has been facing from her fellow colleagues, and the case.
What made you take up *****'s case?
I have been fighting cases of human rights abuse earlier also. ***** comes from a family of shepherds. They are here today and somewhere else tomorrow. They are very poor. Ek dhamki denge to woh chup ho jayenge (one threat and they will keep quiet). I approached them in February. ***** went missing on 10 January, but the police did not register an FIR. I felt I had to fight on their behalf.
Why were the lawyers of the Jammu Bar Association so opposed to your taking up this case?
I filed the writ petition on behalf of *****'s father. He had sought a court-monitored investigation into the death of his daughter. The lawyers claim the investigation was not done in a fair manner.
I was at the court when Jammu Bar Association president BS Salathia passed by and said that I should not appear. I told him that I was not a member of the bar. But he told me that if 'you will appear, we know how to stop you'. I immediately rushed to the Chief Justice of Jammu and Kashmir High Court and filed a complaint in which I said that I was not safe here and requested that I should be provided security. I also requested him to ensure my safety while I appear in the court. I am thankful that the honourable chief justice passed directions to the security wing of Jammu and Kashmir Police to ensure that I remain safe in the high court.
The Supreme Court has said that lawyers should stop work in the rarest of rare cases otherwise they should seek other remedies. But the lawyers here are flouting this directive with impunity.
Have you seen the charge sheet? Do you think it is fair?
Yes, I have seen the charge sheet and I am satisfied with it. Why should I want a CBI probe? My question is where were these lawyers when the FIR was lodged.
But, isn't a supplementary charge sheet likely to be filed shortly as well?
Yes, I understand a supplementary charge sheet will also be filed. It is because this probe is being monitored by the Jammu and Kashmir High Court that the policemen (involved in the case) have also been booked. The case was given to the crime branch after the constitution of three SITs. I would like to add that it was only when the court started monitoring the investigation that the investigation started showing results because they minutely examined the reports filed by the crime branch.
Have you received threats in the past also?
Several times. Earlier this year, I took up a case where a judge had raped his maid. The judge was arrested and is presently behind bars.
Some years ago I had taken the case of a 12-year-old-girl dying under mysterious circumstances in an advocate's house. The advocate stated that the girl had committed suicide. The girl's parents approached me and I took up the case. Even then the lawyers reproached me and went to the extent of cancelling my bar membership.
Why do you only take up cases of women and children?
I must point out that I run an NGO called Voice for Rights and the NGO takes up cases of human rights abuse against women and children especially cases of trafficking and of children who are victims of mines. Look at the number of children living along the Line of Control (LOC) who have been left maimed because they stepped onto a mine.
I filed a PIL in 2012 asking the court to conduct a survey of mine victims and give those who have suffered injuries adequate compensation. I am happy to say that because of my PIL, mine victims are presently receiving Rs two lakh per individual.
But I feel they need to be shifted to a safer place. The government also needs to come up with a policy for their rehabilitation. This is an issue that other lawyers from the Jammu Bar Association should take up.
I also work in the field of juvenile justice. It is because of the work that I received the Charkha fellowship and have also received the Ladli award.
Another important issue that I have taken up is how the fruit mafia is using all kinds of artificial ripeners including calcium carbide to ripen fruit. I wish Prime Minister Narendra Modi, who talks so much, would take up this issue because food and fruit is something that all of us eat. I have filed a PIL on this also and on the need for the government to set up a proper monitoring organisation to ensure these malpractices are stopped.
Why should the lawyers be so agitated over this case which has now acquired communal overtones?
This is their strategy to come into the limelight. These lawyers are demanding the ouster of the Rohingya and others along with the nomadic tribes (from the state).
Do you think this case should be moved out of Jammu?
Yes, absolutely. I do not think the case should be taken up in Jammu. I will discuss the matter with Mohammad Akhtar about transferring the case to another court.
World
Amira Elghawaby, an active human rights campaigner, is a columnist for the Toronto Star newspaper. Prime Minister Justin Trudeau praised her appointment as 'an important step in the fight against Islamophobia and hatred in all its forms'
World
Drones attacked a convoy of trucks in eastern Syria Sunday night shortly after it crossed into the country from Iraq, Syrian opposition activists and a pro-government radio station said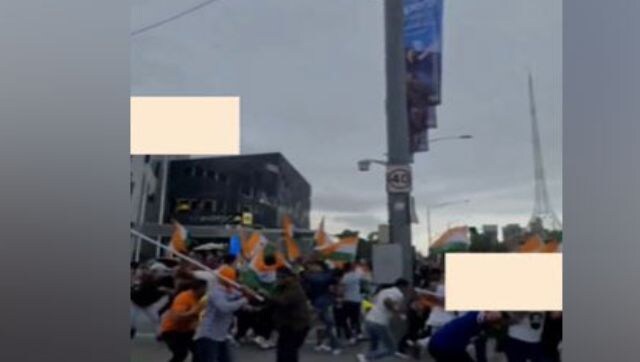 World
According to a report, the Indian group was seen running away from the scene while the Khalistani group continued to hit them. One individual was seen breaking an Indian flag and throwing it on the floor