Kathua rape case: Blatant support for barbaric act shows how bigotry, communal haze have numbed people
The rape and murder of an eight-year-old in Kathua and the subsequent support for the accused tell a chilling story of a people numbed by bigotry.
Events in Kathua, where a minor girl was raped and killed, allegedly to instil fear among nomads and drive them out of the area, have held up a mirror to our face. And the reflection is really ugly.
The rape and the subsequent support for the accused in Jammu tell a chilling story of a people numbed by bigotry. If a rape in a temple whose presiding deity is Maryada Purushottam Rama (the epitome of dignity) and blatant support to the alleged perpetrators in the name of religion, don't shock the nation, India needs to take a close look at its morality and sensitivity.
The details are horrifying. An eight-year-old girl was lured into the meadows of Kathua for a planned rape and murder. She was drugged and tortured. Men took turns to rape her. After ravaging her for days, they stopped for a while, not out of mercy but to let a cop rape her one last time. Then she was strangulated and bludgeoned to death. All this was done, according to the police FIR, to drive Bakarwal Gujjars — a nomadic tribe of Sunni Muslims — from the area.
The entire episode is reminiscent of the brutality of the Talibani and Islamic State regimes. These oppressive regimes raped, tortured and disfigured women to terrify their communities, bludgeoned them into submission and drove them out of their territories. Like the rape and murder under the Talibanis and Abu Bakr al-Baghdadi's caliphate, the inhuman act in Kathua, perpetrated in the name of religion, were triggered by bigotry.
The defining trait of inhuman people is that they let hatred subsume everything. Kindness, empathy and love are replaced by a maddening desire for violence, vengeance and injustice in the name of some pervert philosophy. Every act is directed towards serving some evil ideology even if it warrants complete surrender of humanity's ideals. The Kathua rape and its aftermath have all the trademark signs of inhuman behaviour.
The problem with Jammu and Kashmir is that it is now being split into two different directions by its own people. The Valley has embraced violence in the name of religion and separatism. In Jammu, there is counter-polarisation in the name of Hindutva and nationalism. As this battle wages, humanity and its ideals have been sacrificed.
The very idea of raping and killing an innocent girl to scare away a group of people is barbaric. It is more vicious than a rape because the perpetrator not only planned it but has also assigned it a socio-political motive, thus giving it some sort of higher legitimacy in his own mind.
Then, the crime was committed in a temple dedicated to Lord Rama in the belief that evil gets divine sanctity just because it was executed in a shrine. In another perversion of morality, the task was assigned to juveniles, in the belief that they would be let off with mild punishment even if they were caught. Ironically, the planners of this barbaric act not only destroyed the life of an innocent girl but also victimised their own children by using them as pawns.
On top of that, we have the ugly spectre of people marching in support of the accused, chanting religious slogans, waving the tricolour and calling for a bandh. A few years ago, it would have been unimaginable that protesters led by — of all the people — lawyers would shut down a city in India so that criminals are not arrested.
All this because they feel obliged to stand in support of bigotry and violence instead of humanity and justice. But, this sordid drama of the absurd was played out on the streets of Jammu on Wednesday. Such perversion of morality not only shames humanity but also the faith and the country it purports to represent.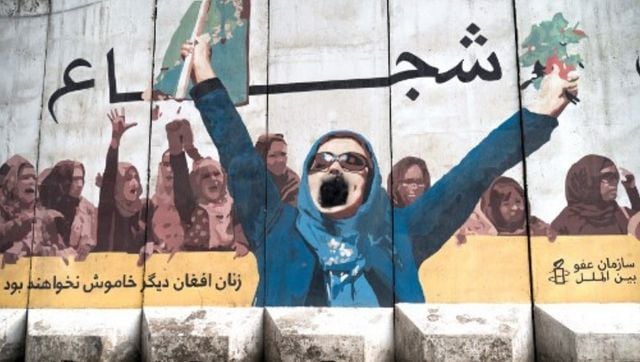 World
US Secretary of State Antony Blinken said providing equal access to education and work is an 'essential component to the vitality and resiliency of entire populations'
World
The students have said the closed schools have faced them with psychological problems and mental pressure
World
In a notification in early January, Taliban's Ministry of education stated that it will now allow girls till sixth grade to continue their studies