Kashmir's faultlines lie exposed at Srinagar hospital's ICU as militant, policeman's wife battle for their lives
Two patients from two extreme ends of the political spectrum in Kashmir are fighting for their lives in the same intensive care unit of the same hospital, and doctors are hopeful they will survive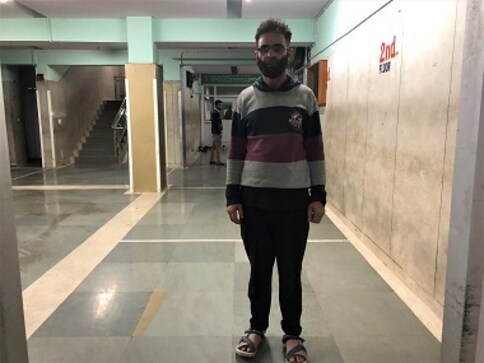 Armed policemen wearing bulletproof jackets milled around in groups, as if guarding the entrance of a jail; the difference being that they are in a hospital, the largest in the Kashmir Valley. But the noise and rush of attendants outside the main gate of the intensive care unit (ICU) at the Sher-i-Kashmir Institute of Medical Sciences (SKIMS) in Srinagar, hardly distracts them.
Except for the medical staff and one attendant per patient, who are also thoroughly scrutinised before let in, no one is allowed entry into the ward. Policemen in plain clothes are everywhere, they are behind the gate and outside it too.
Inside there are two patients from two extreme ends of the political spectrum in Kashmir. They are fighting for their lives, and doctors are hopeful they will survive. Lying motionless on one bed is 36-year-old Fareeda Mustaq, wife of a slain special police officer (SPO) Mushtaq Ahmad Sheikh, who was fired upon by militants on Thursday evening at Katoo-Wopzan village, about seven kilometres from Bijbehra town of Anantnag district. She tried to save her husband but sustained critical injuries to her lung and spinal cord.
The other is Asif Ahmad Malik, a 21-year-old militant who was part of the group that police says fired at an army patrol deployed in Ahgam in Shopian district. He suffered bullet injuries to his liver and other organs, including the intestine, leading to internal bleeding.
The distance between their beds is no more than 15 feet, but they avoid eye contact, say hospital staff attending to them. The two patients are united in grief and their families are praying for their survival, but the scene itself is tragedy in action. In this war of attrition, it's the people of Kashmir who are paying the ultimate price.
On Friday evening, Mohammad Ashraf Malik, a resident of Krawoora village in Shopian district, sat staring at the lifeless body of his son, Asif, who joined militancy on 17 October last year. A BCA student, Asif went missing from his house days before taking up arms. His family says he never showed an inclination to join the militancy and never participated in street protests. So, when his pictures started appearing on social media in October, showing Asif flaunting an automatic gun, Malik couldn't come to terms with the decision his son had taken.
Five months later, Malik, a farmer, broke down outside the ICU. "I last saw my son on Thursday evening at around 8:30 pm in an orchard in Killura, next to the village where we live. People thought he had taken his last breath, but when I reached there, I realised he was alive and we brought him here," Malik told Firstpost outside the ICU, where attendants of other patients sat in rows, some with their sad faces cupped in their hands, some talking to each other, and others just walking up and down the corridor to kill time.
An old woman walks by, stopping to greet him. "Don't worry," she tells him in an assuring tone. "Your son will be alright, God is with him, and only He can save him."
Malik closes his eyes and tears start flowing. "It is an inexplicable grief. One day you see your son going to college, and the next day, he is holding an AK-47. Then, after a few days or months, if you are lucky, you see his body riddled with bullets and you want to understand why," Malik says between sobs.
I was looking for Jaleel Ahmad, brother-in-law of the slain SPO Mushtaq Ahmad Sheikh, and the man attending to Fareeda. I asked many people at the gate if they could help tracing him, but nobody could. But when I was sitting with Asif's father, Jaleel sat next to us. A short, bearded man in his early 30s, Jaleel's eyes turn moist every time his sister's crops up during conversation.
A police statement said that gunmen barged and fired at Mushtaq inside his house at Katoo Wopzan. He was posted at Police Post Sangam in Bijbehara area and died on the spot. His injured wife was immediately shifted to a nearby hospital for treatment, but her condition remains critical.
"This is the tragedy of Kashmir," Jaleel says nonchalantly. "The militant and the woman are from the same area. They are both Muslims, follow the same God and bow their heads towards Kabba, but it is difficult for them to even look at each other. Doctors say she will be alright, but will her wounds ever heal?" he asks.
Late on Friday evening, Mushtaq sat on a stool near the bed, caressing his sister's head. She had been married for six years and was living a happy life despite the meagre salary that her husband was drawing. Tears started trickling down his face when Malik stepped in. He one hand on Jaleel's shoulder, and rubbed Fareeda's hand with the other. "Nothing will happen to her. She will be alright," Malik told Jaleel. "May God give her a long life."
He then moved towards his son's bed. He looked at him, intently, in silence, perhaps contemplating the position that had landed him in an orchard, nearly dead. "Oh my son, no father should see his son in the condition that you are in," he whispered. Then he broke down again.
India
The meeting, attended Lt Gov Manoj Sinha, Union Home Secretary Ajay Bhalla as well as the heads of intelligence and security agencies, also took stock of the preparedness for the Amarnath yatra that is scheduled to begin on 30 June
India
Those sacked are Altaf Hussain Pandit, chemistry professor at Kashmir University, Mohammed Maqbool Hajam, teacher in the school education department, and Ghulam Rasool, a constable
India
The encounter broke out between security forces and terrorists at the Brar area of Bandipora