Kashmir unrest: Hurriyat's strategic blunder gives India chance to finally douse fire
The path is now clear for the Centre to take a tough stand vis-à-vis the Hurriyat and adopt a two-pronged strategy.
By refusing to meet members of the all-party delegation on a visit to Srinagar, the Hurriyat Conference has made a strategic blunder. The shutting of door on people's representatives has made it obvious that for all their breast-beating, the Hurriyat leaders are unwilling to restore normalcy in Kashmir. Why? Because continued unrest gives them the chance to capitalise on the grievance narrative. The loss of Kashmiri lives merely becomes collateral damage with an additional advantage that deaths could always be blamed on "Indian oppression" and turned into political capital.
The renewed violence in Kashmir following the rebuff and an ambush on an army convoy in Handwara on Wednesday served to prove further that the separatist movement triggered off by Hizbul Mujaheedin commander Burhan Wani's killing is fast reaching a level of claustrophobic desperation.
For India, the Hurriyat snub is an unexpected strategic gain.
The spiraling violence which entered its 60th day and has already claimed over 70 lives has sparked a sense of déjà vu.
As Firstpost has argued consistently in the past, there was never any confusion about how the latest spate of hostility was aided and abetted by Pakistan as part of its proxy war over Kashmir.
Captured Lashkar-e-Taiba operative Bahadur Ali, for instance, recently revealed what we already knew — numerous training camps run by terrorist groups and backed by the Pakistan Army are sending militants to keep the Valley burning. Their brief is to mingle with the protesters, fuel tension and lob grenades at Indian security forces using stone-throwers as cover.
Another report in Firstpost quotes Ali telling National Investigative Agency interrogators that his handlers operate from a control room code-named 'Alpha-3', located at a high altitude somewhere in PoK. Ali outlined how members of the Pakistan Army, in civil clothes, monitored the entire process as he and couple of other LeT commanders crossed over into India.
This is just one among a mountain of evidence that indicates how Pakistan has been pressing non-state actors into service to engineer "spontaneous" protests.
Similarly, there was never any doubt about the true nature of Hurriyat's call for 'azaadi' — its leaders have been openly siding with Pakistan and even calling themselves Pakistani citizens. Worryingly for India, Hurriyat's pro-Pakistan stance has lately been reinforced with a new Islamist narrative.
And yet, as the violence spread in different parts of the Valley with a degree of sophistication and organisation that is impossible in a vociferous, grassroots movement, a few Indian political parties and leftist voices in the media began putting pressure on the government to talk to "all stakeholders", an euphemism for leaders who want Kashmir to secede from India and align with their religio-political home.
These usual Indian voices calling for talks with separatists display a willing suspension of disbelief. As if the likes of Syed Ali Shah Geelani, Yasin Mailk or Mirwaiz Umar Farooq will drop their secessionist demands as soon government calls them for a discussion.
Not only is this demand an exercise in futility, it is also an incredibly blinkered, foolish strategy. If the government were to formally invite Hurriyat leaders for talks, it would catapult the Pakistan stooges into relevance and become a tacit admission that India was somehow wrong in killing Burhan Wani, a terrorist with a bounty on his head. Also, what would be the next move if the Hurriyat refuses to bend despite a formal invitation? Should we then also invite terrorists Hafiz Saeed and Syed Salahuddin for talks? Some Indian commentators would also call them "stakeholders".
By avoiding that trap, the NDA government has done the correct thing. The delegation that was to call upon the Hurriyat leaders — CPM general secretary Sitaram Yechury, CPI leader D Raja, JD(U) leader Sharad Yadav and RJD's Jay Prakash Narayan — as also AIMIM leader Asaduddin Owaisi who went separately to meet Umar Farooq, was diversified enough and yet had an informality in approach.
Hurriyat's refusal to engage with the delegation stems from an apprehension that any meeting in an informal setting would be interpreted as a climbdown in this high-stakes game. But the separatist leaders failed to grasp that their obstinacy exposes them as non-serious players acting not in Kashmir, but Pakistan's interest, and absolves the Indian state of the charge that they didn't reach out to "all stakeholders".
The path is now clear for the Centre to take a tough stand vis-à-vis the Hurriyat and adopt a two-pronged strategy.
One, isolate the leaders and reduce their importance in the ongoing dispute. Initiate a string of measures including scrutinising their bank accounts, speeding up pending probes, curbing foreign travel and scaling down their state-sponsored security. Some of these steps, as a Firstpost report points out, may already be underfoot.
According to CNN-News 18, says the report mentioned above, the Centre spends around Rs 309.53 crore on separatists and as many as 1,472 of these leaders are provided security. The news channel also reported that 708 vehicles are allotted for 481 separatists and 440 of them are accommodated in secure hotels. It boggles the mind to think that Indian taxpayers are indirectly funding a war unleashed by Pakistan and its agents against us.
The Mehbooba Mufti government also must reinforce its writ over the troubled valley where the Hurriyat, since the onset of unrest, has been running a parallel administration.
As Sameer Yasir pointed out in a recent article in Firstpost, the separatist leaders have been throwing a direct challenge at state by deciding the movement of the people on the streets and opening of the businesses by a self-styled "calendar".
Two, the Centre must simultaneously start confidence-building measures including banning of pellet guns in favour of the new PAVA shells, relaxation of curfew, and lifting of AFSPA wherever feasible. Talks on increased autonomy may begin, but it could only be a long-term goal. There should be no doubt about Indian state's ability to absorb an uprising — however intense — and restore normalcy without having to truck with Pakistani agents.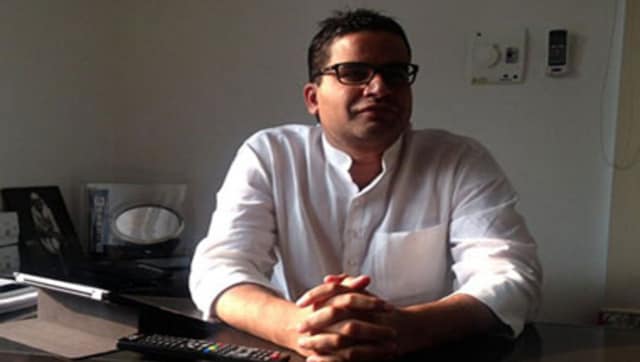 Politics
The newest twist in the tale came on Wednesday when Rahul Gandhi aide Archana Dalmia sent out a tweet giving Kishor a 'warm welcome into the Congress family' only to subsequently delete it
India
New Delhi has been supporting a national peace and reconciliation process which is Afghan-led, Afghan-owned and Afghan-controlled
World
US president Joe Biden has been facing tremendous pressure from lawmakers in both parties to come up with a plan to help evacuate Afghan military helpers before the US troop withdrawal on 31 August