Kashmir unrest: Hurriyat responds to PDP, asks CM Mehbooba Mufti to support the people
: The hardline Hurriyat Conference on Sunday asked Jammu and Kashmir Chief Minister Mehbooba Mufti to be on the side of her people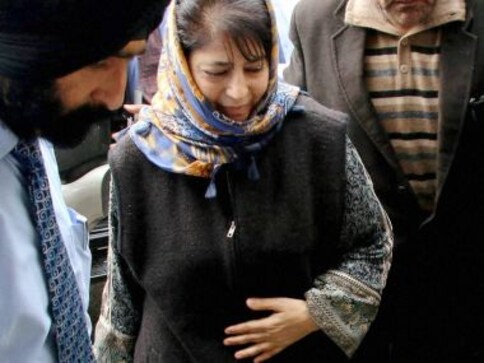 Srinagar: The hardline Hurriyat Conference on Sunday asked Jammu and Kashmir Chief Minister Mehbooba Mufti to be on the side of her people and join their just struggle, a day after the ruling PDP appealed to its chairman Syed Ali Shah Geelani to give her a chance to address the grievances of the people.
"We have three-pronged relation with Mehbooba— human, national and religious, but she has utterly failed to uphold any of these," a Hurriyat spokesman said.
"Humanity teaches us to respect and honour human beings irrespective of their caste, creed or culture, but she, by her barbaric armed forces and uncontrolled police, has turned this heavenly land into the hell. Here every house is mourning the demise of their loved ones, thereby tarnishing the very fabric of this honourable and pious relation," the spokesman said.
The Hurriyat was reacting to PDP chief spokesman Mehbooba Beg's appeal to Geelani to treat Mehbooba as his daughter and help her restore peace in the valley which has been under the grip of violence for over 50 days following the killing of militant commander Burhan Wani.
He said regarding the national relations, it demands of her at least to be on the side of her people and join their just struggle but "for the petty power and to please her masters, she has been competing in killing and maiming her own people".
On the religious connections with Mehbooba, the Hurriyat said the killing of eight CRPF personnel in June brought shame
on her Muslim identity, but daily killings of youths fail to
appeal to her conscience.
"Geelani is the leader of this nation and he treats every woman as his daughter, but what kind of daughter is this who feels happy to confine her fatherly figure in his house for years together but does not hesitate to emotionally blackmail him to call for his help whenever her position is threatened," the spokesman said.
"As a father, Geelani advises the daughter not to ruin herself hereafter for the comfort and luxury of those who kill and destroy us... Time will come when your inner (self) will curse you for being so, but time may not be on your side," the Hurriyat said.
India
The accident took place on the Baggan-Katli road in the Billawar area when the driver of the cab lost control while negotiating a blind curve
India
Rajni Bala was shot dead outside the government school where she worked in Gopalpara in Kulgam on 31 May
India
The mine, which was found buried by the Border Security Force, was later safely defused by experts of the bomb disposal squad