Kashmir unrest: Delegations promise no real change, leading to more anger within the state
As the day came to an end, close to 200 hundred people were injured in clashes with government forces through out south Kashmir.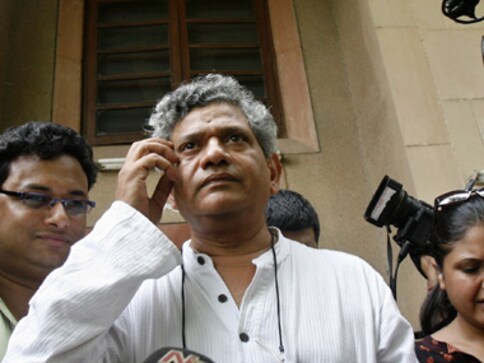 On Sunday evening CPM leader Sitaram Yechury's car was the first one to arrive outside Syed Ali Shah Geelani's house, who heads a faction of separatist amalgam Hurriyat Conference. As he emerged from a white ambassador car, visibly shaken, he waited for a minute, trying to hear slogans reverberating from a nearby mosque. And then he waited for around eight minutes outside Geelani's residence, but no one opened the door.
"Last time he offered us tea. It was a meaningful interaction but since the door is locked we are returning. There should be dialogue and that is only way forward," Yechury told Firstpost, outside house number five, Geelani's residence in Hyderpora.
In September 2010, Yechury, along with four member delegation Assaduddin Owaisi, TR Baalu and NN Rao, called on Geelani besides moderate Hurriyat leader Mirwaiz Umar Farooq and JKLF chairman Mohammad Yasin Malik at their residences to break the logjam and open the channels of communication. They had succeeded.
Geelani shook hands with the visiting delegation and offered them a cup of tea. The interaction, under full media glare, lasted for half an hour but everyone stuck to their stated respective positions on Kashmir issue. But that meeting had an immediate effect. It helped in calming down tempers on the streets.
When Firstpost asked Yechury if the door being shut had dejected him, he said, "We have been urging government of India to hold unconditional talks with the separatist leaders. That should be the way forward." He walked towards the waiting car, after talking to a hoard of reporters, visibly upset.
Kashmir has seen 73 deaths in the past 58 days, triggered by the killing of militant commander Burhan Wani. There is no ray of hope that the unrest is turning weak, but with every new killing, injury or arrest, the people are getting angrier.
"In past also, such delegations and teams of interlocutors have failed to address the main 'issue' of Kashmir, which the separatists say should be discussed outside the ambit of Indian constitution. What happened to the interlocutors report, who were appointed by UPA government and the countless others," Tawseef Ahmad, a student who participated in the protests outside Geelani's residence, said. With this delegation, people's anger has intensified as they see it just "another delegation whose recommendations will not be taken seriously by the parliament."
In 2010, a parliamentarian delegation had requested Geelani to 'give peace a chance'. "Give a chance for peace and normalcy that is all what we want from you. That is why we have come to appeal you," Yechury had told Geelani in 2010.
Six years on, the situation has completely changed. Cynicism has replaced camaraderie; distrust has replaced hope.
When CPM leader D Raja, Janta Dal (united) leader Sharad Yadav, and Yechury appeared outside Geelani's house on Sunday, a huge graffiti "Go India Go Back" written by Hurriyat hawk Geelani on his outer wall greeted the All Party Delegation (APD).
Despite repeated knocks at Hurriyat hawk's door, they failed to manage an entry. Before they left, a group of residents stopped JDU leader Sharad Yadav and asked him, "How do you expect people to hold talks with leaders when you have jailed them?"
Bashir Ahmad, a resident of Hyderpora locality, stopped Yadav for ten minutes outside Geelani's house and told the visiting parliamentarian: "Kashmiri culture does not allow to behave like this with guests but you have left no reason for us to believe you."
"The first thing you should do is meet the children blinded by your forces in these 57 days, then you should think of a dialogue," Ahmad told Yadav, as a group of agitated youth started raising pro-freedom slogans.
Yadav listened keenly to the people outside Geelani's residency for 25 minutes and his only response was: "Dialogue is the only solution." Ghulam Hassan Kutchi, a lawyer by profession, who stood outside Geelani's residency told Yadav, "how do you expect our leaders to have dialogue with you when you don't have an authority from Government to hold, as you have come on your own initiative".
The three main separatist leaders in the region – Syed Ali Geelani, Mirwaiz Umar Farooq and Yasin Malik – refused to meet with the members of the delegation who had attempted to reach out to them.
Earlier in the day, the three key separatist leaders issued a joint statement and said the "deceitful method of crisis management" through parliamentary delegations prolong the "sufferings of the people". The separatists said delegations cannot replace a "genuine transparent agenda-based dialogue".
"Such delegations have not yielded any results to bring back complete normalcy to Kashmir, where people's sentiments are for the resolution of the dispute," said Fahad Shah, journalist and editor of The Kashmir Walla. "It is for Indian government to decide whether such tensions should continued happening in Kashmir or a once for all solution should be found. People are out on streets demonstrating that they have been tired of promises, someone should listen to their genuine demands and try to find a way of talking where both sides agree."
Shah believes that the arrogance of local government or the central government, shown in last two months, will only cause more violence, if not immediately but in coming years.
As the day came to an end, close to 200 hundred people were injured in clashes with government forces through out south Kashmir.
Entertainment
Though Warner Bros released Christopher Nolan's Tenet exclusively in theatres last year, that did not stop the filmmaker from criticising the production house for releasing its subsequent films simultaneously on HBO Max during the pandemic.
Entertainment
In February, BTS covered Coldplay's 2005 hit number 'Fix You' on MTV Unplugged, sparking rumours of a potential collaboration.
Entertainment
Thalaivi exaggerates events for dramatic effect so much so that if we made two-three more biopics like this, we would end up giving Jayalalithaa sainthood.