Kashmir unrest: BJP slams Mehbooba Mufti for hosting 'iftar party' after 6 police officials were killed by militants
BJP in Jammu and Kashmir slammed CM Mufti for hosting an 'iftar party' two days after the killing of six police personnel by militants in the Valley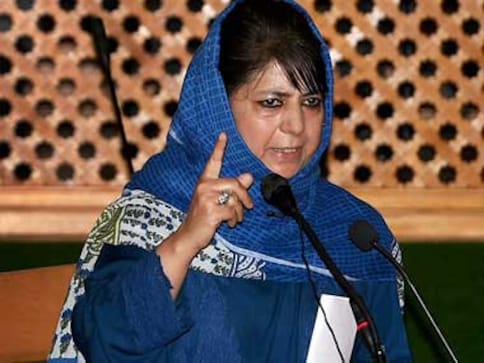 Jammu:  The state BJP, an alliance partner of the ruling PDP in Jammu and Kashmir, on Monday slammed Chief Minister Mehbooba Mufti for hosting an 'iftar party'in Jammu two days after the killing of six police personnel by militants in the Valley last week.
The ruling alliance partner also said that the chief minister should have cancelled 'iftar' keeping in mind the emotions of the family members of the slain police personnel, including an official.
Mufti had hosted an iftar party here last night, in which around 1,000 guests from various walks of life, attended.
"Wasn't the wiping off of the whole police party in an ambush enough for the state to mourn the loss and cancel the official feast?" J-K BJP Spokesperson, S S Bijral said.
He said that everyone in the state had been taken over by grief over loss of brave hearts and they expect that the administration, at least, could have demonstrated emotional solidarity with them and cancelled the official iftar party.
Bijral, a retired IG of Jammu and Kashmir Police, also alleged that the state hosted a 'feast your eyes' iftar party at Jammu while people, particularly in the valley, mourned the brutal killing of the policemen by terrorists.
He terming as "an official ritual" the hosting of 'iftar' by the chief minister ahead of Eid for prominent citizens irrespective of their religious allegiance.
SHO Feroz Ahmed Dar of police station Achhabal and five policemen were killed by terrorists at Thajiwara village, on 16 June, when they were returning after performing law and order duty.
"After killing them, the terrorists displaying unprecedented savagery as they mangled their faces, riddling them with bullets with vengeance and took away their weapons," the BJP leader said.
India
IMD has forecast severe weather for Jammu and Kashmir, with 'widespread intermittent rain most likely to continue till 30 July'
India
A cloudburst is a sudden aggressive rainstorm falling for a short period of time-limited to a small geographical area
India
An unidentified militant was killed in an encounter with security forces in Kulgam district of Jammu and Kashmir on Sunday, police said