Kashmir unrest: Between stone-pelters and pellet guns, security personnel pay a heavy price
Are we surprised why Wahabism is replacing the Sufi culture of Kashmir? It is a well-planned systemic operation. Therefore, merely viewing the stone pelters as 'misguided' youth or simply acting for money is the height of foolishness.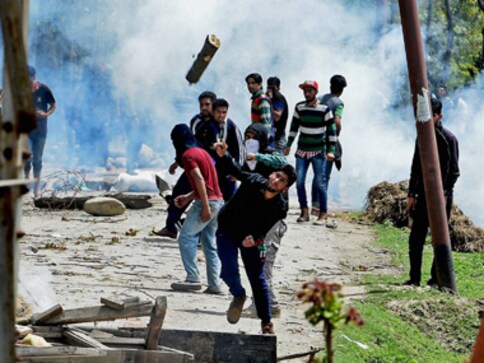 Stone-pelting is back in the news with the Budgam encounter on 28 March which killed one militant but left 43 CRPF and 20 Police personnel injured. According to reports, stone-pelting terrorist supporters obstructed the security forces operations in an attempt to enable the militants to get away from the scene. Three stone pelters were also killed in police firing while some 17 were reportedly injured during the operation.
This was by far one of the heaviest stone-pelting incidents in recent times, but certainly, more is yet to come. Simultaneously, the Supreme Court has asked the Centre to explore an alternative to pellet guns to control protesters in Kashmir and also take action against parents of minors who are used as shields by militants during attacks on security forces.
Ever wondered why there are no stone-pelting protests in Pakistan or China, or even in Balochistan and Xinjiang? The explanation is simple: In Pakistan, such individuals will simply be killed. Any reporter, who attempts to factually report the incident, too will simply cease to exist. China, for example, gained a worldwide fame for mowing down unarmed students (not even holding stones) at Tiananmen Square in 1989. But, what about India? Are we not a soft state to allow Pakistan's ISI play the game of cat and mouse and have a ball in Jammu and Kashmir while also exploiting the social media to incite the public at will?
Some of our media and activists keep screaming blue murder against the security forces, naturally without a word against a single stone pelter. A former chief minister of Jammu and Kashmir who would be convicted should there be an inquiry against the ethnic cleansing of Kashmiri Pandits has been shamelessly raising the slogan of azadi even when such a demand goes against the Constitution of Jammu and Kashmir, leave aside the Constitution of India. Post the Budgam encounter, he is raising calls for talks with Pakistan knowing well that Pakistan is stabbing Jammu and Kashmir and twisting the knife because of people like him. As to the Hurriyat separatists, slush with cross-border funds no elaboration is needed. And why should they show any allegiance to India when they are pampered by the Centre and enjoy crores of rupees from the tax payers money?
But who are the ring leaders of the stone-pelters? Why has the state intelligence not identified them? And why are they not arrested and convicted? Are the hands of the state intelligence tied by the politicians who are in league with the terrorists? Does the state keep tabs on the "unnaturally" naturalised Kashmiris of Pakistan origin that are present in Kashmir Valley through cross-border marriages or planted by design? How many of them are radicalised for jihad? How many of our policy makers have read the book Quranic Concept of War by Brig SK Malik of Pakistan Army in 1979, which distorts the teaching of Islam by justifying terrorism? The preface of the book is written by Allah Bukhsh K Brohi, the former Pakistani Ambassador to India, while Zia-ul-Haq, former President of Pakistan and Pakistani Army Chief of Staff opens the book with a focus on the concept of jihad within Islam and explaining how it is not simply the domain of the military. Both Brohi and Zia-ul-Haq justify terrorism. The book has been the Bible of Pakistan's army and ISI since 1979, and that is why Musharraf said, "Even if the Kashmir issue is resolved, jihad against India will continue."
Are we surprised why Wahabism is replacing the Sufi culture of Kashmir? It is a well-planned systemic operation. Therefore, merely viewing the stone-pelters as "misguided" youth or simply acting for money is the height of foolishness.
Recently, the National Investigation Agency (NIA) found at least five companies with links to Hizb-ul-Mujahideen (HuM), a Times of India report said. According to report NIA found that "several crores of rupees were handed over to ground workers of HuM or to separatist elements to fuel the massive protests and violence in the Valley since July 2016".
Earlier this month, security forces arrested Irshad Ahmad Mantoo, a resident of Kulgam while trying to smuggle arms and ammunition from Pakistan. But nothing is new about all this. These types of reports have been ongoing for past several years, some FIRs were lodged as well, but what after that. Will the euphemism of "let law take its own course" be the end of it? For example, in 2011, the NIA named two Pakistani nationals affiliated with Jammu and Kashmir Affectees Relief Trust (JKART) — chairman Mahboob-ul-Haq and general secretary Masroor Dar — as prime organisers behind the monetary transactions that the HuM operatives carried out in the J&K. It is well known that HuM and its sympathisers have utilised shadow NGOs and educational and humanitarian charities like JKART and the Falah-e Alam Trust to fund militant activities in Kashmir. But how many individuals involved in terror financing are in jail and what is happening about their conviction? Shouldn't the tax-payer be entitled to such details? Overpricing goods sent to Pakistan and the excess money going to terrorists has been going on for decades, obviously with state administration getting its slice.
The army chief's statement that stone-pelters and terrorist sympathisers hindering army operations will be viewed as terrorists met by protests from a full band of anti-nationals, including some politicians, media, activists, separatists, and others. Given the issues discussed above, it is an irony that the policy makers simply lack the guts to make the same statement. And so, even the judiciary wants to know alternatives to pellet guns. But are they aware what is happening in terms of crowd control around the world? Pellet guns are being used by many countries ignoring the hues and cries. To understand the ineffectiveness of PAVA shells and mirchi grenades in open areas against hordes of stone-pelters, one needs to get the feel on the ground by being physically present there. Yes, the Taser Gun used by many countries around the world including prominently in the US, has also been developed by the DRDO. The Taser, with a maximum range of 35 feet, is an electroshock weapon that fires two or three small dart-like electrodes, which stay connected to the main unit by conductors, firing electric current to cause a temporary neuromuscular incapacitation. Incidentally, the Taser can also cause death if the target cannot absorb the given dose of electric shock. it should be clear from the description that this weapon is meant for fleeing individual and certainly not against a mob of stone pelters. Of course, there are other types of non-lethal weapons, gasses, sprays and the like. Since 2008, Israelis have been using "skunk" for crowd control, spray from water cannon, which leaves the odour of rotten sewage wherever it falls. The Wall Street Journal reported in December 2015 that the police in North Dakota, USA had been cleared to operate drone aircraft equipped with tear gas and tasers.
The Indian State needs to show greater resolve against the web of radicalisation and terrorism that Pakistan is weaving in the Kashmir Valley. The tendency to submit to psychological blackmail from abroad and through anti-nationals within the country must be curbed. The security forces should not be sent with hands tied behind their backs to rectify a situation the roots of which lie in deficit administration; the lives of security personnel should not be sacrificed to vote-bank politics.
The author is a veteran Lieutenant-General of the Indian Army
India
The NIA and intelligence teams had visited the incident site and had detected traces of RDX in the bomb
India
Director General of Police V K Bhawra said a sixth accused is in police custody in a separate case
India
The court will hear the arguments on the quantum of the sentence under which Malik may get a maximum punishment of life imprisonment on 19 May