Kashmiri separatists call for 'Pakistan Day' flag ceremonies even as unrest continues
A further cause for worry perhaps are the celebrations planned for 'Pakistan Day' in the Kashmir Valley.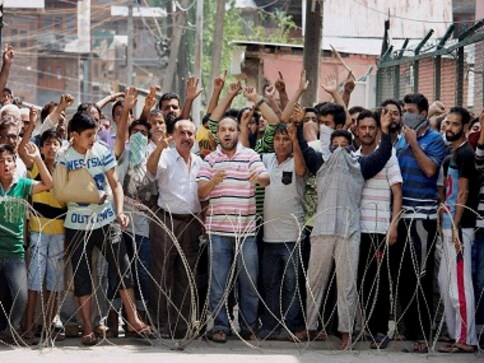 Ahead of India's Independence Day celebrations, security will be stepped up at the Pakistan side of the Attari-Wagah border. The Border Security Force will also deploy more personnel during the evening retreat ceremony, reported Hindustan Times.
A further cause for worry perhaps are the celebrations planned for 'Pakistan Day' in the Kashmir Valley, according to The Indian Express. The report gives detail on how platforms have been set up across rural areas of Kashmir for 'Pakistan Day flag ceremonies' that are likely to be led by local-level militant commanders and separatists. Areas such as Pulwama, Sopore and Anantnag and the Sopore-Doabgah-Rafiabad road are supposed to contain makeshift sites for flag-hoisting functions on 14 August.
Following Hizbul Mujahideen commander Burhan Wani's killing on 8 July, the state has seen violent protests and killings, curfew and shutdown, along with the suspension of mobile services. The widespread use of pellet guns in Kashmir, which were introduced into the Jammu and Kashmir Police in 2010 during the Omar Abdullah government, have been employed in more than 600 attacks after just two weeks of Wani's killing. Doctors in Kashmir staged a silent protest by bandaging their eyes to mimic hundreds of victims who have suffered pellet injures. A horrific example of its use was when a 23-year-old ATM guard's body was found containing more than 300 pellets.
Prime Minister Narendra Modi will chair an all-party meet concerning the situation in Kashmir on Friday, 12 August.
All party meeting on Kashmir issue begins in the Parliament.

— ANI (@ANI_news) August 12, 2016
On 11 August, police took Hurriyat Conference leaders Syed Ali Shah Geelani and Mirwaiz Umar Farooq into preventive custody as they tried to defy house arrest and march to Eidgah to pay homage to Sheikh Abdul Aziz on his eighth death anniversary.
Meanwhile, the separatist camp in Kashmir has asked people not to send their children to participate in Independence Day events and gave a call for a two-day "referendum march" at Lal Chowk on 13 and 14 August to let the people of the state exercises their right to self-determination to decide on its future status.
"Parents are directed not to send their wards for participation in these (Independence Day) celebrations," the separatists said in the joint protest programme held on Thursday and the protest will go on till 18 August.
"From 7 am onwards (on 15 August), block all the roads towards and around the place of celebration of Indian Independence Day; district development commissioners are asked not to hoist the Indian Flag in any part of the Jammu and Kashmir," they added.
Slain Mujahideen commander Burhan Wani's father Muzaffar Wani, who has fast emerged a leader of Kashmir protests, led a procession in Pampore, Srinagar on 5 August, reported The Times of India. Wani reportedly told protesters that he was willing to offer his daughter for the fight against "Indian occupation", the report added. Wani later backtracked his statement and denied leading any rally saying that he had only been to the mosque on the other side of the road.
Modi, who finally broke his silence on the Kashmir issue on 9 August, said, "Some people are causing Kashmir a lot of harm. Kashmir wants peace. Whatever Kashmiris want for betterment of their livelihood, the Centre will provide."
Pakistan Prime Minister Nawaz Sharif needled India on the Kashmir matter saying it is an obligation to become "the voice of Kashmiris" and that he "will leave no stone unturned to make the world understand the plight and the legitimate struggle of the people of Kashmir".
Amid the situation in Kashmir, Union ministers Jitendra Singh and Kiren Rijiju have planned to lead the BJP's 'Tiranga Yatra' in Jammu and Kashmir, between 15-22 August.
Speaking in the Rajya Sabha earlier this week, Rajnath Singh blamed Pakistan for the unrest in Kashmir and said that the situation was not as dire as what was being described during the debate, and food and fuel is being provided to the people of Kashmir. "What is happening in Kashmir is sponsored by Pakistan," he said.
The Lok Sabha on 12 August adopted a resolution on the Kashmir situation and expressed serious concern over prolonged curfew, violence and loss of lives there.
With inputs from PTI
World
Musharraf came to power in 1999 after a military coup toppled the Nawaz Sharif government. He led the country till 2008 when he resigned to avoid impeachment
India
In his address, the Minister said the contribution being made by Bharat Dynamics Limited to make the country 'Atmanirbhar' in defence is commendable
India
Developed and designed by DRDO, ABHYAS is a 75-kg drone that will be used as a target for various missile systems. Capable of attaining an altitude of more than five kilometres at half the speed of sound, it can also be used as a decoy aircraft