Kashmir corps commander says Governor's Rule won't impact operations, but NN Vohra's experience may help
Lt Gen AK Bhatt held that to the extent that NN Vohra's wealth of experience might result in Governor's Rule bringing about improvements in governance and more responsive administration at the ground level would help to bring peace in Jammu and Kashmir.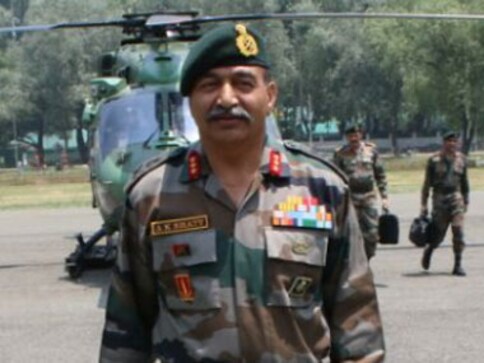 The army is satisfied with its recent counter-terrorism successes, but the imposition of Governor's Rule does not mean a change in the thrust or methods of operations, Lt Gen AK Bhatt said. Lt Gen Bhatt heads the Srinagar-based 15 Corps, also known as the Chinar Corps, which is responsible for securing a large part of the Line of Control (LoC) with Pakistan.
The army continues to do its work according to set procedures, he said during a chat on Wednesday, adding that coordination with the police was already on a stable footing.
It has been widely speculated that there would be closer coordination between the administration and the forces under Governor's Rule and a more muscular thrust against militants. Several army officers who have served in Kashmir have contradicted those who claim that the army has been functioning at reduced momentum before now. One of those who has publicly said this is Lt Gen Rameshwar Roy, a widely respected officer who held charge of the Jammu region as Corps Commander in 2009-10.
Lt Gen Bhatt limited himself to observing that NN Vohra's experience of ten years as governor would stand him in good stead. So would his previous experience as defence secretary (as well as home secretary in the Government of India).
As defence secretary in 1993-94, Vohra had an opportunity to understand the nitty-gritty of the working and procedures of the armed forces.
Lt Gen Bhatt held that to the extent that Vohra's wealth of experience might result in Governor's Rule bringing about improvements in governance and more responsive administration at the ground level would help to bring peace, which is the primary objective of the army's work in Kashmir.
Yatra threat
The Corps Commander expressed satisfaction over the three major operations, in which ranking militants from radically Islamist organisations had been killed in the first few days after the Ramzan embargo on initiating operations ended.
Dawood Salafi, who was a leading face of Islamic State in the Valley, and his associates from the extreme outfit were among militants who were killed in one of the three military operations to which Bhatt referred.
The more radical of these organisations pose a potent threat, especially during the annual Amarnath Yatra, which has just got underway.
The forces deployed to secure the Yatra remain on high alert despite the statement of Hizb-ul Mujahideen commander Riyaz Naikoo that militants do not pose a threat to the pilgrims. Senior officers take the view that this represents a Kashmiri militant's thinking, but not that of the more radically pan-Islamist Pakistan-origin groups such as Lashkar-e-Taiba or Jaish-e-Mohammed or the ISI officers who strongly influence the militancy in Kashmir.
The Yatra gets fully underway from Thursday when the first pilgrims will have darshan. The first pilgrims began to move from Jammu on Tuesday.
Naikoo is a highly educated militant, who has been known as a hot-head. His audio statement on Amarnath pilgrims being welcome went viral on Wednesday. Naikoo's stance is of a piece with the attitude of youth icon Burhan Wani when he had been the divisional commander of Hizb. A little before he was killed, Wani is said to have made some calls to help stave off an attack on the 2016 Yatra when he heard that one of the Pakistan-origin groups was planning an attack.
Responsive attitude
Lt Gen Bhatt has had a successful stint since he was posted to the Valley at the beginning of this year. He had been the Director-general of Military Operations immediately before that, an experience that would stand him in good stead in Kashmir.
He and his officers have been eager to try and understand Kashmiri youth and to participate in the state's efforts to reach out to them.
Governor Vohra too has stated categorically that his administration will make every effort to reach out to youth through parents, teachers and elders in society.
Lt Gen Bhatt had said in another chat before the Ramzan embargo on initiating operations that the army is trying to ensure that soldiers are sensitive to the need to guard against alienating youth and provoking more to join the ranks of militants.
He and the then Northern Army Commander, Lt Gen Devraj Anbu, had both asserted at the time that their efforts to sensitise soldiers were working.
India
The security forces had received information about presence of militants at Wanigam Bala in Kreeri area of the district, following which a cordon and search operation was launched there
India
This comes in the wake of the poll panel revising the qualifying date from 1 January to 1 October for eligibility in electoral registration
India
In another incident on 22 July, the BSF troops had fired at a drone coming from the Pakistani side near the international border in Jammu