Kasganj violence: RAF, PAC intensify vigil; 80 arrested in strife-torn city in Uttar Pradesh
More than 80 persons were arrested while Rapid Action Force (RAF) and Provincial Armed Constabulary (PAC) personnel intensified vigil on Sunday in strife-torn Kasganj which continued to be tense
Kasganj (UP): More than 80 persons were arrested while Rapid Action Force (RAF) and Provincial Armed Constabulary (PAC) personnel intensified vigil on Sunday in strife-torn Kasganj which continued to be tense.
Explosives were found during house to house searches following which the state police chief said that the stringent National Security Act (NSA) would be invoked against the culprits.
The Yogi Adityanath government, meanwhile, emphasised that none of the mischief mongers would be spared. Deputy Chief Minister Dinesh Sharma said that neither the criminals nor conspirators would get away even as the opposition BSP and SP targeted the state government on the law and order front.
At least three shops, two private buses and a car were torched here on Saturday after a young boy was killed in clashes following stone-pelting by a mob on a motorcycle rally taken out to celebrate Republic Day.
Uttar Pradesh Police claimed that the situation was now again turning normal.
"We are speaking to the people, the guilty are being arrested, intensive checking and house-to-house searches were undertaken. And this is the reason why the situation is absolutely under control," DGP OP Singh said in Lucknow.
Referring to the incidents that led to the violence, he said that there was stone pelting between two groups resulting in the death of one person and injury to another.
"The police acted swiftly and controlled the situation, and we have intensified patrolling since the outbreak of the tension," the DGP said.
Asked whether any permission was taken for a 'Tiranga Yatra', the DGP said that no such nod was required.
"26 January (Republic Day) is a national festival, and no permission is needed. This was a 'prabhat pheri' (morning event)...Some anti-social elements started pelting stones. Police immediately reached the spot and controlled the situation by arresting a few persons. Since then, we are keeping a close watch. Today, there has been no worrisome incident," he said.
DGP Singh said stringent action will be taken against the guilty.
"So far more than 80 persons have been arrested. House-to-house searches are going on. During the searches, explosives were found. National Security Act (NSA) will be slapped on the criminals for vitiating the atmosphere," he said.
The administration also organised a meeting of the district peace committee this morning to restore normalcy.
"At the meeting of the peace committee, whose members include prominent citizens of the district, it was decided that shopkeepers will open their shops and commercial establishments," ADG Agra, Ajay Anand, said.
Divisional Commissioner, Aligarh, Subhash Chandra Sharma, said the peace committee meeting was held at the Nagar Panchayat office. He said that shops selling tea, snacks, vegetables, milk and medicine were already allowed to remain open and normalcy would when others open their shops.
"The administration is acting tough on those who had indulged in the violence, based on the video evidence," Sharma said.
Terming the Kasganj violence as unfortunate, Uttar Pradesh Deputy Chief Minister Dinesh Sharma on Sunday said that not even a single guilty person will be spared.
Speaking to reporters in Kanpur, he said, "...let me tell you that not a single person responsible for this incident, will be spared. Chief Minister Yogi Adityanath is himself monitoring the developments, and stringent punishment will be meted out to the guilty, no matter how big the guilty is or how strong his political connections are".
Sharma said that a criminal was a criminal irrespective of his caste, creed or religion. Such incidents will not be allowed to happen in any other place, he stressed.
"Now we have strong laws. It is a warning to criminals that if they conspire to create riots, rifts in the society, or indulge in dacoity, then all those indulge in these acts will be punished and also their conspirators," he said.
The Bahujan Samaj Party (BSP), meanwhile, targeted the BJP over the incident.
In a statement issued, BSP chief Mayawati claimed that in the entire country and especially in BJP-ruled Uttar Pradesh, Gujarat, Madhya Pradesh, Haryana, Rajasthan and Maharashtra, development and public welfare activities had taken a back seat while a poor law and order situation prevailed.
This proves that there has been a criminalisation of the ruling BJP at every level, she said.
"In UP, there no rule of the Constitution, but a jungle raj-like atmosphere is prevailing. The latest example is that of Kasganj district, where on 26 January there was tension. The tension is still prevailing, and the state government seems to be failing here," Mayawati said.
She said the BSP condemned the violence and demands that stringent punishment be given to the guilty persons.
Samajwadi Party spokesperson Sunil Singh Sajan alleged, "The government is staging riots in Kasganj. We do not want the resignation of the chief minister. We simply want peace and normalcy to return to the trouble-torn place, which is synonymous with the Ganga-Jamuni culture of the state".
He alleged that for the past three days volunteers of RSS, Vishva Hindu Parishad and ABVP were threatening people and an atmosphere of fear prevailed. "And the government is quiet. The police are helpless," he claimed.
News & Analysis
Now in its second generation, the 2022 Suzuki S-Cross has transitioned from crossover to SUV in its appearance; to be offered with mild-hybrid powertrain overseas.
Politics
Be it the Jewar Airport or Purvanchal Expressway, Uttar Pradesh is witnessing a massive transformation in its infrastructure sector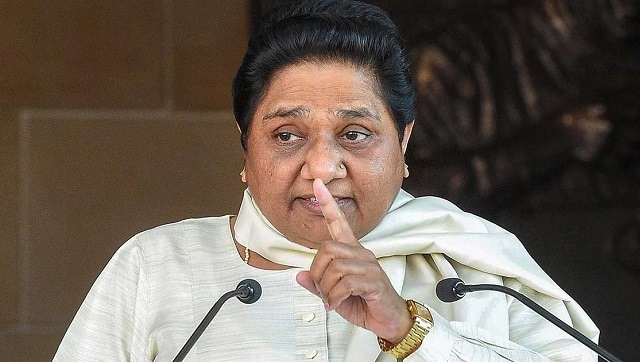 Politics
Though Mayawati did not name any BJP leader, she was apparently referring to the remarks by BJP MP from Unnao Sakshi Maharaj that the laws could be brought again, if needed