Karnataka MLA evicted from Assembly for making lewd gestures at Speaker
Chaotic scenes were witnessed on Monday in the Karnataka Assembly with a ruling Congress MLA engaging in an altercation with the Speaker.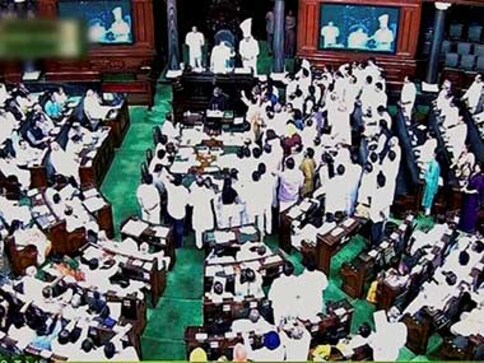 Bengaluru: Chaotic scenes were witnessed on Monday in the Karnataka Assembly with a ruling Congress MLA engaging in an altercation with the Speaker and staging a protest in the well of the House along with two JDS members, culminating in the eviction of one of them.
Speaker Kagodu Thimappa ordered for JDS MLA Manjunath Gowda's eviction by marshals after he made lewd gestures and engaged in a verbal bout with him over drinking water problem in Chikkaballapur and Kolar districts.
The legislators from Chikkaballapur and Kolar, who raised a hue and cry over Chief Minister Siddaramaiah excluding Yettinahole water project from his budget proposals, expressed anger over Thimappa's attempt to "prevent" senior Congress leader Ramesh Kumar from raising the matter.
Raising the issue, Krishna Reddy (JDS) complained about the non-inclusion of Yettinahole project in the budget proposals while participating in a debate on drinking water problem across the state.
Reacting to Reddy's remarks, Congress MLA PM Narendra Swamy reasoned the needlessness of the inclusion of the project since it is an ongoing project.
Tersely reacting to Swamy's remarks, Kumar asked, "Then why has the government included the ongoing Singatalur lift irrigation project in the budget?"
As Kumar continued to speak about people's anger about government's apathy, the Speaker said, "Kumar, stop giving lecture. Every time you have something to say. I can't allow you to speak now."
"I have every right to speak and you cannot stop me raising problems of people," Kumar said.
Soon the House was gripped by chaotic scenes with Kumar saying that he would leave if he is not given an opportunity to speak. Speaker replied, "Please leave."
Consequently, Kumar along with Subba Reddy (ind), Krishna Reddy and Gowda, trooped ino the well of the House to stage a protest.
Thimappa repeatedly warned the legislators of stern action and then ordered for eviction of Gowda from the House after he made lewd gestures and raised his voice against him.
Eventually, Thimappa adjourned the House for ten minutes.
PTI
India
Chief Minister Basavaraj Bommai had recently said serious discussions were going on for implementing the UCC in Karnataka
World
After her announcement this week that she would step down from Democratic leadership after two decades, many people reposted that meme of Pelosi confidently striding out of the Trump White House in sunglasses and a long red coat following a tense meeting
India
Union Minister of State for Housing and Urban Affairs Kaushal Kishore has said finishing touches are being given to the new Parliament building and the Lok Sabha Speaker will decide whether the forthcoming Winter Session will be held there or in the existing building.