Karnataka govt scraps IIM-B's rural tele-education programme; lack of internet, infra behind 84 cr project's failure
After spending Rs 48 crore to better education in rural Karnataka, the state govt scrapped a tele-education programme started with IIM-B.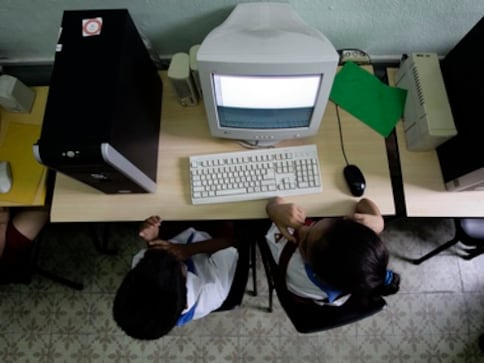 After spending Rs 48 crore to better education in rural Karnataka, the state government scrapped SAME (Satellite and Advanced Multimedia Education), a tele-education programme aimed at connecting students to professors at the Indian Institute of Management, Bangalore (IIM-B) to provide them with a quality education.
In March 2014, the Siddaramaiah-government came up with SAME in collaboration with IIM-B to bridge the quality of education being provided in urban and rural areas, particularly in government schools. Under the supplementary education project, students from the 1,000 schools identified in the state were provided with videos for concept clarity on any subject and would have had the privilege of directly interacting with IIM-B professors. A sum of Rs 84 crore was earmarked for the project.
But in May 2018, the Department of State Educational Research and Training (DSERT) announced that it will scrap the tele-education project. The decision was justified on grounds that the project did not yield expected results.
"I visited a few schools and saw the implementation of the project. I felt that the project was not up to the mark. For now, it is not suitable to tell anything. We have scrapped the program for sure and reasons shall be disclosed once the state government takes a call on the matter," said Gopal Krishna, director, DSERT.
The lack of internet access in rural parts of the state is being seen as one of the primary reasons for scrapping the project. Assessment reports pertaining to the tele-education project state that though 1,000 government and government-aided schools were identified in various gram panchayats in the state, the project could be implemented in only 281 schools due to poor internet connectivity.
As part of the Memorandum of Understanding (MoU) signed between the Karnataka Department of Primary and Secondary Education and IIM-B, the former was responsible for providing basic infrastructure at all 1,000 schools, including proper classrooms, availability of power supply, and broadband connections.
The Department of Primary and Secondary Education was also responsible for conducting a monthly review of the progress. The IIM-B consortium was responsible for overall design and execution. Since its inception, a sum of Rs 48 crores from the allocated Rs 84 crores have been utilised, but, without much progress. A sum of Rs 13,995 was allocated for each school on a monthly basis.
Krishna said that a committee has been set up to examine the financial aspects of the decision and their report will be forwarded to higher authorities for further action.
"When we have invested nothing in Edu Sat, and are getting better results, why should we even implement a project which is costing us so much and giving any results; we had planned to implement this program (SAME) for only one reason: it would be a two-way communication between students and teachers thereby helping the students. But when it is not implemented properly, we don't see any reason to carry forward the project," he added.
Edu Sat is an academic programme that is being run by the Indian Space Research Institute (ISRO) since 2003 without any financial assistance from the government. This program is almost similar to that of SAME but, the only difference being that the students used to communicate with professors via telephone.
The facility involves broadcasting, a live lecture facility for students via telephone. Live lectures could be related to the syllabus, live and recorded special lectures by experts, and recorded content produced by institutions.
Krishna said, "According to the MoU signed, we had asked the (IIM-B) consortium to provide us with a quarterly review, but, in those four years of the project's implementation, we had not received a single review."
He added that after former chief minister Siddaramiah examined the project and asked for a third party evaluation, Azim Premji University (APU) was selected for the job due to their experience in primary and secondary education projects and the implementation of various technologies in the field of education.
The chief minister had evaluated the project in May 2017 and in August, DSERT issued the Terms of Reference (TOR) for APU to evaluate the project.
However, Manjunatha V, headmaster, government school, from Tarasuu village in Chitradurga district said, "The project ran for two years in our school and we did see good results. Last year in June, we had informed that there were some technical issues, but, nobody responded to the problem until today. I have no clue that the government is planning to scrap the program. The project was really useful."
Obiah T, a class 10 student said, "I got to improve my knowledge of English, mathematics and science through this project. I had scored around 320 marks in my 9th grade but in my 10th grade because of this project I scored around 492. Everybody in my class thoroughly liked it. We had a visiting faculty who used to come to teach us every day for one hour."
Refusing to give out details of their evaluation report, Rishikesh, a professor at Azim Premji University, said, "The study report was based on the TOR that we had. We conducted our evaluation in 2017-18 and then the government took some time to decide on what to with the program. We submitted the report with various options for the government to consider."
Rishikesh added, "Even in the best functioning schools, we had to find out what the impact of the project was and what was happening. We are not authorised to share any information because this project was sanctioned by the government and we submitted our report in that confidentiality."
The author is a member of The NewsCart, a Bengaluru-based media startup.
also read
India
ISRO has a bunch of missions remaining for 2023, all of whom are more exciting than the next. From the launch of the Aditya-L1 satellite to Chandrayaan-3 mission to moon, 2023 may prove to be a hallmark year for India and ISRO
Explainers
A team of international scientists led by an Indian professor at Ahmedabad's Physical Research Laboratory has detected an exoplanet that has the highest known density so far. It is more massive than Jupiter but has the same size as the largest planet in the solar system
India
India's ISRO joins an elite club of space agencies which use a very complex and technical device, a Rubidium atomic clock in their GPS satellites. Only 4 other national space agencies use this atomic clock - USA's NASA, EU's ESA, China's CNSA and Russia's ROSCOSMOS