Karnataka bandh updates: Metro resumes operation in Bengaluru, life limps back to normal as 12-hour deadline nears end
Pro-Kannada outfits have called for a Karnataka bandh on Thursday when BJP chief Amit Shah will address a rally in Mysuru.
Auto refresh feeds
LIVE NEWS and UPDATES
Latest updates: BJP chief Amit Shah concluded his speech with chants of 'Bharat Mata ki Jai'. He said that the Siddaramaiah government was afraid of giving the people of Karnataka benefits of Prime Minister Narendra Modi's schemes. He told the people to vote for BJP to get the full benefits of the work done by the central government. He also raised the issue of the political killings in Karnataka. He said the next BJP government will see to it that all the BJP, RSS workers who have died get justice.
Low response was recorded to the bandh in Bagalkot district in northern Karnataka. Chikkamagalur MLA CT Ravi tweeted that the "Siddaramaiah-sponsored" bandh is a plot to stop BJP from dethroning 'Tughlaq'.
Goa has suspended bus services to Karnataka as state reels under protest over the Mahadayi water sharing issue, reported News18. Meanwhile, a group of protesters are moving to Freedom Park, where they will be talking to authorities to seek resolution of the issue.
Wading into the Mahadayi river row, actor Prakash Raj says "we Kannadigas" have a right to the water. The issue has taken over the political discourse in Karnataka, with pro-Kannada outfits staging a state-wide bandh against the Centre's "inaction" over the river sharing dispute with Goa. The dawn-to-dusk bandh coincides with BJP's chief Amit Shah's visit to Mysuru for a public meeting.
Vatal Nagaraj will begin the 2-kilometre procession from Bengaluru's Town Hall soon.
Karnataka Bandh called on Thursday effective mostly in Bengaluru and Mysuru. Reports from north Karnataka districts of Hubbali, Dharwad, Belgavi, Bidar and Bijapur suggest an ineffective bandh in these regions, as businesses remain open and daily affairs go on normally. 
Protests across the state and Bengaluru were more or less peaceful until 10 this morning, when various pro-Kannada organisations came out in support of the 12-hour bandh. Several banks in Mysuru, including State Bank of India and the Mysore Merchants Co-Op Bank Limited, declared holiday as protests in Mysuru gathered steam.
Several protesters burnt tyres near Majestic in Bengaluru where activists also roughed up an effigy of the Goa water minister.
Manjula Jayaraj Naidu, KRV's District president for Nelemangala, says the central government does not have Karnataka's interests at heart and is instead with Goa.
Shopkeepers in Bengaluru said that the cadres of Karnataka Rakshana Vedhike will come soon to shut things down and till then they will keep the shops open. A small squad of police were deployed near the area who said they will ensure peace but will not interfere with the forced closures. Speaking to reporters in Bengaluru on Thursday, film producer Sa Ra Govindu demanded that Prime Minister Narendra Modi should intervene in the Mahadayi river water sharing row and direct the Goa government to share water with Karnataka.
With BJP chief Amit Shah set to speak in Mysuru amid the 12-hour bandh, 30 Karnataka state police personnel and 30 Railway Protection Forces personnel have been deployed for security at the Mysore railway station.
Sub inspector Santhosh PG tells Firstpost that over 500 police officers have been deployed just at Town Hall in Bengaluru, which is expected to be one of the epicenters of the protest. A procession is expected to be flagged off here and will end in Freedom Park which is two kilometres away.
Wipro and Accenture have declared holiday for their employees in Karnataka in view of the statewide bandh that has called today. In an official statement, Wipro said, "On account of the shutdown called by various organizations, as a precautionary measure, Wipro Limited has declared holiday for employees in Karnataka today. Business Continuity Plans have been invoked to avoid disruption to mission critical project."
While BS Yeddyurappa has been blaming Siddaramaiah for instigating the bandh, the Karnataka chief minister has called dismissed the charge as "baseless". While stating that neither Congress, nor the government, has  anything to do with the bandh, he claimed that he has earlier asked BJP to request Kannada organisations against organising the bandh.
Rahul Gandhi will kick start his campaign for the coming Assembly polls on 10 February. During his three-day visit, the first after being made All India Congress Committee chief, he will address a mega conference and conduct a road show.
Stating that party workers are being informed about the bandh, Yeddyurappa said BJP was not calling for a state-wide bandh, but for a bandh in those districts on the day Rahul Gandhi would visit them. "It is to show to Siddaramaiah who is playing politics, that we also know how to play politics as a national party.It is also with an intention to resolve the Mahadayi river water dispute. We are still ready to put in our efforts towards finding resolution, but it is Siddaramaiah who is causing obstruction to it," he added.
In a tit-for-tat move to the bandh call during BJP President Amit Shah and Prime Minister Narendra Modi visits to Karnataka, the party's state unit on Wednesday decided to observe district-specific shutdown during Congress chief Rahul Gandhi's state tour.
BJP has termed as "politically motivated" a call for a Karnataka bandh on Thursday and Bengaluru bandh on 4 February by  pro-Kannada outfits demanding the prime minister's mediation in the inter-state Mahadayi river water dispute with Goa.
The BJP has alleged government's role in the selection of dates when Shah and Modi are expected to visit the poll bound state to take part in 'Nava Karnataka Parivartana Yatre', organised by the state unit. Pro-Kannada outfits have called for a Karnataka bandh on Thursday when Shah will address a rally in Mysuru and a Bengaluru bandh on 4 February, the day Modi arrives to address a rally.
"We have decided that when Rahul Gandhi comes to Karnataka,we will call for a complete bandh in those districts he will be visiting," BJP state president BS Yeddyurappa said. Speaking to reporters in Madikeri, he said the intention was to seek a clarification from Rahul Gandhi about his stand on releasing Mahadayi river water. Rejecting BJP's charges that the bandhs were instigated by the ruling Congress, Siddaramaiah has termed it as baseless.
Stating that neither Congress, nor the government, has anything to do with the bandh, he had earlier asked BJP to  request Kannada organisations against organising the bandh. Yeddyurappa alleged that Siddaramaiah was indulging in this kind of act purposefully with an intention that Shah's programme should not succeed. "But the programme will go on as planned," he said.
Questioning the silence of Rahul Gandhi and Sonia Gandhi on the issue, he alleged that Siddaramaiah too has not done anything to convince Goa Congress on the matter.
"Purposefully, a conspiracy has been hatched to project BJP as guilty.I want clarification from the Chief Minister... what is the stand of Rahul Gandhi and Sonia Gandhi? What is your (CM) stand? Why you have not made efforts to convince the Opposition Congress in Goa?" he asked.
Karnataka, which has locked horns with neighbouring Goa on sharing Mahadayi River water, is seeking release of 7.56 tmcft water for the Kalasa-Banduri Nala project.
The project is being undertaken to improve drinking water supply to the twin cities of Hubballi-Dharwad and districts of Belagavi and Gadag.
Attempts by Karnataka to amicably solve the issue pending before the Mahadayi Water Disputes Tribunal through discussion has failed to bear fruit.
Repeated efforts by the state seeking the prime minister's intervention to solve the issue has also not been successful.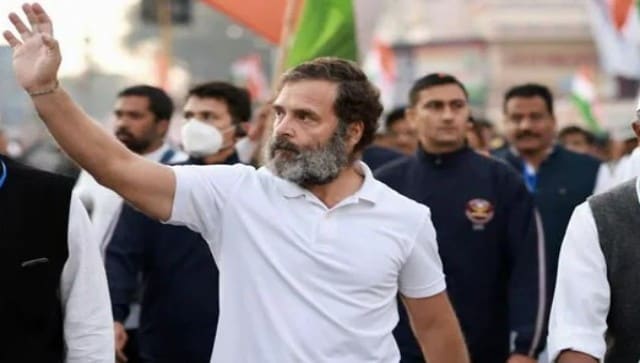 Politics
On Sunday, the sixth day of its Madhya Pradesh leg, the Bharat Jodo Yatra, which is led by Congress MP Rahul Gandhi, arrived in Indore, the cleanest city in the nation
Politics
Prime Minister Narendra Modi on Sunday targeted Congress leader Rahul Gandhi for walking with Narmada Bachao Andolan activist Medha Patkar during the Bharat Jodo Yatra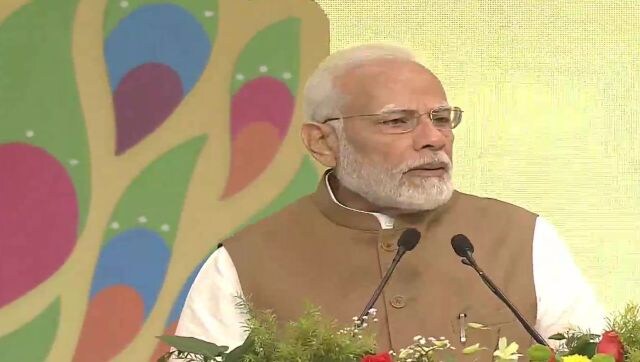 Politics
'In the past, the Congress had used words like 'neech aadmi', 'maut ka saudagar' and 'naali ka keeda' for me. I urge you to talk about development instead of playing this game of 'aukat', he said