Kansas shooting: Srinivas Kuchibhotla's wife Sunayana shares heartfelt greeting on slain techie's birthday
Srinivas Kuchibhotla's wife takes to Facebook to remember her husband on his birth anniversary
Sunayana Dumala, the widow of Srinivas Kuchibhotla killed in a hate crime in Kansas, conveyed how it was to spend Kuchibhotla's first birth anniversary following the Olathe bar shooting.
"It feels weird to wish you this way. Missing you a lot. Hoping you are celebrating and having fun in your new abode surrounded by wonderful things and people, with only love around," Dumala's bittersweet post said with an image of the couple. Srinivas Kuchibhotla (32), working at the Garmin headquarters in Olathe, was killed in the shooting at a restaurant in Kansas. He was killed when 51-year-old US Navy veteran Adam Purinton opened fire at him and his friend Alok Madasani, yelling "get out of my country".
Dumala had recently expressed her desire to go back to the US to fulfill her husband's dream. In this post, she chronicles the aftermath of the hate crime, and how the, "fight must go on towards eradicating hatred from the minds of people." She took the opportunity to focus on the support that she received from friends, family and US citizens and the things that Kuchibhotla loved and respected rather than the fact that the American dream turning into a nightmare for Indian immigrants.
Following a long silence, Donald Trump finally denounced the Olathe shooting in his first address to Congress at the Capitol Hill. A slew of hate crimes continue to occur in the United States. A Sikh man was shot and wounded outside his home by an unidentified person who shouted "go back to your own country", just days after Kuchibhotla's murder. Dumala's message of peace over hatred is commendable, but one can wonder if it will stem this trend of attacks against Indian immigrants.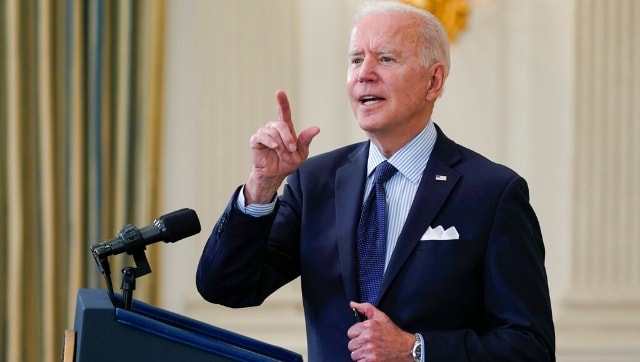 World
The remark comes in the wake of the announcement of the formation of a new interim government in Kabul by the Taliban
World
Australia's submarine upgrade was a response to China's takeover of the South China Sea, aggressive bullying of Australia and intimidation of Japan and Taiwan, said Peter Jennings.
World
Less than a week after Hurricane Ida battered the Gulf Coast, President Joe Biden walked the streets of a hard-hit Louisiana neighborhood on Friday