Kala Azar and its subsequent skin manifestation, PKDL, shattered these women's lives, left them with uncertainty, stigma
Kala Azar is characterised by irregular bouts of fever, weight loss, enlargement of the spleen and liver that shows up as a pot belly in the patient, and anaemia.
Editor's note: Kala Azar is a neglected disease and is characterised by bouts of fever, weight loss, anaemia, and an enlargement of the spleen and liver that shows up as a pot belly. It is largely a disease of the poor. This is the second in a three-part series on the disease and those it affects.
After nearly two years of marriage, 25-year-old Ruby could finally live with her husband in Delhi in 2015. After being sick for nearly the entire duration of her marriage, she was finally cured. She had Kala Azar, a neglected tropical disease endemic in Bihar, but hard to diagnose and had spent two years going from doctor to doctor looking for a cure of her constant fever and weakness.
Kala Azar or Visceral Leishmaniasis is caused by leishmania parasites transmitted by female sand flies or balu makhi. The disease is endemic in Bihar, and 33 out of 38 districts in the state have Kala Azar cases.
The disease is characterised by irregular bouts of fever, weight loss, enlargement of the spleen and liver that shows up as a pot belly in the patient, and anaemia. It is fatal if not treated.
While Ruby was cured of Kala Azar, barely six months after starting to live in Delhi, she got a skin rash that would not go. It started on her face and then spread all over her body.
"At first I thought the rashes were a reaction to face wash I was trying at the time," said Ruby. "I tried all kinds of different soaps to treat the skin disease. But it would not go"
Her mother, Ranju Devi then told her to come back home to Bihar. In Hajipur district hospital, the skin rash was diagnosed in 2016 as Post-Kala Azar Dermal Leishmaniasis or PKDL, a skin manifestation of Kala Azar. PKDL usually manifests after a bout of Kala Azar with a rash usually in the face from which it may or may not spread to other parts of the body. In this disease, the patient is not ill and the disease is not fatal.
With the government now focusing on eliminating the disease by 2020, there is now added focus on detecting and treating PKDL as they are reservoirs of the parasite that causes Kala Azar. That is, if a sandfly bites them they will carry the parasite and spread Kala Azar to others in the community.
This disease is even harder to detect as it could be confused with other diseases such as leprosy, vitiligo among other skin diseases. It is also a stigmatising disease which keeps its patients away from social groups, makes it harder to get married, especially for younger women, as this study published this year showed. The study also showed that a patient took an average of a year's time to get the right treatment for the disease.
Take the case of 51-year-old Lalmati Devi Rai who lives in Bheldi village, of Saran district. After having rashes for six months, she went to the nearby primary health centre in Parsa village. She tried the treatment of a few private doctors before this. In the last week of August, she started treatment for the disease.
"My neighbours laugh at me and my misery. They say that no medicine can make me feel better," said Lalmati. Lalmati has now finished her treatment successfully.
In Ruby's case, her in-laws who noticed the rashes refused to come close to her. "They would laugh at me," said Ruby. "They would not eat what I cooked. My sister-in-law would tell her children that I am not good and that my disease could spread to them if they come close to me. Doosra manti thi mujhe." Her mother-in-law would tell her husband to abandon her.
In despair, Ruby felt she wanted to die. "At the time, I wondered if the disease will ever leave me. I would think, 'Do I have to listen to this all my life'?"
Vidyapati Bhagat, 25, too went through a similar ordeal. She suffered through Kala Azar soon after marriage in 2013. After she was cured, she gave birth to two babies who died immediately after birth. Her husband abandoned her in her parents' house for three years because he said that she is sick all the time and is unable to bear children.
Kala Azar continued to haunt Vidyapati and she was struck with PKDL this year. She was diagnosed in August this year after which she underwent three months of treatment. "I have not received any money from my husband. My parents take care of me. My brother's family does not want me in the house. I am unwanted here," said Vidyapati. She felt that perhaps if she is able to bear a child, her problems will be solved.
"Only after the rash has gone, has my husband started giving me money," said Ruby, who now has two children, a two-year-old and a newborn.
Vidyapati's husband called her a few days ago and told her she is not "good" and he is leaving her for good. He said he will get remarried. "My life has become hell," she said.
(Drugs for Neglected Diseases Initiative supported the reporting of this series)
Explainers
That the 75-year-old Camilla will be given the title, with none of the sovereign's powers, is mind-boggling to those who recall recent history. Besides, Camilla has never really won over the British public, which remains enamoured by Charles' first wife Diana
Explainers
Experts say the area recaptured by Ukraine would represent a serious blow to Russia's military ambitions. Moscow has conceded having lost territory, but claimed its forces are 'regrouping' to the Donetsk region to focus military efforts there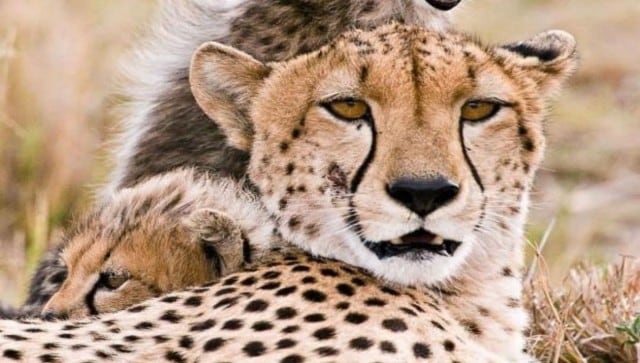 Explainers
Some say the presence of leopards in Kuno National Park could pose a problem for the big cats, while others point to reports of camera traps being removed and remain wary of poaching. But authorities say these lines of thinking miss the big picture