Justin Trudeau in India: Canadian PM may fail to improve ties, but will bag minority votes back home
This confusion, however, reflects the state of India-Canada bilateral relationship, which is fallen into a state of disrepair and mistrust since Trudeau's Liberal Party came into power in 2015.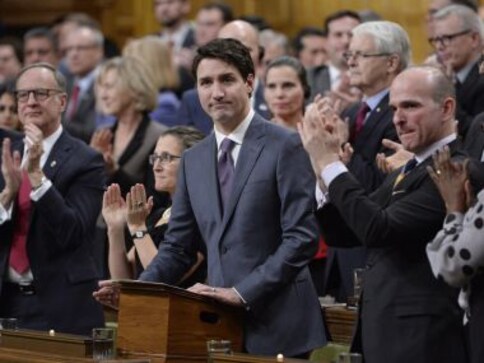 Is Justin Trudeau meeting Captain Amarinder Singh, or is he not? The Punjab chief minister reportedly expressed willingness to escort the visiting Canadian prime minister on his trip to the Golden Temple in Amritsar. While the Canadian press earlier reported that Trudeau's office is not interested in meeting Captain Amarinder — a vocal critic of Trudeau regime's role in aiding Khalistani resurgence— later reports indicated that since Trudeau's landing in India, the Canadian high commission has been involved in furious back-channel negotiations to set up the meeting.
According to Abigail Bimman of Canada-based Global News, "Sunday evening in New Delhi, a government official speaking on background confirmed the plans had changed, and a meeting between Trudeau, Sajjan and Singh would be requested by Canadian high commissioner Nadir Patel. The official wouldn't say what prompted the change." Indeed, in a late breaking development, Captain Amarinder tweeted:
Look forward to meeting Canadian Prime Minister @JustinTrudeau in Amritsar on Wednesday. I'm hopeful that this meeting will help strengthen the close Indo-Canadian business ties as well as the deep-rooted people-to-people relations between our two countries.

— Capt.Amarinder Singh (@capt_amarinder) February 19, 2018

It may seem peculiar that the granular details of a high-level visit, usually sorted out well before a Head of State boards the flight to host nation, were left hanging even during the visit. This confusion, however, reflects the state of India-Canada bilateral relationship, which is fallen into a state of disrepair and mistrust since Trudeau's Liberal Party came to power in 2015.
The Stephen Harper-era warmth has been replaced by a chill that Trudeau and his entourage may have felt despite arriving in India at the onset of summer. If two of the strongest democracies in the world still find themselves at odds, it owes largely to the disturbing course Canada's domestic politics seems to have taken.
Members of the Trudeau Cabinet have been accused of being sympathetic to the Khalistani cause. There have been widespread concerns in India that Sikh terrorism is rearing its head again, fuelled by 'liberal' support and funds in the West. An umbrella group of the management committee of 14 gurudwaras in Canada last December barred Indian officials from visiting the shrines. The ban was soon replicated in the United Kingdom and the United States.
Last April, Ontario's provincial legislature carried a motion describing the 1984 anti-Sikh riots as "genocide," prompting an alarmed India to "reject this misguided motion which is based on a limited understanding of India, its constitution, society, ethos, rule of law and the judicial process" and convey to the "government and political leadership in Canada" that such moves are deleterious to bilateral ties.
The Sikh separatist movement is getting a wide berth in Canada, even among Liberal Party's rivals. Jagmeet Singh, one of the rising stars in Canadian politics who belongs to the Opposition New Democratic Party (NDP) and the man behind the motion to declare 1984 a 'genocide', is ambivalent about the role of Talwinder Singh Parmar, the man behind Canada's worst terrorist attack: The 1985 Air India bombing incident. All 329 people (most of them Canadian nationals or Canadian-Indians) on board Air India Flight 182 were killed when an explosive device tore apart the plane as it approached Ireland.
"Jagmeet has maintained a studied silence when­ever asked to condemn Parmar," wrote Ushinor Majumdar in Outlook, because "NDP lost 59 seats in the 2015 federal elections and fell to third place nationally. The Sikh population, less than two percent of Canada's ­total but with significant concentrations across constituencies, is a real factor."
To add to the wound, the only Sikh immigrant who was convicted of the terrorist attack was freed last year after a jail term while two others were acquitted without punishment. To quote from Ushinor, "This offshore radicalism is also organically linked, and bleeds right back, to the narrative unfolding in Punjab."
Obviously, the Khalistan movement is a hot button issue in India that sits at the crossroads of secessionism, radicalism and terrorism, evoking ghosts of the past and anxieties of present. Though the official Canadian position is to reinforce India's 'unity and integrity', it has frequently been belied by key members of Trudeau's party and the government.
Canadian defence minister Harjit Sajjan and Infrastructure Minister Amarjeet Sohi (both of whom are part of the touring delegation) have been accused of being complicit in the rise of Sikh radicalism, which they both deny. Trudeau's initial decision to avoid a meeting with Captain Amarinder was based on reports that the Punjab chief minister has called the Canadian defence minister "a Khalistan sympathiser".
Some Canadian lawmakers dismiss this as an "Indian media-fuelled controversy", but it is hard to take such a position when Sohi, a minister in Trudeau Cabinet, stated on the record: "If some people believe in the support or the movement of Khalistan, they're entitled to do so as long as they do that in a peaceful way."
Trudeau himself courted controversy by repeatedly appearing in political events where Sikh radicals have been feted or glorified. For instance, India had to issue another stern rebuke against the Canadian government when Trudeau attended 'Khalsa Day', a Sikh community event in Toronto on 30 April. The Canadian prime minister reportedly addressed a parade at the rally that glorified Sikh militant leaders Jarnail Singh Bhindranwale, Amreek Singh and former General Shahbeg Singh who were killed during Operation Blue Star in 1984.
A former diplomat was quoted as saying by Suhasini Haider in The Hindu "this is an issue we will have to grapple with, not just in the provinces, but in the House of Commons, where many of these Sikh separatist groups believe they now have a sympathetic ear." This presents a challenge for bilateral ties which the Trudeau regime seems unwilling to meet even halfway.
There are increasing indications, however, that Trudeau doesn't even want to meet the challenges. The reason is complicated, and takes us to the heart of Canadian politics where the 1.4 million-strong Sikh community in Toronto and Vancouver has emerged as a powerful 'vote-bank'.
The Trudeau regime claims to interpret the demand for Khalistan — which has evolved from a human rights movement against the 1984 anti-Sikh riots to a full-fledged politico-radical movement for secessionism — as the "freedom of expression" issue of a vocal minority. Such a position may have passed muster in a world innocent of terror, not any more. A movement that seeks political solution through terror cannot be cast within the paradigm of "freedom of expression".
It not only goes against 'One India' policy but is also at odds with New Delhi's stated position on terror. It seems Trudeau or his ministers are unable to take an unambiguous, clear position against terrorism. Under normal circumstances, this would be interpreted as bad policy that runs the risk of further damaging bilateral ties. For Trudeau, though, such a position may reap rich electoral dividends, and it seems likely that instead of virtue-signalling on freedom of expression, Trudeau's position on Khalistan is a cynically calculated stand designed to garner votes from an influential community.
Canadian media quoted Vivek Dehejia, associate professor at Carleton University and IDFC Institute resident fellow, as saying, "I think to be fair, there is sometimes a feeling that some Sikh-Canadian politicians maybe are playing to a Khalistani gallery back here in Canada… It helps to win votes in that particular community and those kinds of statements aren't helpful, frankly, because India doesn't take kindly to appearing to condone a separatist movement."
Suddenly, the controversies that surround Trudeau's visit to India — where he has been accorded just one official day for bilateral engagements in a seven-day trip — make sense. Trudeau might not be successful in striking a Free-Trade Agreement, sorting out the long-pending Comprehensive Economic Partnership Agreement (CEPA) or the Foreign Investment Promotion and Protection Agreement (FIPA) with India. What he may ensure, however, is a bagful of votes back home even if he suffers a royal snub on tour.
India
5G or fifth generation is the latest upgrade in the long-term evolution (LTE) mobile broadband networks. It is believed to be around 10 times faster than its predecessor 4G
India
Prime Minister Narendra Modi also interacted with all medal winners of the Commonwealth 2022 games at his official residence on Saturday
India
The broadcast of the address in Hindi and English on Doordarshan will be followed by a broadcast in regional languages by regional channels of Doordarshan