#JusticeforJisha: A month on, here's why this brutal murder demands a CBI probe
It was on 28 April at around 8.30 pm, when Rajeshwari found the lifeless body of her daughter, 30-year-old law student, Jisha, in their one-room house in Perumbavoor, Kerala.
It was on 28 April at around 8.30 pm, when Rajeshwari found the lifeless body of her daughter, 30-year-old law student, Jisha, in their one-room house in Perumbavoor, Kerala.
Her daughter was lying in a pool of blood, raped and murdered brutally, with her private parts slashed open, exposing her internal organs. No one — neither the media nor politicians — spoke of the case for nearly a week, after which it soon assumed political significance. The Jisha murder has evolved (or devolved, depending on how you see it) into one of the most sensational cases in Kerala's recent history, which was also because the fact that state Assembly polls were due and this was a hot election topic for political parities.
The one-room house in Perumbavoor soon turned into a frequent visiting spot for top politicians across political parties and became a symbol of political inaction, social insecurity and Dalit discrimination in the southern state. This became one of the biggest items during poll campaigns for the Communist parties against the Oommen Chandy government. The case also opened up a wider debate on women's safety, Dalit discrimination and socio-cultural change in 'God's own country'. Candlelight prayers followed for Jisha and she was given a new tag: Kerala's Nirbhaya.
A month after Jisha passed away, the only thing missing is justice for the victim.
No one, to this moment, knows who killed the law student in broad daylight and in a manner that was barbaric and would put even carnivorous animals to shame. Some 2,000 people have been questioned by the Kerala Police so far in this case and some 20 of them were subjected to DNA tests. Multiple teams of state police were deployed to hunt down Jisha's killer(s). The police has failed miserably at making any headway in this case so far.
After the LDF government took over under new chief minister, Pinarayi Vijayan, the state government has set up a new probe team under the Kerala ADGP B Sandhya to bring Jisha's murderers before the law. There were various theories that came up in the case of Jisha's murder — most of them based on workers from outside Kerala and Jisha's neighbors, but no arrest has been made so far. Notably, there were also allegations by a social activist in Kerala called Jomon Puthanpurackal that a senior Congress leader is behind Jisha's murder. But, subsequently, the United Democratic Front (UDF) convener PP Thankachan, has denied any role in the case.
Clearly, there have been serious lapses on the part of the state police in the Jisha case even before the murder happened. As Firstpost noted in an earlier piece, Jisha's mother, Rajeshwari had lodged a complaint at the local police station more than once citing a threat to her life and those of her children, but no action was taken. Jisha herself had a feeling of insecurity. She slept at night with a sickle under her pillow, out of fear of criminals.
"We have been literally begging to everyone for money to build a house. I always wanted to run away from this place because we were scared. The neighbors have threatened us several times saying they will kill us by hitting us with a truck. They used to come with vehicles wherever we went. We were living in fear all these years. No matter, whatever we say, the Kuruppampadi Police wouldn't listen to us," Jisha's mother told a local channel. After her husband left her few years ago, the mother and her two daughters lived alone in that one-room house.
"Explaining all these things, we have, several times, lodged complaints at the Vanita police station and with the Kuruppampadi Police. But no action was taken. Nobody would come asking if we were alright. I do not know the reason why they wanted to kill my daughter. She was studying BA, MA and LLB. The other child was married off without my permission. Maybe they (the murderers) feared that once Jisha became a lawyer, the old case would be dug out," she said.
The new LDF government has promised to construct a house for Jisha's family and give a job to Jisha's sister. But, what one should note here is that there were provisions in government schemes to bring help to the homeless citizens of the state long before Jisha was murdered. But, none of that helped her find a safe home. Even today, there are thousand of landless, homeless citizens in the state who seek help, whose number will run into lakhs, according to various estimates. The sad part, unfortunately, is that the system does not act till there are victims.
That's how it has been in the Nirbhaya case and elsewhere.
The Jisha murder is a case fit for the Central Bureau of Investigation (CBI) to probee on account of two factors: One, even a whole month since the incident, the state police hasn't been able to make any meaningful progress in the case except for theories and unsubstantiated allegations. According to reports in the local media, the police has come under fire for ignoring key evidence in the case including the tip-off about a bloodstained knife and a pair of jeans found in a plastic bag near Jisha's house.
Two, what is even more critical is that there are allegations of involvement of politicians in this murder case. One cannot rule out the chances of the state police being influenced in this case by local politicians and, thus, the force may not have a freehand in the investigation.
A CBI investigation is certainly warranted in this case.
Entertainment
Sooraj Pancholi was booked for alleged abetment to suicide in the case and is now out on bail.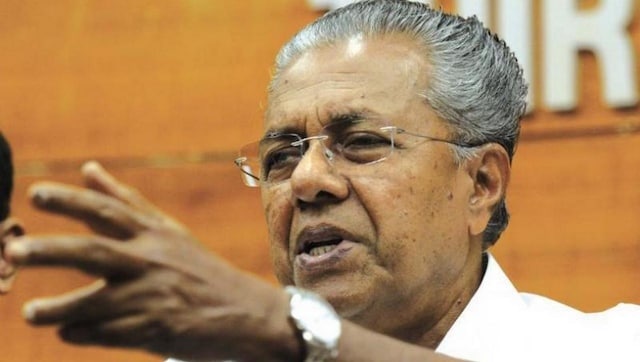 India
The CM, at a press conference, said that over 32 percent of the population eligible for vaccination have received both jabs of the vaccine.
India
A group of people, who were not at all a party in the matter, were indulging in hate campaign in the social media platforms to add fuel to the fire and thus disrupt communal harmony in the southern state, VD Satheesan, Leader of Opposition in the state Assembly, said.