Judge Loya death case: Statements of four judges unimpeachable, Maharashtra tells Supreme Court
The Maharashtra government on Monday told the Supreme Court the statements of four judges were 'unimpeachable'.
New Delhi: The Maharashtra government on Monday told the Supreme Court the statements of four judges, who were with special CBI judge BH Loya on the last day of his life, and had termed his death as "natural", were "unimpeachable".
Loya, who was hearing the high-profile Sohrabuddin Sheikh fake encounter case, had died allegedly of cardiac arrest in Nagpur on 1 December, 2014 when he had gone to attend the wedding of a colleague's daughter.
"According to me, statements of four judges (J Kulkarni, J Barde, J Modak and JRR Rathi) are unimpeachable that the death of Loya was natural and unfortunate."
"The judges were with Loya since November 29 to December 1, 2014. The statements were signed by the judges. Are not they trustworthy?" senior advocate Mukul Rohatgi, appearing for Maharashtra, told a bench headed by Chief Justice Dipak Misra.
"If you (the court) want to reject the statements of the judges who said that Loya's death was natural, then it has to be prima facie accepted that they were co-conspirators...," he told the bench, also comprising Justices AM Khanwilkar and DY Chandrachud.
Referring to judgements on public interest litigations (PILs), he said the apex court amended its rules and laid down guidelines as to who can file PILs to ensure that motivated petitions are discouraged and not entertained.
Alleging that petitioners were "creating castle in the air", Rohatgi said the PILs cannot be based on unconfirmed and "hearsay" media reports solely, and the courts should verify the credentials of such petitioners.
Referring to contents of petitions, including those filed by Congress leader Tehseen Poonawala and journalist BS Lone, Rohatgi said they had only relied upon unconfirmed news reports, published November last year onwards, and filed PILs without any further detail and they "are now arguing as if these are murder appeals".
"Nobody, including PIL petitioners, did anything for last three years and now they have come out of slumber. They are saying that they want to protect the judiciary. However, they are standing for scandalising the judiciary," Rohatgi said.
"All the petitioners did not do anything on their own. This is just 'cut-and-paste' job. There was nothing amiss. The state is fully satisfied. It would be appropriate to bring the curtains down," he said.
Attributing motive on the petitioners, Rohatgi said press conferences are being held because the judge concerned was hearing a criminal matter in which a political figure was then accused.
"None of them (petitioners) had the courage to read the statements of judges who were with the judge (Loya) like shadow and are the eyewitness of the events," he said, seeking the case to be closed, unless "the court holds the judges co-conspirators".
The judges had given the statements after Police Commissioner (Intelligence) sought permission from the High Court Chief Justice, he said.
Some High Court judges, including the then chief justice, had also reached the hospital, he said.
About the petition of the Bombay Lawyers Association seeking an independent probe in Loya's death, he said that the list of its members, bye laws and registration number were not attached.
"These things are not required in a PIL," senior advocate Dushyant Dave, appearing for the bar body, said.
"You have argued Mr Dave. Let me argue... I am not here to have a conversation with you (Dave)," Rohatgi said, adding that the judge had died in their state (Maharashtra). If they had so much information, why no petition was filed in the last three years.
On the statement of one of the four judges Rathi that ECG was not done on Loya, Rohatgi said judges are laymen so far as medical issues are concerned and reiterated that the ECG was done on the judge at Dande hospital on 1 December.
As the Judge was declared "dead on arrival", the doctors at Meditrina Hospital referred the body for post mortem and there was nothing amiss, he said.
Dave informed the bench that his application, seeking examination of 11 people, including two judges and four family members of Loya, has not been accepted by the apex court registry.
Rohatgi would resume arguments on 16 February.
Earlier, the state government had opposed the pleas for an independent probe into Loya's death, terming them as "motivated" and based on "yellow journalism".
Senior adovate Indira Jaising, appearing for an intervenor, had referred to sequence of events to highlight her submission that a probe was needed to rule out any foul play and alleged a trial court judge in the Sohrabuddin case was transferred in a "tearing hurry".
The bench is hearing pleas including those filed by Congress leader Tehseen Poonawala and Maharashtra-based BS Lone seeking an independent probe into Loya's death in 2014.
Current BJP president Amit Shah was an accused in the Soharabuddin Shaikh case, but was later discharged.
Politics
Days after Moily stressed the need for a 'major surgery' on the Congress to make it electorally more competitive, Khurshid said these 'wonderful phrases' are not the answer
Politics
The visit is politically significant as Uttar Pradesh will be going into polls in 2022 and the party is expected to take all steps necessary to retain the state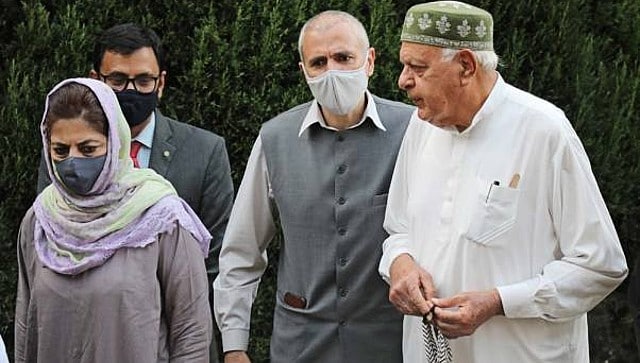 India
The meeting, which is the first such exercise since abrogation of Article 370 in August 2019, is likely to be chaired by Prime Minister Narendra Modi