JU fracas over Agnihotri's film: Left's most blatant display of intellectual tyranny
JU incident is also a manifestation of the turf war that is taking place right now between the Right, which has political power but lacks the intellectual heft and Left, which shall not cede an inch of space.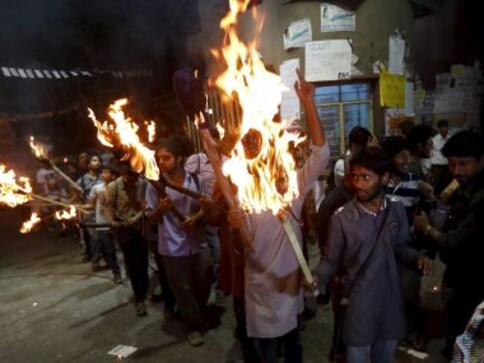 There are two parts to the development that took place in Kolkata's Jadavpur University on Friday over the screening of Vivek Agnihotri's film Buddha In A Traffic Jam.
One, it is the regressive Left's one of the most blatant displays of intellectual tyranny. Two, it is also a manifestation of the turf war that is taking place right now between the Right, which has political power but lacks the intellectual heft and Left, which shall not cede an inch of space from the last vestiges of its still considerable power — the citadels of illiberalism that our Universities have become.
Both are inextricably linked but I shall come to the second point in a bit.
First let us focus attention on the neat way in which the totalitarian Left has managed to sell itself as the "liberal voice" in India. It has done so by appropriating the century-old struggle of liberal thinking and exploiting that for the political purpose of stifling criticism of its fascist ways. The Left has successfully turned the rules of liberal thinking over its head.
This seems almost a Houdini act. How did the Left get away by such blatant subversion? This became possible because it tightly controls the supply line of thought.
As in Satyajit Ray's Hirak Raja'r Deshe, every student who enrolls to study in the hallowed halls of our academic institutions must undergo a 'magaj dholai' (brainwashing) first so that they sing paeans in favour of Hirak Raja. The Indian Left has for long been enjoying state patronage and has an iron grip on academia. It also 'boasts' of a protracted history of being viciously intolerant towards contrary viewpoints.
Economist Sanjeev Sanyal has written in a recent column: "Ethnic cleansing of all non-Left thinkers since the 1950s…the result of the systematic cleansing was that there were no non-Left academics remaining in the social sciences field in India by the early 1990s."
So the rules of the game are clear. The Left can stop screening of movies, label false charges, censure thoughts, ban books, kick authors out of India and yet if anyone accuses them of intolerance, the accusers are charged with intolerance instead.
In the political sphere, the Left has inflicted blood-curdling violence on its opposition. In West Bengal alone, political murders when it was at the helm for over three decades run well over 55000.
The Left can call for an Afzal Guru to emerge from every home, but Baba Ramdev has no right to address students in JNU. The Left can screen Muzaffarnagar Baaqi Hai, but when Buddha In A Traffic Jam is sought to be screened (with due permission, mind you) the movie is first denied consent and then even the unofficial screening is disrupted.
"We do not welcome anybody who preaches violence and preaches the Hindu fundamentalist thought in the context of present day India where divisive politics is dividing the people," NDTV quotes Priyasmita, a JU student, as saying.
"We feel if such propaganda is allowed there will be fascist mobilisation within the campus," said another protester.
So a film (It is doubtful whether they have even bothered to watch it) becomes a propaganda when it fails to conform with the Left's doctrine. And how to prevent a movie from triggering 'fascist mobilization within campus'? By denying it permission, taking away its director Vivek Agnihotri's freedom of expression. But for this skullduggery, the Left won't be called fascists though. No sir! They are living embodiments of free-thinking in India.
It is indeed tiresome to repeat again and again the charges of hypocrisy and selective outrage against the Left. It says everything that needs to be said about our civil society's (once again, tightly controlled) commitment to the principles of liberalism. In order to dismantle the bulwark of this Left ecosystem, the Right now seeks to make inroads. Now I come to the second part of the issue.
ABVP-linked Think India had sought permission for Agnihotri's movie, a political satire against radical fundamentalism, to be screened in a JU auditorium. "We received a confirmation on May 3. But on May 5, a letter signed by the Alumni Association's secretary, Sipra Patra, stated that the screening wouldn't be allowed," research scholar Sumit Mazumdar was quoted, as saying in a Times of India report.
What was the official reason? It could violate "model code of conduct prevailing due to state election". Incidentally, the last phase of state election of held on 5 May. Surely a more imaginative reason could have been given?
On Friday, when Agnihotri arrived on the campus adamant that he would screen his film, Left-leaning student unions at the university surrounded his car. The filmmaker claimed he was gheraoed and manhandled.
As Think India then proceeded to project the film on open air inside the JU premises with a white bedsheet as "screen", Leftist student organizations FAS and DSF students then begun a parallel screening of Nakul Singh Sawhney's Muzaffarnagar Baaqi Hai.
Soon, the simmering tension escalated into full-blown fisticuffs. FAS and DSF students claimed two of their members had been molested by outsiders and held four persons captive. Think India members, however, countered the allegation, claiming they had been assaulted while leaving the ground.
"Several of our members were beaten up. Two of them were seriously injured and have been admitted to KPC Medical College. Four of our members are still being held captive by JU students on the basis of false allegations," ABVP national executive member Indranil Khan told Times of India.
The situation then went fully out of hand with the JU VC having to rush in and mediate thrice before the captive students were released. In between, BJP leader Roopa Ganguly rushed to the campus and it led to even more hostility from both ends.
Late reports suggest JU authorities have filed a police complaint against four outsiders — three of them ABVP activists — for allegedly molesting female students, a claim denied by Ganguly.
How did the University react? By claiming that it had nothing to do with denial of permission for the movie. JU VC Suranjan Das said "he had no role to play in it".
It can be safely said that this won't be the last time such turf wars in our Universities shall take place. And it also won't be the last time that our social commentators and civil society shall indulge in selective applications of their principles of free speech.
Education
It is to be noted that the admission of all already admitted candidates have been locked and they will not be considered for any seat upgrades
Education
Once the list is out, candidates who opted for spot admission round 2 will be able to apply for the DU UG admission spot round 2 from tomorrow, 29 November
Entertainment
The actor spoke about the success of these three films at the News18 Showree and what it means to him.