Journalists claim Gorakhpur DM Rajiv Rautela kept media from covering by-election results
Rautela, along with IAS officer Rakesh Kumar Singh, was suspended in December last year by the Allahabad High Court over promoting illegal mining during their tenures as district magistrate in Rampur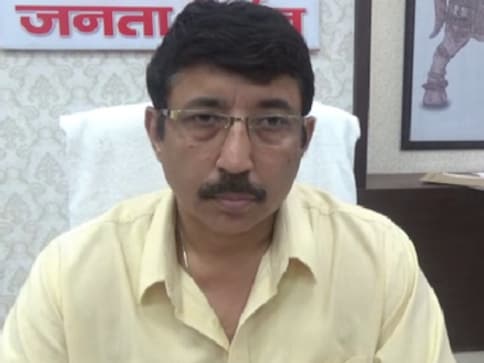 Gorakhpur: Media persons covering the by-election results in Gorakhpur on Wednesday had to face district magistrate Rajiv Rautela's diktat as he directed them to stay away from the counting centre set up at Gorakhpur University.
"The media was asked to stay away from the counting centres and come only when they are asked to," said Harikesh Singh, a journalist with a regional web portal.
Singh added that the district magistrate was rude to the media persons in general, but was encouraging only those journalists who were close to him.
"Our district magistrate's tone was not at all humble. Instead, his responses were even more rude when media queried him regarding the polling," Singh said, adding that the DM is considered to be closely associated with Chief Minister Yogi Adityanath.
Rautela, along with IAS officer Rakesh Kumar Singh, was suspended in December last year by the Allahabad High Court over promoting illegal mining during their tenures as district magistrate in Rampur. The high court had directed the UP Chief Secretary to take disciplinary action against these IAS officers, but the government hasn't shown any urgency in this regard.
In fact, while Rautela continues to be Gorakhpur district magistrate, Rakesh Kumar Singh has been posted as District Magistrate, Kanpur Dehat. It may be mentioned that in his report on deaths of more than 60 children at BRD Hospital in Gorakhpur in August, Rautela had held the oxygen supplier, Pushpa Sales, and a doctor responsible for the deaths. Pushpa Sales has denied in court the allegations in district magistrate's reports.
Sunil Kumar Pandey, another journalist who was denied entry at the counting centre, told Firstpost that it is not the first time that the district magistrate has issued such a gag against journalists.
"This (attitude of DM) was evident even during the coverage of death of children at the BRD medical college," Pandey said.
"Is time to fir bhi behtar tha, varna pichli baar DM sahab patrakaaro par lathi charge karvaye the (Journalists were relatively fortunate this time, as last time, the district magistrate had ordered lathi charge on them)," alleged Pandey.
However, Ajeet Singh, another Gorakhpur-based journalist, said the issue was baseless and manipulated by the media.
"There were more than 150 journalists covering the elections and the district magistrate said that entry inside the counting centre will not be possible. This instruction of the district magistrate was misread by media as reports of the gag started appearing in news," he said. Ajeet added that it was the district magistrate who was announcing trends after every round of counting.
A person from Gorakhpur district magistrate's office, who answered Rautela's phone, denied any media person were stopped from covering the counting process, and called these reports mere "rumours".
BJP UP spokesperson Shalabh Mani Tripathi, who is expecting a ticket from Gorakhpur for 2019 Lok Sabha elections, said the Election Commission would be the right authority to comment on media gag and enquire about it.
Meanwhile, Samajwadi Party has written a letter to the Election Commission of India in this context, alleging that the ruling BJP government was using the administration to win the elections.
Samajwadi Party spokesperson Sunil Singh Sajan said that issuing diktats and suppressing the freedom of press is an old habit of the saffron party.
"These are the dirty tricks being played by the ruling government to win elections anyhow. This (BJP) party does not believe in democracy. Instead, it believes in getting work done either by hook or crook," Sajan said.
The author is a Uttar Pradesh-based journalist and a member of 101reporters.com, a pan-India network of grassroots reporters.
also read
Explainers
Sengol will be installed in the new Parliament building by PM Narendra Modi on 28 May. This historic sceptre has become a bone of contention between the ruling BJP and the Opposition party Congress, which are sparring over its use at the time of Independence
India
At least 19 opposition parties led by the Congress called for boycott the event, saying the decision of the PM to inaugurate it himself and "completely sidelining" President Droupadi Murmu is an insults to the high office of President and violates the letter and spirit of the Constitution.
India
A bunch of opposition parties has boycotted the grand opening ceremony of the new Parliament building