JNU's mean streets: Gender violence rises on campus
While students say that JNU is still one of the safest places in Delhi's social landscape, they acknowledge that gender violence is on the rise.
New Delhi: The suicide of Jawaharlal Nehru University student Akash Singh on 31 July after trying to hack his girlfriend Roshni Gupta to death and the assault on a 20-year-old Spanish language student on Sunday, has raised serious questions about the security at one of India's premiere educational institutions. And, while students say that JNU is still one of the safest places in Delhi's social landscape, they acknowledge that gender violence is on the rise.
"I've been here five years, but, never faced sexual harassment or experienced any violence on the campus. However, there is a general sense that the gender sensitisation process has deteriorated," said Rani Rohini Raman, a student doing her PhD thesis on violence against women at JNU's school of social medicine.
"JNU was a campus with a lesser strength earlier and so propagating the legacy of gender equality was easier. It's different now," she said, adding, "Also, JNU is part of society and not an island — so whatever we say, social patterns matter. After all it's people from the society outside that come to these universities inside."
She said that the issue needs to be addressed by conducting more gender sensitisation workshops and making them compulsory. "The idea is not to force people to become gender sensitive, but to put in a system where people take it very seriously," she said.
Tintumol Joseph, a second year MA student pursuing International Relations, says that when she arrived in the city two years ago, everyone assured her that JNU was safe. "When I came I was told that the campus is safe and girls can go out at 4 am. But, that's not true. One night at 10 pm when I was headed for a meeting, a man on one of the roads on campus flashed his genitals at me," she said.
Joseph complained and the man, who was found to be the owner of one of the dhabas on campus, was arrested on charges of eve teasing. "He was arrested, spent about 15 days in Tihar jail and was out after that because he apparently didn't do anything to physically harm me," she said. "I still walk out at 3-4 am, but the incident has put a fear in my mind and it is always at the back of my mind," she said.
Joseph also sees a broader deterioration in the attitudes of her male peers. "There is a decline in the attitude of males towards females — many of who may not be students at JNU, but many are. One can see that during cultural events when many male students pass lewd and sexist comments," Joseph said. The classical dancer has had male audiences interrupt her performances shouting, "Arre, Chikni Chameli ya Laila oh Laila karo."
"I won't say its completely safe," she states. "Most times girls feel so intimidated at the instances of cat calling and severe eve teasing that they refuse to participate in cultural events," she said.
Subin Dennis, doing his PhD in Economics, argues that JNU is still safer compared to the average college campus. "In my eight years at JNU, I have seen and heard of such incidents (gender violence and sexual harassment). While they exist within campus, their incidence is fewer compared to any other educational institutes," Dennis said.
Reason being that "justice on campus is more accessible. As a result women are also more open to reporting and talking about it here," claims Dennis, citing the example of the girl student who was molested on 4 August. After the incident took place, the student reported the incident during a gender sensitisation meeting that was taking place on campus that evening. He also points to a faculty member who was accused of sexual harassment a few months ago. He said the professor was forced to retire after he was found to be guilty by the university.
However, others like Sociology student Arjun Sengupta acknowledge a decline in the relative safety of the campus. "Over the past 2-3 years I have seen a marked decline — earlier incidents of molestation would be few and far between. But, particularly the last year there have been several instances of gender violence." Sengupta said. He lays part of the blame on larger societal trends, but says the primary reason is the decline of the university's political culture.
"For four decades JNU has been very active, politically and socially… There was a very strong sense of each of us being a large part of the community. That collective process has declined and the political culture eroded now," he explained.
Dennis says this decline is the repercussion of not having had student union elections from the period 2007 to 2012, as a result of which there weren't enough representatives in the university's Gender Sensitisation Committee Against Sexual Harassment (GSCASH). This situation resulted in incidents being reported but not dealt with expeditiously and students losing faith in it.
Students say that JNU does have some checks in place to prevent gender violence and towards sensitization, but most of it is informal — like students talking about it amongst themselves or pamphlets available at the hostels. Compulsory gender sensitisation workshops would be a good start, but "what needs to be done is to reverse the decline in political consciousness at the university. There is a need for greater politicisation — a churning which will make students feel part of it," argues Sengupta
Revolutionary consciousness aside, what last month's incidents proved is that no place is immune from the growing danger of gender violence, not even the pristine streets of a left-wing ivory tower.
Find latest and upcoming tech gadgets online on Tech2 Gadgets. Get technology news, gadgets reviews & ratings. Popular gadgets including laptop, tablet and mobile specifications, features, prices, comparison.
India
Condemning Sharma's arrest, the Press Club of India also said that the police should provide pertinent details "so that a defence may be possible to construct"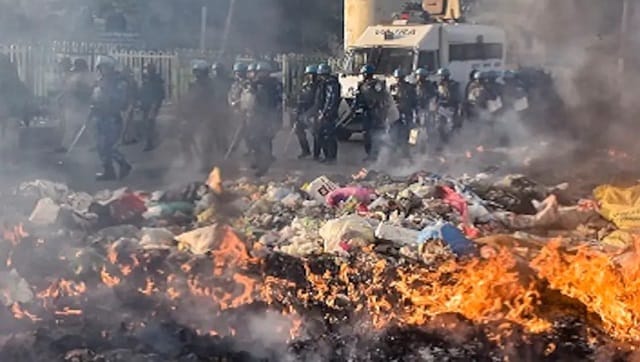 India
The charge sheet quoted a protected witness who claimed that Udit Raj, Salman Khurshid and Brinda Karat made 'provocative speeches' at the Khureji Khas protest site
India
The Delhi Police was seeking custody of the ex-JNU student leader in order to confront him with 'huge technical data' running into 11 lakh pages