J&K separatists chafe under guv Satya Pal Malik's hardline approach, blame BJP for 'aggressive policy towards Kashmiris'
The police are frequently putting the separatists under house detention and are even registering cases against the leaders "for being a threat to peace."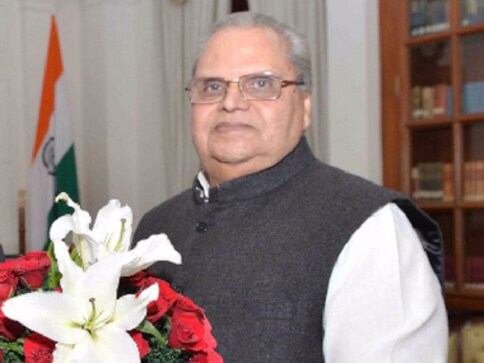 On 23 September, early in the morning, a large number of policemen cordoned off the house of Ghulam Ahmad Gulzar, a close aide of Hurriyat (G) chairman Syed Ali Shah Geelani. Gulzar, chairman, Jammu and Kashmir Insaf Party, cut short his prayers to see who was banging on his door at Ganbugh, Hyderpora. He was whisked to Shergadi Police Station where he remained lodged for several days before being shifted to the Kotbalwal prison in Jammu. Gulzar was detained under the Public Safety Act (PSA) by Srinagar's deputy commissioner:  a recourse taken rarely as PSA is an administrative order that is meant to deny people bail.
The PSA against the separatist leader came nearly a month after Governor Satya Pal Malik assumed office and replaced NN Vohra. That too at a time when authorities were gearing up for the four-phase municipal polls. The Chief Electoral Officer (CEO) opened the civic polls for nominations. The first phase of polling were held on 8 October and the results were announced on 20 October. Though the polls remained largely peaceful, the turnout was an abysmal 3 to 4 percent, a record low in the state history.
Gulzar's arrest was a display of Malik's hardline approach, a stark contrast to the policy of PDP president Mehbooba Mufti, who during her tenure as chief minister was accused by political parties, including her own coalition partner BJP, and Congress for "being soft on separatists." The BJP withdrew support to Mehbooba for "being unable to tackle the Kashmir unrest". In September Mehbooba said separatists and businessmen who have faced raids by the National Investigation Agency (NIA) for "supporting the freedom" to Kashmir are "feeling harassed."
Malik has not only detained the separatists under the PSA, but has got them frequently lodged at police stations. The Hurriyat Conference perceives this as an "aggressive" policy of BJP towards Kashmiris. Like Gulzar, top separatist leader and Hurriyat (M) executive member Masroor Abbas was picked up from his Safakdal residence days ahead of the polls and released on October 17, after elections ended. "I was picked up on 12 October and lodged at the Safakadal police station for three days and was later shifted to Srinagar's Central Jail. The police raided my house, which lies near the Safakdal Police Station, late in the evening," said Masroor.
Now, as the state is preparing for the Panchayat polls, most separatist leaders either remain in police custody or under house arrest to "ensure smooth polls." In the PSA order issued against Gulzar, authorities said that his detention was necessary as he "has figured adversely in police records." "He has actively participated in 2008, 2010 and 2016 unrests by way of provoking the youth to indulge in illegal activities aimed to disrupt the public tranquility, peace and order," read the PSA order.
Gulzar's wife Hafeeza Begum said his health has deteriorated and "despite that we are not allowed to meet him at the Kotbalwal jail." "Earlier, my husband was detained at Shergadi Police Station for four days. He was later shifted to Kotbalwal prison in Jammu, where he remains lodged. We were told by the police that he was detained for his anti-election activities," she said. "My husband has a back ache problem and he has been advised complete bed rest, but that has not prevented the authorities from detaining him."
The police are frequently putting the separatists under house detention and are even registering cases against the leaders "for being a threat to peace."
Both Geelani and Hurriyat (M) chairman Mirwaiz Umer Farooq remain under house arrest. Umer has even been disallowed from leading Friday prayers at the historic Jamia Masjid in Srinagar on several occasions. On 7 October, after his house arrest, Umer tweeted, "Under #House Arrest! peculiar democratic process of elections gearing up as huge deployment of forces, PSAs, incarcerations, house arrests, raids, internet bans gather momentum! Not to mention the unknown contestants and amused public! What mockery of democracy is at display!"
Jammu and Kashmir Liberation Front (JKLF) vice chairman Bashir Ahmad Bhat said senior separatist leader and the front chairman Yaseen Malik has been detained frequently by the police. "Yaseen was detained earlier this month for many days and later released. Now, he has been again detained by police and remains in police custody," he said.
Separatists have termed the government's policy as "an aggressive policy and approach of New Delhi towards the people of Kashmir." "The approach is becoming more brutal almost every day," said Hurriyat (M) in a statement recently. " The world community, including the United Nations (UN), Organisation of Islamic Countries (OIC) and other organisations should take a serious note of unabated human rights violations, killing, maiming and thrashing of youth, men and women and the arrest of resistance leaders and slapping them with the draconian PSA in Valley", the statement added.
Authorities also jailed Islamic Students League founder Shakeel Bakshi under the Public Safety Act. Shakeel's brother Showkat said he was lodged at a jail in Jammu for over a month.
India
The Union minister also said that the StartUp culture in Jammu and Kashmir is now evolving with women seen building their startups in every sector which is a positive thing in itself and will enthuse others towards StartUps
India
IGP Kashmir Vijay Kumar said that the Jammu and Kashmir police will continue counter terrorism operations in all Kupwara, Pulwama and Kulgam and won't let terrorists deter security forces efforts to bring peace in valley
India
Dilbag Singh chaired a high-level meeting of senior officers from police, civil administration and CAPFs to review the security arrangements and deployment of personnel for the yatra, at the Police Control Room