Je Suis Perumal Murugan or Tiruchengode? Free speech vs defamation
There are always two sides to every coin. The controversy over the withdrawal of Perumal Murugan's novel mathorubaagan is about free speech, but surely the temple and community has a reason to feel defamed?
Reprinted from Reality Check India
There is currently a firestorm raging in Tamil progressive circles over Perumal Murugan's book Mathorubaagan.  Every activist worth his or her salt has tweeted in support of Murugan while heaping scorn and contempt on the Hindutva caste groups who hounded him over the book.  Mindless activism of this nature will only hurt true supporters of free speech, as I argue in this article.
Here is a quick summary of the events for those unfamiliar with the issue. Perumal Murugan is a Tamil writer whose novel  Mathorubaagan was published in 2010 by Kalachuvadu. An English translation, One Part Woman, followed in 2014, published by Penguin. The storyline is about a childless couple set in the 1940s Tiruchengode, a small town in central Tamil Nadu. The plot builds up to a ritual in the Mathorubaagan temple where the protagonist joins other childless women, engaging in free sex in an attempt to get impregnated.
About three weeks ago, a few caste outfits, along with Hindu Munnani, began a series of protests alleging that the novel portrayed the temple as well as the women of their community in bad light. They started distributing what, in their view, was objectionable material, to the townfolk. The Tiruchengode Arthanareeswarar Girivala Nala Sangam (Society of Tiruchengode Sacred Hill Circumambulation), representing participants, the temple and other well wishers, took the legal course by approaching the police. The district administration and the police attempted to broker a truce and initially Murugan agreed to pull unsold copies and excise the objectionable parts from the book. That should have settled it.
Until the Left progressives decided to make it their fight.
Things got rapidly out of control as pressure on Murugan not to succumb to Hindutva Sanghi Caste-Fascism mounted. News outlets like Caravan and The Hindu, known for progressive views, built up a campaign, eventually railroading Murugan into an unenviable position. The latest news is that Murugan announced that he has quit writing altogether. (The publisher has since said he will republish after omitting some parts that were objectionable).
This sordid affair is certainly about freedom of speech but there are two sides to every coin. I have read the book and I think that the objections of the Tiruchengode Girivala Nala Changam and the various Hindu outfits are exceptionally strong.
Where fiction turns libel
The central question is this: "Are there any limits to how much you can fictionalise real people, events, institutions?"  Do all the activists really believe that there should be no such thing as unprotected speech?
Just imagine a world where the only defence against defamation was retort. To take an example: Suppose, I  take out an ad in the newspaper saying that there is proof that Colgate toothpaste causes oral cancer. Assuming The Hindu newspaper, in a valiant hurrah to my right of expression, publishes the ad, I will end up with a lawsuit by evening. Why should Colgate sue me for this and not publish a book or issue another ad explaining in detail why my claim is wrong?
Pardon me for dwelling on this a little longer because this is the central issue. If you believe all speech, including misrepresentation, fraud and defamation should be permitted – then you also have to believe that all force, including knocking me over with a club, should be. After all, if I am only allowed to respond to a defamation by publishing a retort, then I am only allowed to respond to an assault by a counter-assault. If I happen to be a weak person, I should make up for the deficit by paying a henchman to carry out the assault. You can quickly see the kind of society that will result from these rules. So if you are still reading this article, you probably agree with the idea that not all speech can be protected.
Now let's turn to Maathorubaagan.
I just finished reading the original Tamil version and I assume the English version is a direct translation. As mentioned earlier, the book is about a couple, Kali and Ponna, who are childless even after a decade of marriage. In an era where assisted reproduction techniques were non-existent but the societal prejudices against childlessness were just as strong, nothing was ruled out. The author's proposition is interesting because in these matters the male can be equally at fault. This is narrated in a breezy way. Essentially the story leads to a "ritual" (the subject of the tension) where womenfolk are allowed by societal norms to mate with anyone on the last day of the chariot festival. Where I think the author went too far is blending in an unsavory promiscuity against a real temple, real festival, and a real caste that exists to this day. Murugan probably recognised the importance of blurring out the details belatedly and rightfully offered to do so. But that was before the activist drones descended.
There is no ambiguity in the book:  the Vaigasi Visagam festivities, the chariot being pulled around town, the little details like the four streets, the various deities, descriptions of the fair, and on and on. The last day of the function, Murugan writes, was "full of women over 30″ and on that day "all women are prostitutes". The caste names also leave no room for ambiguity – it is about the womenfolk of Kongu Vellala Gounders.
The Vaigasi Visagam festivities happen to this day where the same communities participate in roughly the same manner. Those protesting have a right to demand an explanation. It is worthwhile to remember that they did not damage any property or resort to violence. Burning books is a well accepted mode of protest. Look at the matter from the vantage point of community leaders. If left uncontested it means their temple going womenfolk would be fair game for lewd comments and unwanted advances. 
Was this ritual a figment of the imagination?  Was it oral tradition or hearsay? Is there a difference between the two? This is what it boils down to.
But what about Niyoga?
Noted progressive intellectual AR Venkatachalapathy in an article feverishly defends the author against Sanghis. He says this kind of copulation is not outside the realm of possibility and cites the Niyoga dharma - the Hindu tradition of sex. But what he does not understand is that there is a huge gap between the realm of the possible and imputing a ritual in a real event. This is just a remarkably ignorant take that needs no further discussion.
The only  evidence (of the ritual) Murugan offers is that he ran into many people named "Sami Pillai" or "Ardhanari" in that area. Upon further enquiry he ran into an oral account of this tradition. I do not doubt that he might have heard this. Unfortunately, this standard, of hearsay is insufficient. While it is an interesting proposition or a plausible explanation for the Sami Pillais such a lack of evidence should have automatically meant blurring out the details. I am, therefore, with the Tiruchengode people in thinking this ritual is just a figment of the author's imagination and their community and their beloved temple cannot be the site for such fictionalising. An imagination that the author is no doubt entitled to, but only after adding in ambiguity.
Penance for childlessness is an extremely common phenomenon in Tamil Nadu to this day. From lighting lamps, circling hills, rolling over, to cutting roosters – every community has its version of Sami Pillai or Pichais. I don't think willingness to do extreme penance means women would agree to have sex with other men. Such an outlandish ritual can hardly be kept under wraps the way Kali's mother and mother-in-law do in the story. The males who feast on these women can also be hardly expected to keep their end of the bargain – of disappearing immediately after sex. Legally, I am afraid Murugan is not on as strong a ground as the Tiruchengode Girivala Nala Changam.  I am also with the townfolk who rightfully recognise that while begetting a child is important, honour is even more so.
Should activists and poets decide what constitutes protected speech on a case by case basis?  Let us assume we browbeat the Tiruchengode townfolk and let Murugan have his way. What if the next author comes by and writes a similar story and "activists fail to show up?
Je suis..?
(This article has been reprinted with permission from Reality Check India)
World
Sam Bacile's outrageous movie steps across all lines and beyond the pale. And it is a valuable reminder that even in this time of knee-jerk censorship, there are certain kinds of expression that do not deserve our support.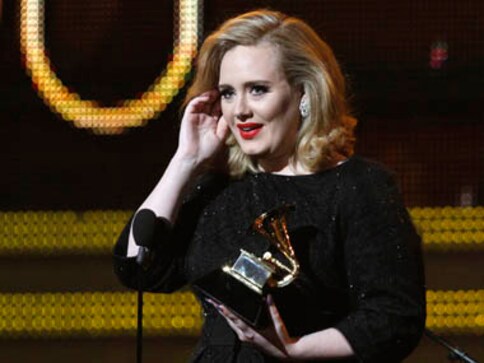 Entertainment
Adele kept a positive attitude, despite appearing visibly upset during the broadcast.
Life
When Tamil writer Perumal Murugan, declared that the writer in him is dead, what also goes down are the hollow rationalist promises of Dravidian politics.