JD(U)'s support to Ram Nath Kovind an 'isolated case', will be part of Oppn for 2019 polls: KC Tyagi
Even though Bihar's ruling JD(U) on Wednesday said its breaking ranks with the opposition on the 17 July Presidential election was an 'isolated' case
New Delhi: Even though Bihar's ruling JD(U) on Wednesday said its breaking ranks with the opposition on the 17 July Presidential election was an "isolated" case, the development could cast a shadow on a joint front against the NDA government in the 2019 general elections.
The opposition parties will now meet on Thursday to decide on the name of the candidate to be pitted against National Democratic Alliance's nominee Ram Nath Kovind.
Janata Dal-United leader KC Tyagi said his party's decision was an "isolated incident" and said it will not affect opposition's unity in putting up a joint fight against Prime Minister Narendra Modi-led NDA government in 2019.
"We will not attend the meeting but this is an isolated incident. We are, and will continue to be, a part of the greater opposition unity (for 2019 elections)," he said.
Communist Party of India National Secretary D. Raja said though the JD(U) move was a setback it should not be read as a crack in opposition unity.
"Already there are cracks in the JD(U). Its Kerala Member of Parliament Veerendra Kumar has revolted. (Bihar chief minister and JD(U) chief) Nitish Kumar or the JD(U) did not initiate the idea of a united opposition. It was initiated by all opposition parties.
It was a collective initiative. If one party goes, it doesn't mean the opposition unity has cracked," Raja said.
A senior Congress leader, who did not wish to be named, said opposition leaders were not happy with JD(U)'s decision to back the NDA nominee.
He said such moves will have a bearing on the unity efforts against the Bharatiya Janata Party-led NDA in 2019.
The leader said there was a view that opposition unity for Presidential election could be a precursor to a broad united front of opposition parties ahead of the next Lok Sabha polls.
Congress spokesperson Ajoy Kumar said it would have been better if JD(U) had conveyed its choice at the Thursday meeting.
"Nitish ji took the initiative for the opposition presidential candidate. It was he who was talking to everybody. Different opposition leaders have their own perspectives. Those are their views. He (Nitish) also supported demonetisation. We should respect it. Had he put his views at the 22 June meeting, it would have been elegant," Kumar said.
However, he too said, the development should not be viewed as a setback for prospects of opposition unity ahead of the 2019 elections.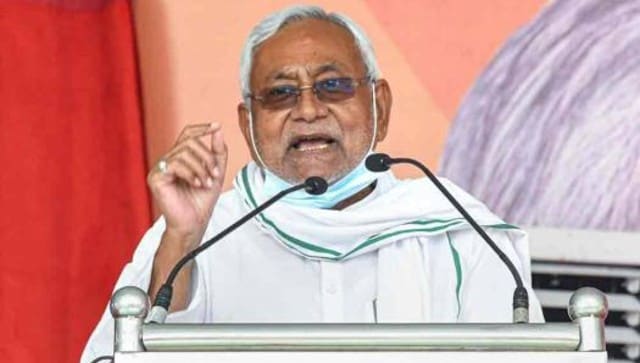 India
The Bihar chief minister said the state Assembly has passed unanimous resolutions twice in 2019 and 2020 in favour of a caste-based census.
Politics
The officer alleged that the police did not lodge an FIR despite repeated attempts and he was made to wait for hours even to get a receipt of his written complaint
India
Kovind also visited 13 states and two Union territories and met 780 people during these visits in the past four years, his office said