Jayalalithaa's health: Official lies have given rise to mass rumours
As of Wednesday night, the Tamil Nadu Police had registered 52 cases for spreading rumours on the health of Tamil Nadu chief minister J Jayalalithaa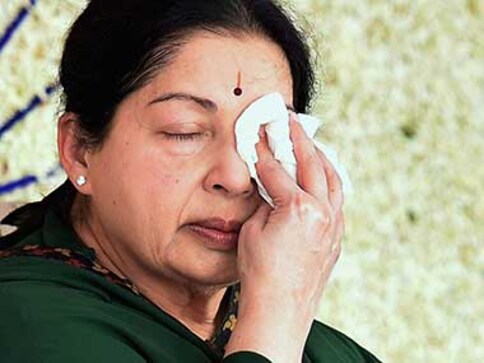 As of  Wednesday night, the Tamil Nadu Police had registered 52 cases for spreading rumours on the health of Tamil Nadu chief minister J Jayalalithaa who has been in the CCU of Chennai's Apollo Hospital since the night of 22 September for medical ailments that till this moment remain an intriguing matter of conjecture.
The slew of cases, not surprisingly, triggered a pointed jab through one of those ubiquitous WhatsApp forwards. The point of that Tamil meme was: The first cases on spreading rumours on the chief minister's health should be slapped on, ahem, the state government and Apollo Hospital.
Tragically, that meme had articulated an inconvenient truth that much of mainstream media in Tamil Nadu cannot.
Right from the quiet night when Jayalalithaa — reportedly in an unconscious state with multiple organ issues — was rushed in an ambulance to the Apollo Hospital, the main casualty has been truth.
The day after Jaya was admitted to hospital, some newspersons in Chennai were fed (by their sources) alarming details on the chief minister's health and how cardio and pulmonary specialists had worked overtime to fit an emergency pacemaker in her. There were sundry other medical specifics too and the gist of them all was: The chief minister's health was critical.
But guess what the press release from Apollo said? Well, the operative part of it was 'fever' and 'dehydration'. This is when multiple experts had reportedly battled all night to resuscitate the chief minister. From then on, Apollo press releases have only gotten worse.
If the intention was to keep the anxiety level of a decidedly emotional state (Tamil Nadu) in check, it was understandable. But the execution of it, all through since then, through half-truths and also plain lies is totally wrong and unacceptable.
And when the official machinery is not reliable, it is only natural that unofficial ones spring up with racy rumours and fancy theories. "It is tragic when information quoting imagined sources and spoofy memes become news. That dystopian reality is a fact in Tamil Nadu today," said R Kathiravan, a political analyst.
Now, the problem for Tamil Nadu is that its mainstream media is not the most rigorous even in the best of times in asking difficult questions of the establishment. Many events and scandals that would have been the grist for headlines for weeks without end elsewhere, have been known to be quietly ignored in Tamil Nadu.
The entire official machinery in the state has been outrageously opaque, especially under Jayalalithaa's AIADMK regime. The ministers are totally unreachable. At any rate, they don't have a voice. The CMO is far worse. It is a one-way street, parting only with info it wants at a time convenient to it. "The set-up is such that it precludes any kind of (news) story, negative or otherwise, on the government and its minders," concurred Kathiravan. "To put things in perspective, a Siddaramaiah or a Devendra Fadnavis cannot get away with this kind of extreme secrecy in operations," added KK Aparna, a media head at an MNC.
Many individual journalists — as elsewhere, are hard working and honest here too. But most media houses (they are employed in) are extremely committed to  their political ideology or in a situation of being at the mercy of government advertisements. The leading English and Tamil dailies in the state (leading in terms of officially given circulation figures) have a history of being pro-establishment and this sets the tone for the entire market.
At any rate, the anti-government voice belongs to the Opposition parties-run outlets and hence, is seen to lack credibility. The vernacular press, which is generally pretty vibrant in states like the neighbouring Kerala, has been wishy-washy in Tamil Nadu and has never been known for rigour in news reporting. Illuminatingly, the number of scandal rags in Tamil Nadu, the ones that dish out lurid gossip on government and politicians, must be one of the highest in the country.
"But in this age of Twitter and WhatsApp, the government is unable to control rumours and insinuated details. This is where the rub lies," pointed out Aparna. She added the situation has reached the stage where the people need to be told the full truth. "We have long crossed that threshold of the need for privacy to an individual on matters of health. It has been trumped by the right to know by the people on issues of governance," she said.
Meanwhile, even as the police is slapping cases on individual voices on social media, the echoes from political platforms are only getting more strident. Despite almost comical visits by people from across political parties, nobody is any surer of the chief minister's health. Also — most importantly — no one has actually seen Jayalalithaa. And this includes the governor too, who made an official visit to the hospital. "I saw people who claim to have seen the chief minister," CPI leader D Pandian deadpanned after his visit to Apollo Hospital.
And since no one (on record) has seen the chief minister since her admission to the hospital, and the popular consensus is that she is bed-ridden and unable to carry out any of her regular activities, it begs important questions concerning the state: Who wrote the speech that was delivered under her name at the Cauvery meeting in New Delhi? Who authorised the Deepavali bonus for state PSU employees? The assigning of her portfolios to O Panneerselvam, who okayed it? The press release from the governor's office said that it was done based on the 'advice' of the chief minister. But no one is ready to believe that bit.
The Churchillian phrase of "an iron curtain has descended" rings icily true in Tamil Nadu today
But, heck, who is running the state? Her phlegmatic confidante Sasikala and the members of seemingly never-ending family? The former chief secretary of the state, and now the advisor who enjoyed all access to and the confidence of Jaya: Sheela Balakrishnan? Well, there are no clear-cut and honest answers. As ever, we have to make do with speculation. But whoever is running the show is making a poor job of it.
Meanwhile, news circles in Chennai is agog with yet another rumour that the Apollo Hospitals is unhappy with its hands being forced to issue press releases (on the Chief Minister's health status) that it wouldn't want to.
Apollo, it is being speculated, is feeling enough is enough. It has seen its 'business' dwindle by more than 60 percent (again, a ball-park figure) since the arrival of the chief minister in its CCU. Outside the hospital on Chennai's Greams Road, the strange gaggle of AIADMK supporters are hopeful of the chief minister's return and yet totally angry with Apollo. "This has become a game that Apollo will have difficulty getting out unscathed," said BP Rajesh, an independent medical analyst.
A chief minister's state of health in secrecy.
A state run by unseen people with unknown motives.
A media that doesn't know much about what it is reporting.
The Churchillian phrase of "an iron curtain has descended" rings icily true in Tamil Nadu today.
India
Accusing the state government of attempting to "impose its ideology" on the theists by restricting darshan during weekends, Annamalai insisted that there was "no logic" in keeping temples closed from Friday to Sunday citing coronavirus.
Entertainment
Rajinikanth, who co-starred with Srikanth in the film Bhairavi, tweeted that he is 'deeply saddened' by the actor's demise
India
The company's co-founder Deepinder Goyal took to Twitter saying that "an ignorant mistake" became a national issue, adding that " the level of tolerance and chill in our country needs to be way higher"