Jammu-Srinagar highway partially reopened 44 hours after landslide blocked key road in Ramban district
The landslide blocked the 270-kilometre Srinagar-Jammu highway, the only all-weather road linking Kashmir with the rest of the country.
Banihal: The strategically important Jammu-Srinagar National Highway was reopened partially on Sunday evening after remaining closed for over 44 hours, in a relief to passengers who were left stranded due to a massive landslide, officials said.
The landslide blocked the 270-kilometre highway, the only all-weather road linking Kashmir with rest of the country, at Ramsoo in Ramban district early on Saturday. A major road clearance operation was launched immediately after the landslide but intermittent rains hampered the early reopening of the arterial road.
"After hectic efforts, the road was cleared for one-way traffic this evening and accordingly the stranded vehicles are being allowed towards their respective destinations," the officials said.
They said the road clearance operation was still going on in full swing to remove the remaining debris.
Earlier in the day, the authorities used explosives to blast the huge rocks which had rolled down on the highway.
"No vehicle was allowed to move from either Jammu or Srinagar on the highway for the second day this morning," the officials had said.
Over 900 vehicles including those carrying passengers got stranded on the highway after the closure of the road on Saturday.
Many vehicles returned to the places of their origin but those which remained stranded at different places along the highway were moved to safer places and their passengers accommodated in shelter sheds and provided meals, the officials said.
They said senior civil and police officers including the district development commissioner are personally monitoring the road clearance operation and ensured that all stranded passengers are provided meals besides night shelter at designated places.
The officials said the decision to allow traffic from Jammu and Srinagar on Monday would be taken after reviewing the latest situation later tonight.
They requested commuters to contact traffic control rooms before starting their journey on the highway.
India
The anti-terror agency carried out simultaneous searches in various districts in the Union Territory with the assistance of the Central Reserve Police Force (CRPF) and Jammu and Kashmir Police
India
Authorities are on the hunt for the second terrorist who managed to escape after the firing took place at Natipora area of Srinagar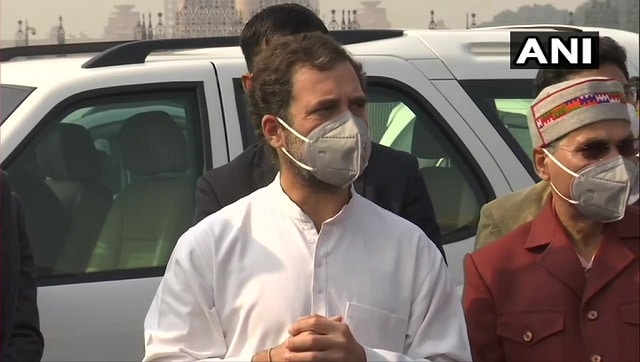 India
Rahul's remarks on Kashmir came after two government school teachers, including a woman, were shot dead by militants in Eidgah area of Srinagar