Jammu and Kashmir floods: Situation returning to normalcy as water levels recede
After eleven days, life is slowly returning to normalcy in Kashmir but the extent of damage caused by devastating floods is still unfolding.
Srinagar: After eleven days, life is slowly returning to normalcy in Kashmir but the extent of damage caused by devastating floods is still unfolding.
Water has receded to a large extent in Jhelum river and the main flood canal, which kept overflowing for at least three days and caused unprecedented flooding in residential areas.
A number of areas have been cleared of water while dewatering is being done in several colonies of Srinagar city by pumps of ONGC and fire services.
Several areas still remain marooned, particularly in the old city, but relief material is being sent to the people who have been temporarily shifted to some safe places within the flooded areas.
As the dewatering work is progressing, people, who had left their marooned houses or were evacuated, are now going back to check the damage caused to their homes.
People can be seen enquiring about each other's well-being and their relatives and friends.
Each one has a story about how water suddenly started entering on 6 September, first in the colonies and then into their houses.
"We first thought water may rise to some level but nobody had imagined that it would come up to even 12 feet in some areas," said Mohd Shafi of Gogji Bagh area where dewatering is underway in full swing. There are reports of thefts in the houses which had been vacated.
With many main roads being cleared of water, public transport has started plying in the areas where flooding has ended and movement of people has increased, leading to traffic jams at several places.
Some key roads, like the one leading to the airport, continue to be inaccessible due to water-logging.
The historic Lal Chowk and its adjoining areas and the vicinity of Badami Bagh Cantonment are still flooded.
Shops are also being reopened with the owners trying to retrieve whatever material has escaped the water fury.
The situation on availability of essential supplies, like vegetables and LPG which had suddenly become rare, is also improving. The power scenario is also better as also the communication network.
With life showing signs of returning to normalcy, security forces and police personnel are also back on the roads at various places.
However, the extent of damage is still unfolding. There are reports about a number of houses collapsing. Also, the exact number of those who perished is also being ascertained.
Chief Minister Omar Abdullah has said the death toll in the entire Kashmir Valley is not more than 30. There are hopes that the death toll may not be much as most of the people had been evacuated to safe places in time.
The rescue was conducted not only by the army, paramilitary forces and NDRF but even by locals. There are several instances of locals arranging boats or making makeshift boats to evacuate people.
"A famous doctor and his wife were in the third floor and top floor of their house in Rajbagh. They were refusing to leave. But we went to them in a boat and persuaded them to leave. They are now in Pune," said Nasir Khan, a businessman of Hyderpora, who went around localities with some friends to see whoever can be evacuated.
According to him, he and his friends also evacuated a lady teacher of famous Burn Hall School who had got her leg fractured in a fall.
Relief trucks are also moving around in the city, distributing essentials to the people who crowd the vehicles when they halt.
As the people come to terms with what happened, many of them allege that the state administration did not do enough when the tragedy struck.
Senior officials, however, say they were initially unable to help as they themselves were stuck in flooded waters.
"A state government can never be capable of dealing with the calamity of such a magnitude. We were ourselves crippled as phones went off and there was no way to connect with anybody," says Deputy Commissioner of Srinagar Farooq Shah.
He said the state authorities soon after swung into action and the Chief Minister himself was monitoring the situation.
But locals in many areas are not impressed with the performance of the state administration. Some thank the army and NDRF for rescue operations but some give no credit to them.
There is anger among the people at the media also, alleging that some sections did not portray the true picture.
PTI
Arts & Culture
The red acrylic and silkscreen on canvas was part of Warhol's Death and Disaster series between 1964 and 1965.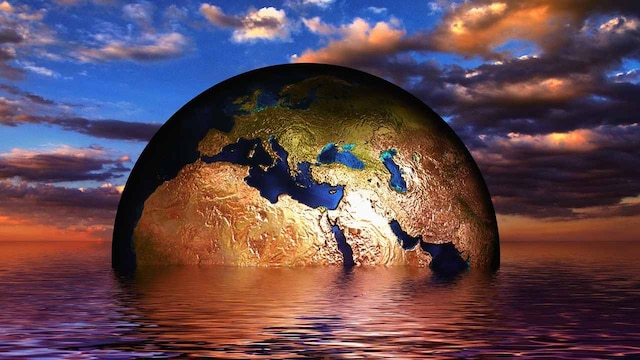 World
More than 400 large cities are at "high" or "extreme" risk due to a mix of pollution, dwindling water supplies, heat waves, natural disasters and climate change.
India
Markets will remain shut and grocery stores will be open only till noon. Medical shops and hospitals will function normally, as per the order