Jammu and Kashmir cops begin performance review of SPOs; some fear it may make them more vulnerable to militant attacks
Militant attacks on police personnel in Jammu and Kashmir have taken place even as authorities are conducting a performance assessment of over 30,000 special police officers.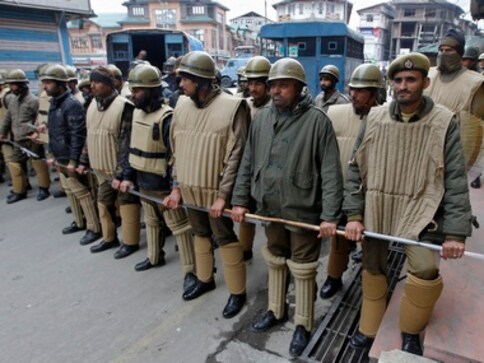 Militants in Jammu and Kashmir have carried out a number of attacks on police personnel in the recent past. These attacks have taken place even as authorities are conducting a performance assessment of over 30,000 special police officers (SPOs).
The SPOs are being assessed based on the number of militants they have killed. The state police is carrying out the assessment to sack those SPOs who have not performed well in the "counter insurgency" operations.
The performance review is being carried out after the state home department issued an order seeking reports about the "counter insurgency" work of the SPOs. Principal secretary in the home department RK Goyal confirmed that the order has been issued.
The SPOs work on a salary of Rs 5,000 to 6,000, with those appointed earlier getting lesser wages. The state government seeks to use them to build a counter-militancy group. They are tasked with taking part in operations against militants, gathering intelligence to kill them, taking part in search operations and remaining on guard duty at police stations.
According to senior police officials, nearly 30,100 SPOs currently work in the state. Some of the SPOs who have worked at these posts for over ten years have been told that they could be regularised on the basis of their performance.
In Shopian, a team of officers, including the deputy commissioner and senior superintendent of police, is carrying out the assessment. Owais Ahmad, the district commissioner of Shopian, said, "The screening process is going on. We have not issued orders to disengage any SPO as of now."
However, many police officials say that this exercise will only increase the vulnerability of the SPOs to militant attacks. On Friday, three policemen, including two SPOs, were killed by militants.
In the last three years, there has been a a considerable spike in the number of youth joining militancy, particularly in south Kashmir.
"All police officials who deal with anti-militancy operations face a threat, and SPOs are particularly vulnerable," said a police official who did not wish to be quoted.
While some policemen have been killed by militants after being abducted from their homes, attacks on police stations have also increased. The police top brass has even advised the station house officers (SHOs) of police stations that they should be accompanied by armed security guards when they move out for routine crime investigations.
The assessment of SPOs is going on even in the highly volatile areas of south Kashmir, where thousands of people had protested on the streets in 2016 after the killing of Hizbul Mujahideen commander Burhan Muzaffar Wani. During this period, some people had even torched police stations. At least 75 people had died during the protests, and hundreds were blinded due to the use of pellet guns. Several human rights groups, including Amnesty International, had condemned the use of pellet guns while controlling protesting crowds in Jammu and Kashmir.
Earlier, militants had released videos warning police personnel against directly participating in operations against them. Although some senior Kashmiri police officers supervise these operations, their immediate family members live in high-security zones.
A police official working in Shopian said that at least 2,000 people work with the police in the district and they "fear for their own lives and those of their family members."
The attacks by the militants are aimed at preventing youth from joining the Special Operations Group (SOG), which primarily deals with anti-militancy operations. Senior police officers even have the authority to induct officials dealing with criminal investigations into the SOG. The group also comprises personnel from the armed police and SPOs, said a senior police official.
Vidhi Kumar Birdi, Deputy Inspector General of Police, Central Kashmir range, said that SOG members work directly under the concerned senior superintendent of police (SSP) in the district, and are also assisted by SHOs. "Anti-militancy operations are situation-specific, and personnel at police stations also assist in them," he said.
The policy to engage more policemen in anti-militancy operations started during the chief ministerial tenure of the Congress' Ghulam Nabi Azad. During this period, talks between separatists and the Indian government were held on demilitarisation, and on the resolution of the Kashmir "dispute."
Explainers
The brighter prediction comes as a survey showed Europe's economy growing for the first time since June and in the backdrop of lower inflation, improved supply chains, and the recent reopening of China's COVID-scarred economy. However, experts have warned that the UK is in for a rough go in 2023
World
New technologies are in the works, including hydrogen-powered aircraft, fully electric planes and synthetic jet fuel made from carbon extracted from the atmosphere
Explainers
The European Union has recently approved at least four insects for human consumption including mealworms and house crickets. Mealworms, which taste 'a lot like peanuts', offer the same amount of protein, vitamins, and minerals as fish or meat